Gourdou-Leseurre GL-800 HY series (1926-1938)
Aéronautique Navale. L2, L3, GL-810, 811, 812, 813, 830, 831, 832 HY (108 built)
The French Catapulted Plane 1930-40
The interwar saw the development of catapulted aviation throughout Europe and France was no exception. After signing the Washington Treaty, France was forbidden to built more battleships and concentrated on cruisers: The Duguay Trouin class was the first of them, launched from 1923 onwards. They were completed in 1926 and needed a catapulted aircraft, a first for the French Navy.
At the time, the offer only comprised two models, which were planned for these cruisers, already ageing:
The Besson MB.35 and F.B.A.17 were potential candidates.

The Besson MB.35 which first flew in 1926, nicknamed "Passe Partout", was a French two-seat spotter and observation floatplane intended for the French Cruiser submarine Surcouf stowed in a sealed hangar. Only two prototypes were built, one destroyed on trials and the other onboard. Considered too small for other uses than this one, the small floatplane was not adopted for French cruisers.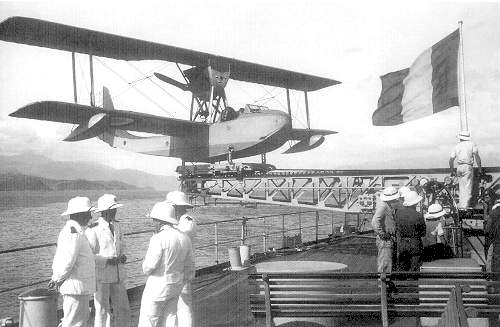 The second candidate was the F.B.A.17. From the Franco-British company F.B.A. (Franco-British Aviation Company) [see FBA on WW1 French naval aviation page]. The model 17, which first flew in 1920, was similar in general layout to World War I models, as a pusher, also exported to the Polish, Brazilian navies. The one looked for had fittings to be catapulted from warships. Six were built under licence by the US Coast Guard. The ones used on French cruisers initially was known as the 17 HL.2. The pusher configuration was judged ideal due to the interference-free location of the engine and France would return to this configuration years later with the Loire 130. In between it looked at a faster model, with a more conventional approach.
Enters Gourdou-Lesseure

The Gourdou-Leseurre started operations at the end of WW1. Their contribution was a fighter, the Type A or GL.1, 1918 fighter prototype (parasol), showing superior performances to contemporary fighters, and ordered to 100 planes until cancelled after unsucessful trials. The company was active between 1917 and 1934. From 1925 to 1928, Gourdou-Leseurre was a subsidiary of a shipyard: Les Ateliers et Chantiers de la Loire. The devices built by the company during these 3 years carried the prefix LGL.
The company lext released the better Gourdou-Leseurre Type B (GL.2) which this time was produced to around 20, followed by GL.21-24 series, reaching 100. One of these, the GL.22ET.1 was used for trials aboard the aircraft carrier Béarn, but it's the Dewoitine D.1 which became in 1925 the carrier's first dedicated naval fighter. With the later GL.30 series, the company repeated its successes, with a model largely produced, also exported with some still active in 1939. The company later associated with Loire, to form the group LGL more specialized in high performance floatplanes, but the association was defunct in 1934, Loire going on alone, untimately delivering the excellent Loire 130, the French Walrus.
Development of the L3 series floatplanes
The good reputation of the company for fighters prompter the Navy to enquire about both an adaptation of the fighters on floats, which resulted in a Twin-pontoon floatplane version converted from LGL.32 prototype, called the LGL.32 HY (For "HYdravion"). It set a world altitude record on 28 March 1927, but only one prototype was built. It was not adopted as an onboard naval fighter.
Instead, the Navy wanted in 1925 already a larger model dedicated to observation and reinforced to be catapulted. The prototype L-2, was built in 1926-27 with a steel tube fuselage, almost rectangular wooden wing. The tail was two vertical fins above and below and the fuselage and wings were all fabric covered, with a 283 kW (380 hp) Gnome-Rhône 9A Jupiter engine left uncowled. The prototype was demonstrated in Copenhagen on the hope to gain orders.
Six prototype L-3s were constructed with a 313 kW (420 hp) GR Jupiter and steel spars instead of wooden ones plus stronger struts for catapult launching. The French navy ordered 14 production GL-810 HY aircraft based on the L3, the first flying in September 1930 at Les Mureaux. In 1931, 20 of the improved GL-811 HYs were ordered to operate from Commandant Teste, then 39 GL-812 HYs and 13 GL-813 HYs.
Gourdou-Leseurre L-2: Initial prototype, catapult-launched floatplane observation model.
Gourdou-Leseurre L-3: Six prototypes with revised structure.
Gourdou-Leseurre GL-810 HY: Initial production: 24 produced for the Aeronavale.
Gourdou-Leseurre GL-811 HY: Developed version: 20 built from 1931.
Gourdou-Leseurre GL-812 HY: 29 built 1933-34.
Gourdou-Leseurre GL-813 HY: 13 built.
Gourdou GL-810 HY
Elaborated from the L-2 and L-3, the GL-810 is really the start of the lineage, with little changes over the years, a bit like classics such as the Fairey III. The Gourdou-Leseurre 810 was a low-wing monoplane with floats, its fuselage is fabricated in steel tubes and covered in canvas, while its wing were in wood. It was given a Gnome et Rhône Jupiter 9 Aa under Bristol licence: This was a 9-cylinder air-cooled engine rated for 420 hp. It was connected to a two-bladed wooden Leseurre propeller, with fixed pitch. The wings were caracteristic for their semi-thick profile (wood framing covered with canvas), and had long and deep fins which could be removed in five minutes.
Its vertical stabilizer also had a characteristic design, with two roughly triangular fins above and below the tail, framing the horizontal stabilizer. It was clearly inspired from WWI German floatplane types, still allowed for control while keeping the vertical section low for easier storage. Its design changed from the 810 to the 820, more rounded, and inequal in span upper and lower. The next series 830 had no lower stabilizer at all but the hotizontal surfaces sat very low on the fuselage, as were the main wings, with a dihedral.
Gourdou GL-811 HY
These 20 three-seater on-board observation seaplane derved from a prototype that flew first on March 10, 1932. They had folding wings. Same low wing monoplane, three seats, with two underwing Floats, steel tube fuselage covered by canvas and wooden wings.
Wingspan: 16.00 m, Length: 10.49 m, Height: 3.56 m, Total area: 41.00 m²
Empty mass: 1690 kg Total mass: 2460 kg
One Gnome & Rhône 9Ady 9-cylinder 420 hp, 200 km/h top speed
Ceiling: 5800m, Autonomy: 560 km
Armament: One synchronized 7.7 mm hood MG twin rear mobile 7.7 mm Vickers, 150 kg of bombs
Gourdou GL-812 HY
Three-seater observation model which first flew on November 29, 1933. 29 built for the Aeronavale. Like previous models a low wing 3-seats monoplane* with two floats,steel tube fuselage, wooden wing. *One pilot, one observer, one tail machine-gunner
Wingspan 16.00 m, fuselage length 10.49 m, height 3.86 m, wingspan 41.00 m². Empty mass: 1690 kg Total mass: 2460 kg
Propulsion one Gnome & Rhône 9Ady 9-cylinder radial rated for 420 hp. Top speed 200 km/h, ceiling 6,000m, 560 km autonomy.
Armament: 1 synchronized 7.7 mm hood forward machine gun, twin mount flexible 7.7 mm Vickers aft, 150 kg of bombs.
Gourdou GL-813 HY
Three-seater derived from the 812, first flight on October 22, 1934, 13 units built, same fuselage, three seater, but new tail.
Wingspan: 16.00 m, length: 10.49 m, height: 3.86 m, total wing area 41.00 m². Empty weight 1,690 kg, operational TO max 2,460 kg
Propelled by the same Gnome & Rhône 9Ady, same performances, same armament. The 812-813 were maintained in service in 1939 but replaced by the 830 series and sent to training units or in the colonies.
Gourdou GL.120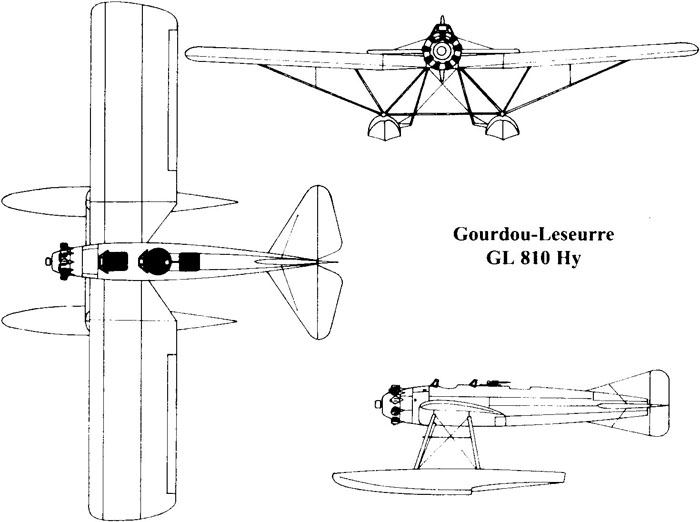 The Gourdou GL.120 HY was an interwar prototype military aircraft made in France by aircraft manufacturer Charles Gourdou (one of the founders of Gourdou-Leseurre), and aeronautical engineer Georges Bruner. It was a twin-engine float plane, intended to serve as a reconnaissance aircraft and naval bomber.
The first flight of the prototype was in June 1, 1940 and it was motorized by two Renault 6-cylinder inverted-V engine Inline 140 hp each, It had a wingspan of 12m, a fuselage 9.14m long, height of 3.06m and wing area of 18.40 m2. Performances were less than stellar with 110-120 km/h crusing speed, 250 km/h top speed, and a ceiling of only 5,700m (Wing loading 87 kg/m2, Load factor 5.7).
Armament was planned to be 8x 10 kg inboard bombs (bomb bay) and two external Darne 7.5mm machine guns, one forward fixed and one rear mobile MG.
The Gourdou GL-810-20 in Operations
The first flight of the 810 took place on the Seine at Saint-Maur-des-Fossés, where it was made. It left for the CEPA in order to carry out its official tests, all passed without any particular difficulty. When completed, the model was used for demonstrations expecting foreign orders, notably in Scandinavia, until reformed in 1928, being ordered to six by the Navy (L-3 for the Hispano Suisa 9 Ac rated for 420 hp and various steel spar reinforcements to be catapulted).
The GL-810 was deployed from the colonial Bougainville-class sloops, such as the Rigault de Genouilly but also were part of the first air group deployed by Commandant Teste as a seaplane transport.
Gourdou GL-821 HY/ HY O2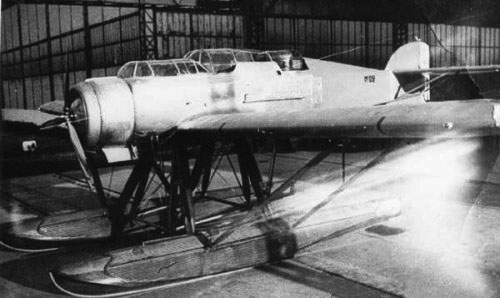 The GL-821 HY torpedo boat first flew in January 28, 1936, with a single prototype produced, powered by a Gnome & Rhône 9Kfr engine rated for 750 hp. It was armed with a forward Darne 7.5 mm machine gun in the right wing and the usual rear flexible mount with two Lewis MGs, and could carry a 18-in torpedo (457 mm). It differed from the base model GL-810.
The sub-variant O2 first flew in October 1937. It had for the first time an enclosed cabin, three-bladed propeller and could carry the same torpedo or 300 kg of bombs.
Gourdou-Lesseure GL 83 series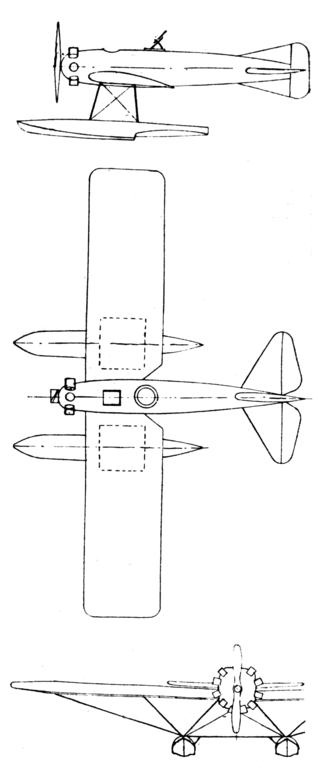 In 1934 the spmit with Loire, following strong difference of views and disagreement saw both companies partying out, both still courting the French Navy to fill the needs of the Aeronavale. In 1930, indeed, the French Navy issued the need for a light coastal patrol seaplane for its colonies. Gourdou-Leseurre designed a prototype that took up the lines of his previous GL-830 HY but with a less powerful Hispano-Suiza 9Qa engine (250 hp versus 350 hp). This prototype will be built under the designation GL-831 HY. The GL-831 HY flew for the first time on December 23, 1931. In 1933, the French Navy placed an order for 22 units, under the designation GL-832 HY, which will be still powered by a Hispano-Suiza engine but a little less powerful than the prototype (230hp instead of 250hp).
The GL-832 HY was a low-wing monoplane with a metal airframe whose wings and floats were covered with canvas. The aircraft was equipped with wide wings in order to support the load of a catapult launch. These could be folded up to facilitate storage on board a ship. Note that the empennage used a particular configuration due to the presence of reinforcing bars connecting the horizontal planes and the rear of the fuselage. The two crew members were installed in tandem open cockpits, each equipped with a windshield. The maiden flight of the first production aircraft was on December 17, 1934 and the last aircraft produced on February 12, 1936.
GL 832
Like the earlier GL.810 and Potez 452, the GL.832 HY was a two-seat monoplane floatplane which became the standard light catapulted reconnaissance cruiser model of the French Navy in the mid-30s. This model was also useed in colonial areas, and deployed from Colonial sloops, lowered in water with a crane to take off.
The prototype GL.831-0I flew with a 9-cylinder air-cooled radial engine Hispano-Suiza 9Qa rated for 250 hp. On January 25, 1932, after its factory trials it took off and arrived in Saint-Raphael for its final, official testing. In May 1932, flights were interrupted after issues were reported and changes made to the design: The floats rudders and tail unit were reshaped among other. Testing resumed in July 1932 and the newt year an order for six production aircraft (Navy designation GL.832 HY) followed, all provided with the new, more powerful Hispano-Suiza 9Qb (230 hp).
Fuselage & general design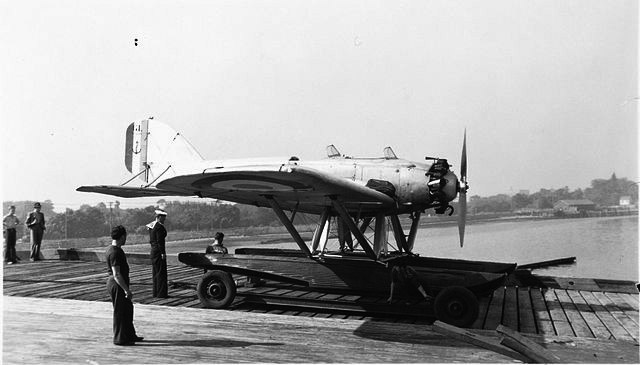 The fuselage was no longer mixing steel and canvase but all-metal, with a stressed skin, notably for the front part sheathed with duralumin, while the back kept a canvas cover, all the framing being in aluminium. Unlike the previous GL.810-820, the vertical tail was rounded with no lower section, the vertical rudder sat low on the fuselage (it was mid-height before) while the profile of the main wings was reviewed and some dihedral introduced.
The tow-floats design was kept, with space cables in "X" as before, and V-struts connecting the underwings and base of the fuselage. This left an important gap to carry a payload, but being underpowered, the GL.830 serie carried none.
Powerplant
The company asked for permission to use then the more powerful 9Qd type in development, but the fleet command considered range was more important than speed, and so the 9Qb was adequate as it was. Therefore, the 9 Qb engine was retained for the full production of the GL.832, all 30 of them.
The Hispano-Suiza 9 Qb was a radial engine rated for 230 hp, derived from the Wright R-975 Whirlwind built under licence. To be more precise, it was a variant of the Licence built R-975 J-6 Whirlwind, with the same performances.
Armament
As for machine-guns they had a forward Darne Modele 1926 7,62 mm (0.8 in) on the hood, and a twin aft of the same on a flexibkle mount aft for defence. It was also planned to carry 150 kg of bombs (330 lb) but these were likely as three 50 kgs (110 Ib) models, under the fuselage. No photo shows them ever mounts, and that could have been a liability due to the weak power-to-weight ratio in any case.
Detailed specs
Specs LGL 812 HY

Crew:
2: pilot, observer
Fuselage Lenght
9.75 m (32 ft)
Wingspan
14 m (45ft 11in)
Height
3.5 m (11ft 6in)
Empty weight:
2,135 kg (4,500 lb)
Gross weight:
2,835 kg (6,250 lb)
Powerplant:
Hispano Suiza 12Xcr V12 engine, 510 kW (690 hp)/4,000m
Propellers:
3-bladed fixed-pitch propeller
Maximum speed:
380 km/h (240 mph, 210 kn)
Cruise speed:
299 km/h (186 mph, 161 kn)
Endurance:
3½ hours
Range:
1,200 km (750 mi, 650 nmi)
Service ceiling:
9,500 m (31,200 ft)
Armament – Guns
Forward MG, twin aft MG.
Armament – Bombs
1x 150 kg (/ lb) bomb
GL.381:
First flight 23 december 1931, one prototype built.
Diemsnions: Wingspan: 13.00 m Fuselage Length: 8.74 m, Height: 3.48 m, total wingspan 29.50 m². Empty mass: 1,110 kg Total mass: 1,400 kg. Propulsion 1 Hispano-Suiza 9Qa 250 hp, top speed 220 km/h.
Ceiling 5,500m, Autonomy: 1,000 km, armed with a rear mobile Vickers 7.7 mm machine gun.
Operations
The LG 81 series were used on the Duguay-Trouin class (1923), Duquesne class (1925) and Suffren class (1927), until replacement by the Loire 130.
The French Navy used the GL-832 HY on light cruisers such as the Émile Bertin, Primauguet and on some colonial Avisos, operated with a crane. When WW2 broke out, the type was still in active service, and not withdrawn until 1942.
In 1936, the French Aeronavale made a PR coup by making a 1st flight over Wallis, French protectorate island in the Pacific Ocean on May 12, 1936. It was performed by the GL-832 HY n°5 of the aviso Savorgnan de Brazza , piloted by Sub-Lieutenant Paul Marraud, deposed at sea by crane in Mata Utu Bay and making a one-hour reconnaissance flight to recognize the bays which can accommodate seaplanes, in order to create a French naval air base here, mid-way between strategic locations. The island remained unoccupied before a WW2 US Catalina landed here, followed by a USN expeditionary force developing a large number of infrastructures, notably an air base and naval facilities still used today.
Illustrations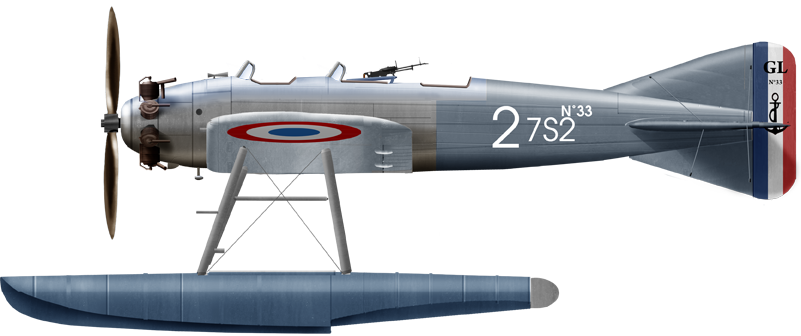 Loire-Gourdou-Lesseure GL-813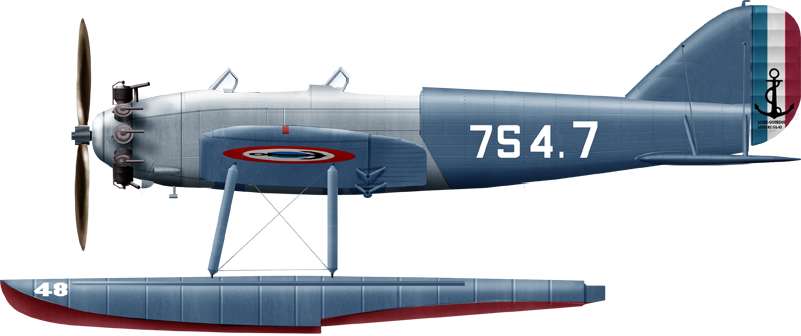 Loire-Gourdou Lesseure GL-832
Gallery

GL L-2, L'Aéropile, October 1927


GL L-2, L'air, May 15, 1928


GL L-3 L'aéronautique March 1928


GL-810 HY, catapult tests from the cruiser Tourville in 1928


GL-810 HY, Les Ailes, October 6, 1927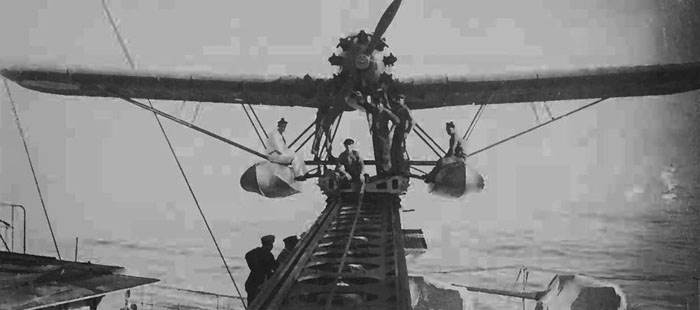 GL 810 serie on catapult ready to launch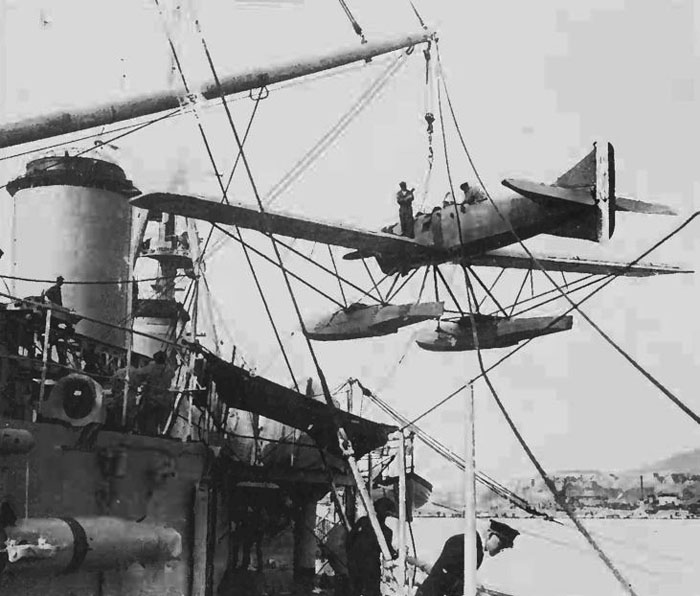 The same launched, probably a Duguay Trouin class cruiser, date unknown, early 1930s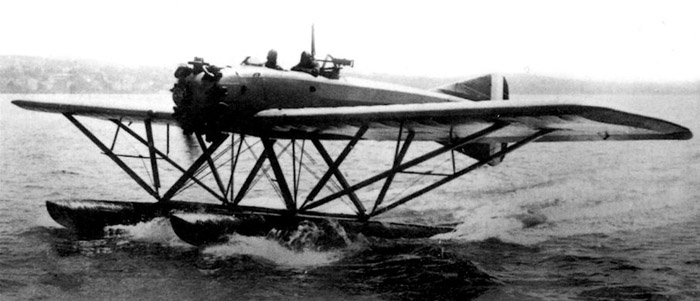 GL.810 at sea, just landed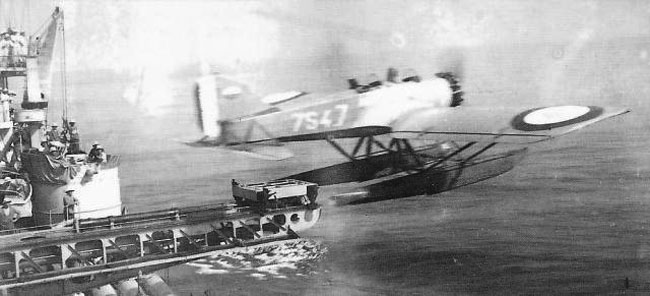 A GL.832 being launched from the catapult of Primauguet, 1937
Read More
Books
Donald, David, ed. (1997). The Encyclopedia of World Aircraft. Prospero Books. p. 463.
Cortet, Pierre (June 2000). "Rétros du Mois" [Retros of the Month]. Avions: Toute l'Aéronautique et son histoire (in French) (87): 6.
Vice-Amiral Roger Vercken, Histoire succincte de l'aéronautique navale, Armées, ARDHAN, 1993, 173 p.
Links
On aviafrance.com generic
secretprojects.co.uk
aviadejavu.ru
Besson_MB.35
Gourdou-Leseurre_GL.30
Gourdou-Leseurre_GL-812_HY
Gourdou-Leseurre_GL-832_HY
https://www.aviafrance.com/gourdou-leseurre-gl-810-hy-aviation-france-9309.htm
https://www.aviafrance.com/gourdou-leseurre-gl-820-hy-aviation-france-9313.htm
https://www.aviafrance.com/gourdou-leseurre-gl-821-hy-02-aviation-france-9315.htm
https://www.aviafrance.com/gourdou-leseurre-gl-821-hy-aviation-france-9314.htm
On airwar.ru/
Model Kits
Only known, Dujin 1/72 kit: https://www.scalemates.com/kits/dujin-da7274-gourdou-leseurre-gl832hy–238650. The prototype Loire Gourdou Lesseure LGL-32 Hy Height record plane also was made at the same sclae by Omega Models, and the Dujin kit was also distributed by Everest.