The Fairey III: A two world wars veteran
The biplane formula seemed to the interwar engineers the only one really fitting aeronautics at large, for all its advantages. So much so that some in 1938 still believed the monoplanes were a mere "fad" and everybody would come back to the biplane. But some aircraft had in addition to sticking to this classic formula a combination of assets which really made them "immortal", with a longevity ver rare in a such a fast-moving industry. This of course only applied to certain types for which speed and agility were not paramount. Such was the case for the Fairey III. Developed in 1917, it made the near-impossible feat to be still active… in 1942. How was it possible ? This post is just about that.
This two-bay biplane powered by a powerful 260 hp (190 kW) Sunbeam Maori engine was indeed fitted with folding wings and had many other well-thought features. This made Fairey a household name in the Royal Navy, later spawning the Fairey Seal and ultimately, the Swordfish and its successors. But the Fairey III was never abandoned and constantly upgraded in the interwar years, so much so it was still frontline in the early 1930s when in 1927 was introduced the IIIF, the ultimate version. Due to its age, it was often relegated to distant stations along the British colonial Empire. Eventually it was declared obsolete in 1940, second line, and target tug until 1941, two solid years into the second world war, adding a second world war to its WWI records.
Initial development (1917)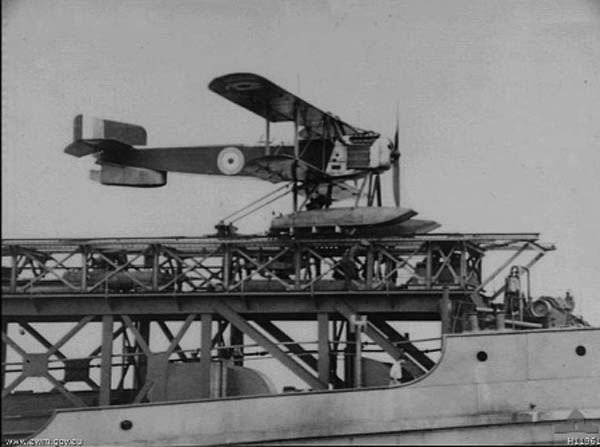 Fairey N°9 on HMS Slinger, catapult trials in 1918.
The first prototype of the Fairey III, N°10 floatplane, was designed and built in 1917 by Fairey Aviation from the smaller N°9 to meet the Admiralty Specification N.2(a). It called for a carrier-based seaplane for the Royal Naval Air Service (RNAS), the ancestor of the fleet air arm during WWI. The prototype called F.128 by the manufacturer made its first successful tests, flying first rom the Port Victoria seaplane station (Isle of Grain, Kent) on 14 September 1917. It soon secured the admiralty order. Its simple formula made it soon an immortal classic. For the design, we will concentrate however on the very last (and most prolific) version, the IIIF of 1927. So here is the evolution of the Fairey III.
Fairey IIIA/B (1917)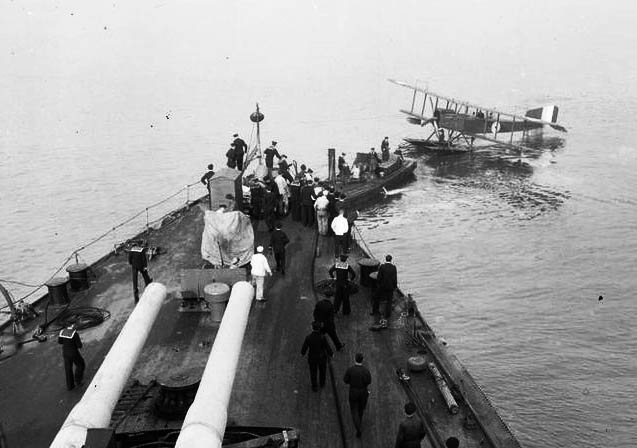 Fairey Campania, related to the Fairey III HMAS Australia in 1918
Following tests with floats and with a conventional wheeled undercarriage the adoption of this model led to two production orders, both powered by the same Maori engine: The IIIB and IIIA (with floats and without): 50 and 60 respectively were ordered. The Fairey IIIA (with undercarriage) was in fact intended to operate from HMS Furious, Argus, Hermes (then just started) as well as future british aircraft carriers. The IIIA was fitted with a wheeled or skid undercarriage and hook. The IIIB was essentially a floatplane bomber, designed with a larger span, going from 46 ft 2 in (14.19 m) to 62 ft 9 in (19.13 m) for the upper wings in order to take off more easily. It had a payload capacity of three 230 lb (105 kg) bombs. If the whole IIIA order was delivered, the IIIB order was curtailed to 28 as a the new Fairey IIIC was in between proposed to the Navy.
Fairey IIIC (1918)
This model reverted to short equal-span wings like the IIIA but was powered by the much more powerful and reliable 375 hp (280 kW) Rolls-Royce Eagle VIII engine. The IIIC three-seat patrol bomber seaplane had also a modified fin, wing and rudder, which all had a larger area, and larger floats compared to the IIIA. It carried essentially the same bombload as well. A new order of 36 was placed, but only 30 delived in 1918. 6 in fact of the IIIBs were also completed as IIICs, so making a final count of 36. This was basically a "universal" model able to be equipped with floats or undercarriage, the possible sustentation loss compensated for the floatplane by the better engine.
The IIIC entered service in November 1918, just at the end of the war, but seven were deployed to Arkhangelsk in 1919 in support to the white Russians, operated from the seaplane tender HMS Pegasus (North Russian Expeditionary Force). They made numerous sorties in adverse conditions, bombing and strafing attacks against the Bolshevik inland. They also attacked shipping and railways or other objectives, dropping each time 300 kgs of ordnance and using their machine guns.
Fairey IIID (1920)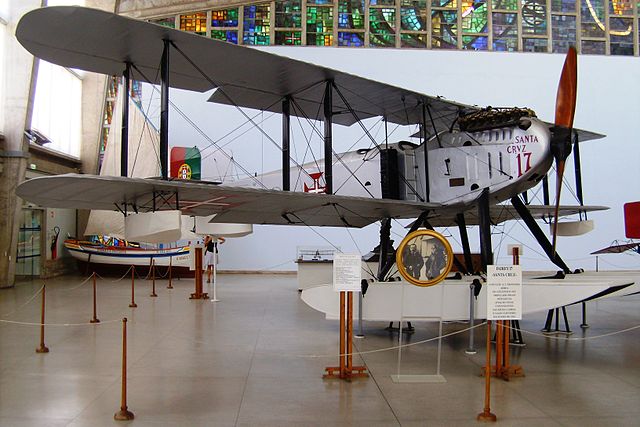 Portuguese Fairey IIID N°17, Santa Cruz Port Sqn. preserved.
The IIID, an improved IIIC had provision for a third crewmember for the first time. It was also "universal", fitted with either floats or with a wheeled undercarriage to operate from land or aircraft cariers. The prototype first flew in August 1920. It was powered by the new Rolls-Royce Eagle, with a wooden, fabric-covered fuselage and wooden, two-blade, fixed-pitch propeller. The serie went on for most of the 1920s and the initial serie was given the Rolls Royce, the later serie in 1925-26 being fitted with the Napier Lion. In between, export models were equipped differently. This for Australia and Portugal were from the early serie.
The Fleet Air Arm received its early models until 1924 and swapped onto the Napier version. In addition to a great crew with a pilot, observer and gunner, making the model more versatile, its wings could still be folded parallel to the fuselage, facilitating storage on any ship. The Royal Navy's floatplane IIIDs when carrier-borne, were launched using a trolley from the deck, and later land on the water recovered by crane. But it was also catapult-launched and equipped many cruisers in the interwar years.
Needless to say, this versatility was extremely appreciated by the Navy, explaining its ongoing production and use until the end of the 1920s. Fairey still worked on an improved model and built a single experimental IIID with metal wings and floats. All in all, Fairey delivered 207 IIIDs. Most went to the Fleet Air Arm but some also were purchased by the RAF, and the remaining 20 exported. This was the company's first big export success.
The RCN for example purchased One Fairey IIIC aircraft and one IIIF for evaluation, Chile and Australia roduction models, Egypt (single IIIF in 1939), Greec (Both Hellenic Air Force and Hellenic Navy IIIF were still active in 1941), Ieland (The Irish Air Corps had a single IIIF MkII in 1928, crashed 1934), Netherlands operated the IIID, New Zealand (RNZAF: Two IIIF MkIIIMs 1928, one 1933, one remaining 1940), Portugal (seen), and Sweden (The Svenska marine used a few IIID for naval recce). Even USSR purchased one for evaluation.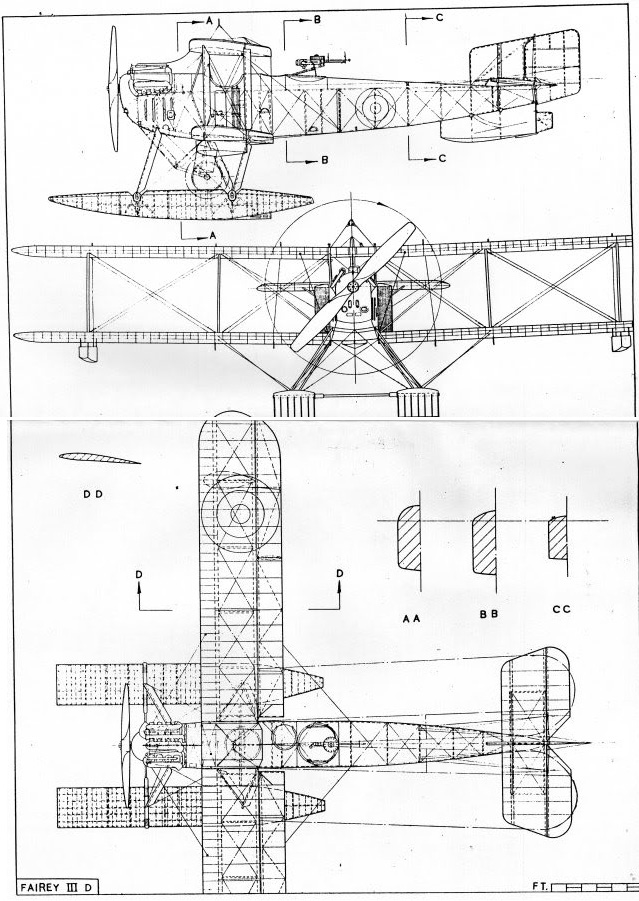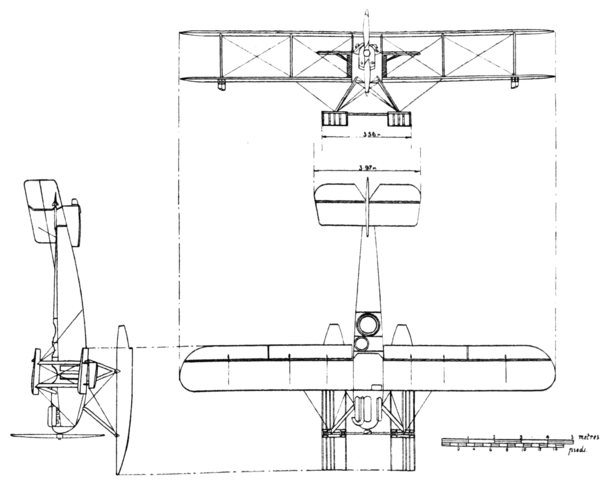 Fairey IIID – L'Illustration 1926
The IIID was used by Royal Air Force and Fleet Air Arm from 1924, operating from shore bases and aircraft carriers. It was replaced from 1930 by the next IIIF. The RAF only used four at its Cape Flight (south africa) carrying out long distance flight in formation from Cairo to Cape Town and back, in 1926. It was the first RAF long range formation and first RAF flight to South Africa. Some IIIDs were also present in Shanghai during the Chinese rebellion in 1927.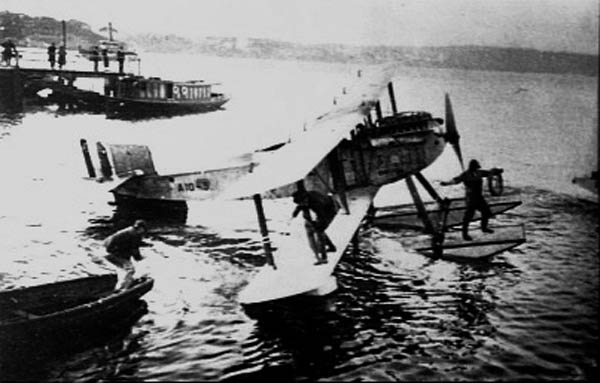 Goble seaplane in 1924 – A10-3 Flown by Wing Commander Goble and Flight Lieutenant Mcintyre on a survey flight around Australia.
The Portuguese Navy acquired 11 aircraft and Australia received six IIIDs, the first delivered in August 1921. In 1924 one of these, designated ANA.3 and flown by Stanley Goble (future Air Vice Marshal) and Ivor McIntyre won the Britannia Trophy awarded by the Royal Aero Club since they were the first circumnavigating Australia, in a mere 44 days. The RAN retained its IIID until 1928.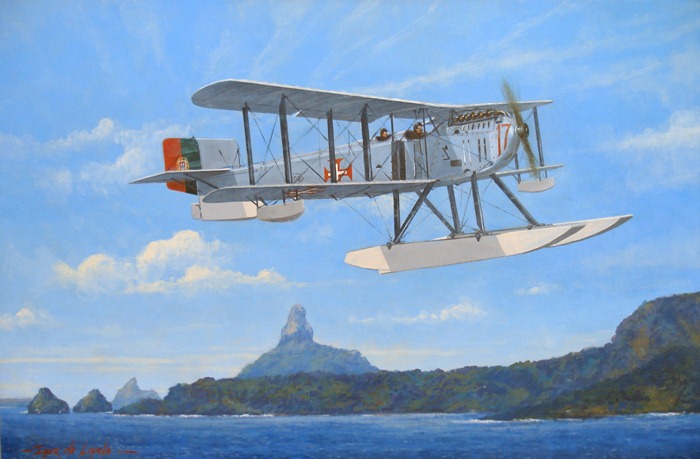 Fairey III, Igor de Loyola flight
Portugal ordered its first IIIDs in 1921. But the first was modified on its own specs, called the F.400. It soon would place the small portuguese navy on world's news. It was a special long-range variant fitted with an upper wing extended to 61 feet. Also called the "Fairey Transatlantic" by Fairey and later officially "Luzitania", it attempted a flight on 30 March 1922 across the South Atlantic. It stopped at Las Palmas, São Vicente, Cape Verde but was lost while making a refuelling stop on the Saint Peter and Paul Rocks. Initially it was designed to demonstrate the new aerial navigation system devised by navigator Gago Coutinho. The journey however was finished on two standard aircraft and the crew completed eventually the first aerial crossing of the South Atlantic. It lasted 72 days from Lisbon and back. "Santa Cruz", the third airplane used for this attempt is now is currently displayed at the Museu de Marinha, in Portugal.
Fairey IIIF (1927)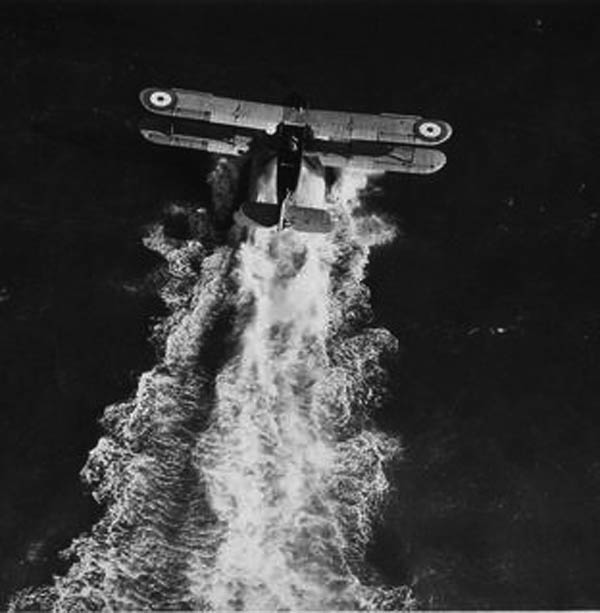 Fairey IIIF of the New Zealand Patrol Air Force
The last, most prolific, and most enduring of all fairey III models was the IIIF. The "lost number" (E) was essentially a partially metallic version, never adopted. The new F version was designed to meet a new Air Ministry Specification, 19/24. It called for a three-seat spotter and reconnaissance aircraft (with attack abilities) for the Fleet Air Arm. It was doubled by a two-seat general purpose aircraft for the RAF as well. The IIIF prototype first flew on 20 April 1926. Essentially it had a more streamlined inline, liquid-cooled engine and its fuselage was of mixed construction, with metal on the upper part and structure, wooden construction and canvas, but similar wings to the IIID. The production went on for many years, with late sub-variants fitted with an all-metal fuselage and wings and a grand total of over 350 IIIFs. They were operated by the Fleet Air Arm and even became the most widely type, deployed on all ships of the Royal Navy, only beaten in the interwar years by the Hawker Hart family, its success equivalent for the RAF. At last the Fairey IIIF was further developed into the Fairey Gordon and Fairey Seal.
The prototype had a Napier Lion W-12 piston engine. The next production variant called Fairey IIIF Mk.I was powered by the upgraded Napier Lion "VA" W-12 piston engine and of composite construction, with 55 delivered in 1928-29.
The next Mk.II received the more powerful Napier Lion XIA W-12 and 33 were delivered in 1929. The Mk.III received the Napier Lion XIA engine and was the first constructed with fabric-covered all-metal structure. This became by far the largest production, with 291 built until 1932. The Mk.IV was a tailored two-seat general purpose biplane produced for the RAF in composite or all-metal construction -late production- and powered by a Napier Lion XIA W-12 engine (243 delivered to the RAF). The Fairey IIIF Mk.V was the initial development name of the Fairey Gordon and the Mk.VI, the Fairey Seal. The ultimate variant developed was the "Queen" IIIF Radio-controlled gunnery training aircraft of which 3 were delivered in 1938.
The IIIF started its catapult tests in the Fleet Air Arm from 1927. It was exported to the Royal New Zealand Air Force in 1928. The RAF IIIF served in Egypt, Sudan, Aden and Jordan, operated from from land based or in as floatplane, and reverted to one or another role, which proved useful. Its equivalent for the far east was the Westland Wapiti (Iraq and India). Colonial policing and long distance flights went on for this model all along the 1930s. The RAF IIIF also replaced the old Airco DH.9A as Day-only Bomber. Hal Far Malta retained its IIIF floatplanes for maritime patrol (202 Squadron) until 1936. IIIF floatplanes also served on cruisers and battleships, and on decks on the HMS Furious, Eagle, Courageous, Glorious and Hermes. The last frontline RAF squadron (202 Squadron of Malta), only swapped it from August 1935 for the Supermarine Scapa. But the last using it frontline was the Fleet Air Arm squadron 822 Squadron, until late 1936. The IIIF was gradually relegated to second line roles, notably training and was ultimately declared obsolete in 1940. The remaining ones were still in use as target tugs until 1941. And so the Fairey III gaped two world wars…
Design of the Fairey IIIF
General construction and evolution
The last was also the most prolific and enduring version ande final model. It was designed to meet Air Ministry Specification 19/24, and was designed as a single-bay two-seat model, at first intended for the Royal Air Force. Fairey's prototype first flew on 20 April 1926, showing a more streamlined engine installation and a fuselage built with modern techniques, mixed metal framing and wooden construction. The wings still retained the shape of thos used by the Fairey IIID, but also used mixed construction to make themm sturdier. Later production (see later) saw this going to an all-metal fuselage and metal structure for the wings.
This evolution was gradual:
The original two-seater could be converted into a three-seater for reconnaissance and artillery spotting for the Navy. It was powered by a Napier Lion W-12 piston engine.
The Mk.I was the first production version, a 3-seater spotter-reconnaissance biplane. It had the same Napier Lion VA W-12 and composite wood/metal construction. In all 55 were built.
The Mk.II was upgraded, powered by a Napier Lion XIA W-12 piston engine but construction stayed the same (33 built).
The Mk.III was provided the same Napier Lion XIA, with a fabric-covered all-metal structure. This was the largest production, with 291 delivered.
The Mk.IV had a few alteration and XIA engine, but some were delivered in composite construction (243 built).
As said above, this IIIF was modified with new engines, keeping the asame basic structure, to produced the Seal and Gordon.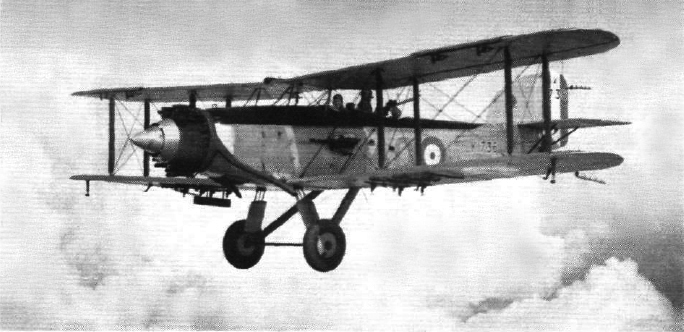 Fairey Gordon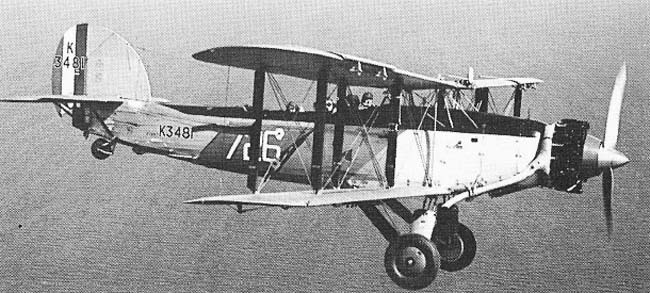 Fairey Seal
Engine: The legenday Napier Lion
The Napier Lion was an inline W12 derived from the 12 cylinders created by Napier back in 1917, called in a "broad arrow" configuration: Three banks of four cylinders sharing a common crankcase. Very advanced for the time, the Triple-Four was also light, using aluminium casting and alliage metal parts. Designed by Arthur Rowledge it was renamed Lion and completed in 1917, starting to equiped a variery of models in 1918. It became capable of delivering 450 horsepower (340 kW) from 24 litres, more than the Liberty L-12 (producing 400 hp), making it the most powerful aircraft engine of the entente at that time.
It was equipped with a turbocharger from 1922 and Napier from 1925 dropped all its other activities and concentrated on the most prolific British aero engine of the time, fitted on 160 different aircraft types and many more applications, around the world. In 1927 appeared the VIIB powering with its 875 bhp (652 kW) Schneider cup racing floatplanes. But the production standard of the RAF from 1928 was the XIA, producing 580 bhp (430 kW) at 2,585 rpm, for a 6:1 ratio. It was still potent in 1936 although the technology greatly improved.
Armament
The Fairey IIIF was primarily a reconnaissance and spotter aircraft, using radio. The pilot had at its disposition two fixed 0.3 cal. Vickers air-cooled machine-guns, firing forward through two recesses in the sizes of the fuselage nose. They used an interrupter mechanism as firing though the propeller arc. The second crewman was seated center, generally tasked of the radio, and the third one was seated backwards, tasked of the defensive machine gun, generally a Lewis. The airframe of the late production model was sturdy enough to carry several bombs under wings, up to 650 Ibs (for example three 50 Kgs under each underwing for 300 Kgs. total). No tests were made to carry a torpedo however. The model was mostly used for patrols in far outposts of the colonial empire, reconnaissance onboard aircraft carriers or spotter onboad battleships and cruisers in the 1930s.
Specifications IIIF Mark 3

Dimensions:
9.56 x 10.97 m x 4.50 m (33 x 41 x 13 ft)
Wing area:
342 sq ft (31.8 m2)
Airfoil:
NACA 0010 – NACA 2212
Weight: Light
3,788 lb (1,718 kg)
Weight: Max take-off
5,437 lb (2,466 kg)
Propulsion:
P&W R-1340-18 600 hp (450 kW)
Performances:
Top speed: 48.6 kn (55.9 mph, 90.0 km/h)

Cruise speed: 116 kn (133 mph, 214 km/h)

Service ceiling: 14,900 ft (4,500 m)

Rate of climb: 915 ft/min (4.65 m/s)

Range:
587 nmi (675 mi, 1,086 km) at 5,000 ft (1,500 m)
Armament – MGs
2x 0.3 cal
Armament – Bombs
650 lb (295 kg)
Links and resources
https://en.wikipedia.org/wiki/Fairey_III
http://wp.scn.ru/en/ww15/h/284/9/0#4
https://www.sas1946.com/main/index.php?topic=58765.0
http://aviadejavu.ru/Site/Crafts/Craft20165.htm
https://en.wikipedia.org/wiki/Fairey_Aviation_Company
http://greek-war-equipment.blogspot.com/2011/12/1929-1941-fairey-iiif.html
---
Grant, James Ritchie. "Anti-Clockwise: Australia the Wrong Way". Air Enthusiast, No. 82 1999
Halley, James J. The Squadrons of the Royal Air Force. Tonbridge, UK: Air Britain 1980
Isaacs, Keith. "The Fairey IIID In Australia". Air Enthusiast, No. 24, April–June 1984.
Jackson, A.J. British Civil Aircraft since 1919: Vol 2. Putnam, 1973.
Jarrett, Philip. "Database: Fairey IIIF". Aeroplane, November 2011 Kelsey Publishing Group
Jarrett, Philip. "Fairey IIIF: Part 1 & 2". Aeroplane Monthly 1994 London:IPC
Lezon, Ricardo Martin & Stitt, Robert M. (January–February 2004). "Eyes of the Fleet: Seaplanes in Argentine Navy Service, Part 2"
Mason, Francis K. The British Bomber since 1914. London:Putnam, 1994.
Nuñez Padin, Jorge Felix (July 1998). "Les Fairey IIIF de l'aviation navale argentine"
Avions: Toute l'aéronautique et son histoire. No. 64.
Taylor, H.A. Fairey Aircraft since 1915. London:Putnam, 1988.
Thetford, Owen. British Naval Aircraft since 1912. London:Putnam 1978.
Thetford, Owen. "Fairey IIIF and Gordon in Service: Part 1". Aeroplane Monthly 1994
Vevis, Gérassimos & Karatzas, Alexandre (June 1999). "Les Hydravions Fairey IIIF grecs"
The model corner
-Trumpeter, Ark Models, Tamiya, Smer, Airfix, SMK
–Full list on scalemates
Gallery
Author's illustrations: Types and liveries


Chilean Navy, 1927. The Chilean Air Force also used it.


Fairey IIIF with land carriage, HMS Furious 1929


Onboard HMS York during a state visit, USA, 1930


IIIF assigned to HMS Valiant, 1932


IIIF on HMS Courageous 1932


IIIF with a Home Fleet NAS, 1932


IIIF of the RN in 1937


With the Hellenic Navy, 1938. In May 1941, they were still active

With the Argentinian Navy, Cruiser La Argentina, 1942. The last operational. Argentina Purchased six IIIF MkIIIM (Special) powered by 450 hp (336 kW) Lorraine Dietrich Ed12 engine in 1928. They entered service in 1929. The remaining aircraft were re-engined with Armstrong Siddeley Panthers in 1935, with the last aircraft being retired in 1942.
Additional photos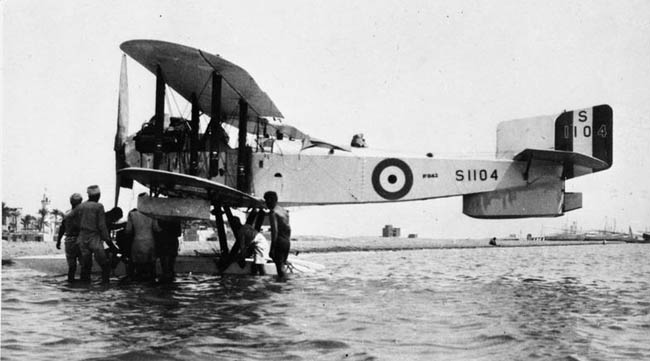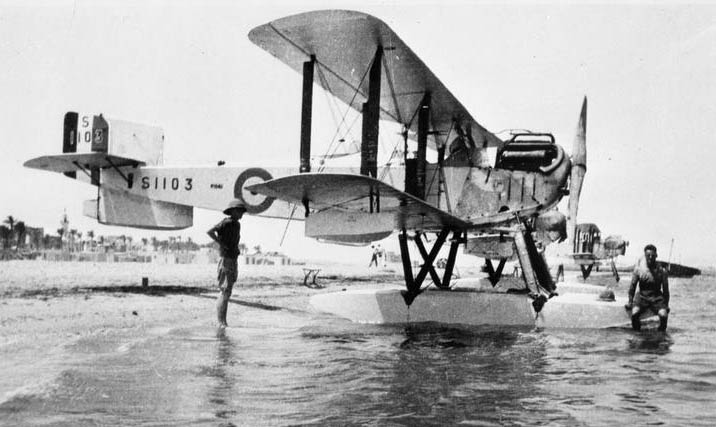 Fairey IIID S1103-1104, Cape-Cairo Flight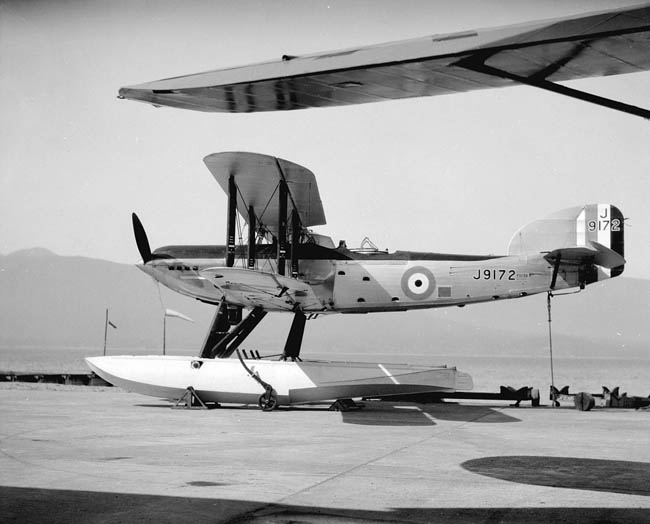 Fairey IIIF floatplane in operations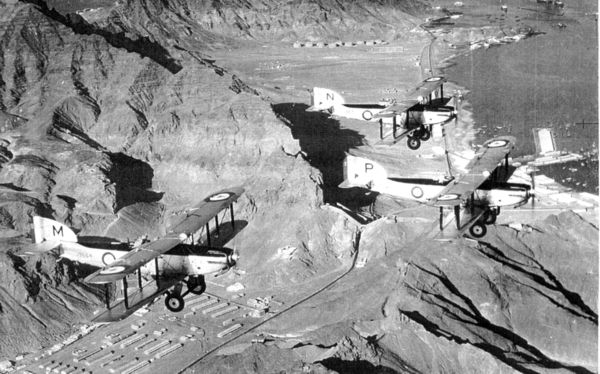 Fairey IIIFs over Aden

Fairey IIIFs of 47 Squadron on the Blue Nile at Khartoum before departing for a series of exploratory flights over Southern Sudan on 8 July 1930

Fairey Factory in Hayes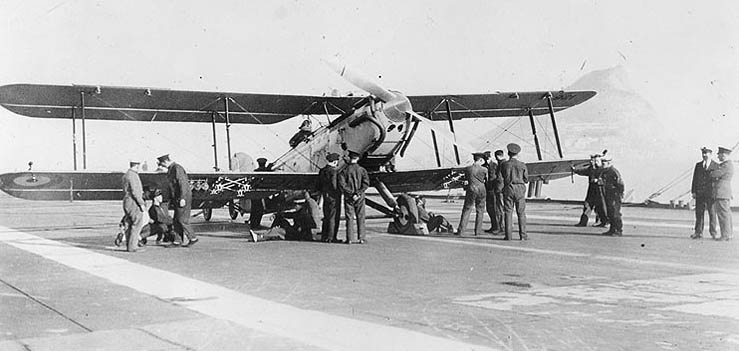 Fairey III onboard HMS Furious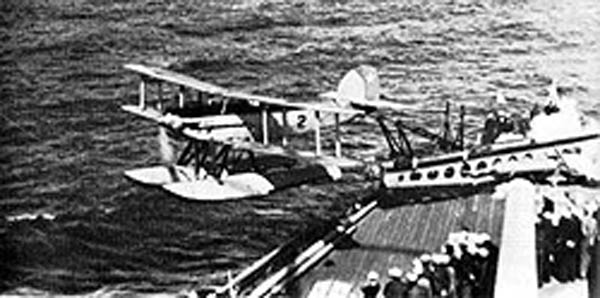 Fairey IIIF of the Chilean navy catapulted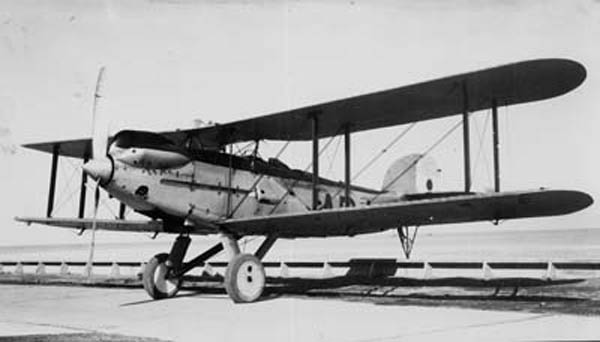 Argentinian Navy Fairey IIIF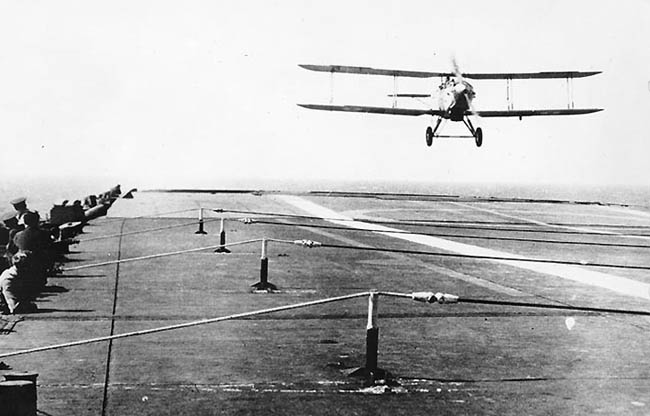 FaireyIIIF landing on HMS Furious
---