Tjerk Hiddes class Destroyers (1939)

The Netherlands – 1936-40:
Tjerk Hiddes, Isaac Swers, Philips Van Almonde, Gerard Callenburgh.
The Tjerk Hiddes or Gerard Callenburgh class destroyers were specifically designed to counter the Japanese "special type" destroyers in the east indies. They were larger, faster, better armed and with greater range compared to the 1920s Admiralen class, based on a Yarrow design. Too late to be completed before the invasion, two were scuttled (one repaired, becoming Kriegsmarine's ZH1, sunk on 9 June 1944 during Operation Neptune), the other, Isaac Swers, completed in UK and with the allies in the Mediterranean with Force H, taking part in the Battle of Cape Bon, she served in the Indian Ocean and Eastern Fleet but was sunk by U-431 off Algiers in November 13, 1942, during Operation Torch.
Design and development of the Tjerk Hiddes class Destroyers
In 1935, the "admiralen" class destroyer (Van Ghent and Van Galen classes) formed the bulk of the Dutch submarine Force. The last of these, HNLMS Witte de With, being launched in 1928. They were considered now obsolescent in design, regading other countrie's own models, notably the formidable German "Narvik" class, faster and better armed. Also there were several cruisers and capital ships projects such as the KNIL Battlecruisers and Provincien class cruisers which needed an equally fast, long range escort, especially to face now their likely enemy, the Japanese "special type" destroyers.
Dutch Destroyers were about 15 when WW2 started and most were stationed in the Dutch East Indies where they fought the Japanese. Ther British standards made their integration easier among allies, notably with the ABDA Command.
Increasing range, speed and armament meant a larger and updated design was needed, and once again, the admiralty turned to Great Britain as a source of inspiration, looking at contemporary designs in development at the time notably the J-K-N class (ordered in 1937) and previous destroyers leaders, but still with their own design specifications. In particular they wanted a ship capable of 38 knots of possible, armed with five main guns and quadruple torpedo tube banks instead of triple on the Admiralen, limited to 36 knots and having four guns. The threat of the IJN aviation was also preceived and an increased AA was also looked for. Since the were intended for operations in the confined of the Java sea and defending the East Indies, they were to double as minelayers as well.
For this, of the several yards contacted, Yarrow came with a tailored design in early 1937 wich best matched the Dutch admiralty needs. The first two, Gerard Callenburgh and Tjerk Hiddes were ordered under the 1937 program. They were based on Yarrow blueprints, purchased, but built entirely like previous destroyers in the Netherlands, with Dutch torpedo tubes, and Swedish main guns and AA, plus Dutch more advanced fire control systems. The second batch, Isaak Sweers and Philips van Almonde were ordered in 1938. The class is sometimes called "Gerard Callenburgh class" in other publications as she was the first laid down. I kept here the Conway's one, based on the launch date.
Given the dates, the writing was on the wall concerning their fates: The Tjerk Hiddes class Destroyers were caught during the German invasion of the low countries in May 1940, while in completion. All had been launched but Philips van Almonde, having different fates: Tjerk Hiddes, laid down at Roterdamsche Droogdok Mij, on 11.1938 and launched 12.10.1939 was scuttled, incomplete, on 14.5.1940.
Gerard Callenburgh (pennant 208) laid down at the same yard in October 1938 and completed on 12.10.1939 was scuttled incomplete 15.5.1940, but in a state which allowed the Germans to raise her hull and complete her as ZH1, under the Kriegsmarine flag.
Isaac Sweers of the second batch was laid down at De Schelde, Vlissingen in November 1938, launched on 16 march 1940, two months before the invasion. Her crew did the unthinkable: They managed to leave the harbor as she was and joined Great Britain. Thus, she was completed at Thornycroft, Southampton, in March 1941 with British equipments, and sunk on 13.12.1942 in action.
HNLMS Philips van Almonde built in the same yard and which laying down was delayed until March 1939 was still in construction and later BU on the stocks on 17.4.1940.
Hull and general design
Although having some design appearance reminding British designs, these ships were quite unique when seen in detail. Contrary for example to the contemporary J-K-N class they had two funnels, not a single, the armament was managed a different way, and the superstructure diverged, notably with a rounded bridge forward, not angular like on RN destroyers. But they shared an open bridge. Like contemporary US destroyers, instead of large windows their bridge had sturdier portholes, better suited to resist heavy weather's spray.
They had a straight, moderatly angled bow like British designs, a rounded stern, tripod foremast, simple pole after the aft funnel, and twin 40 mm AA organized in a way which placed a forward mount superfiring to her "A" main battery twin turret.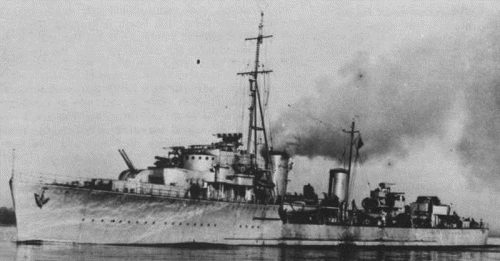 Isaac Swers as completed in UK.
Powerplant of the Tjerk Hiddes class Destroyers
They were given two shafts, driven by two two sets of Parsons geared steam turbines (Yarrow design obliged) built under license by Werkspoor, fed by three double-ending, 3-drum oil-fired Yarrow boilers. They procured a total of 45,000 shaft horsepower as designed, enough for a top speed of 36 (nominal) to 37.5 kts (speed trials reported, in Conways). They carried also 560 tons of oil for an undurance of 5400 nautical miles at 19 knots. Engine power was 45% greater than the "Admiralen" class with better endurance as planned. The top speed was reached in UK during her official acceptance trials by Isaac Swers.
Armament of the Tjerk Hiddes class Destroyers
It was made of Dutch guns, with Dutch fire control, and two AA calibers, both Swedish, plus British torpedo tubes. Isaac Swers as completed was noticeably different.
Main
As designed, they carried two twin 120mm/45 (Licenced Bofors by Wilton-Fijenoord) No.8 guns installed on deck for and aft and a single one located on the aft superstructure, superfiring. This made for a total of five instead of six. It seems the decision of a single gun was motivated by stability concerns. In UK, Swers was completed with three twin mounts, but they were lighter.
The Mark 8 fired a 45.2 lbs. (20.5 kg) shell at 2,625 fps (800 mps), ROF 10 rpm, and max range at 45 degrees, 21,300 yards (19,500 m). More
AA Armament: 40mm Bofors, and HMGs
The Tjerk Hiddes class Destroyers had two twin 40/56 Bofors No.3, the "original Bofors" purchased from Sweden. The two mounts were located, for one on the usual position, on the small structure between torpedo tubes banks, but the other was placed on a superfiring position forward, given an excellent arc of fire. This was trenedously effective caliber. Specs on the Bofors can be found here.
This armament was completed by two twin 12.7 mm/62 (0.5 in caliber) heavy machine guns. They are likely the British liquid-cooled Vickers 0.50″/62 (12.7 mm) MG Mark III used in quad tandem mounts on British designs of the time. They were located on two platforms on the roof of the same structure supporting the aft twin Bofors on the original, since the space between funnels was reserved to launch the onboard floatplane. On completion, Swers had them relocated in front of the aft funnel.
Torpedo Tubes: 2 quad mounts
These were Mark 9 models, also used by Van Galen (1943), possibly Isaac Sweers, and Tromp (1945) and British destroyers in service after the war. These British 1,725 kg, 53,3 cm (21 inch), 7,2 m long models were powered by a burner-cycle engine, carrying a 365 kg warhead to 15,000 m @ 40 knots or 17,000 m @ 35 knots depending of the setting. A far cry compared to the Japanese "Long Lance".
The Dutch Navy purchased 68 but delivery was intended for 1941.
Mines and Depth Charges
The class was equipped with short deck railings in order to carry a modest load of 24 mines.
They also equipped with basic ASW weaponry, two racks and/or dependoing of the sources four "dieptebomwerpers" or depht charge throwers aft. They probably would have a Dutch sonar, but Isaac Swers was re-equipped with a British type 124 sonar.
Onboard Aviation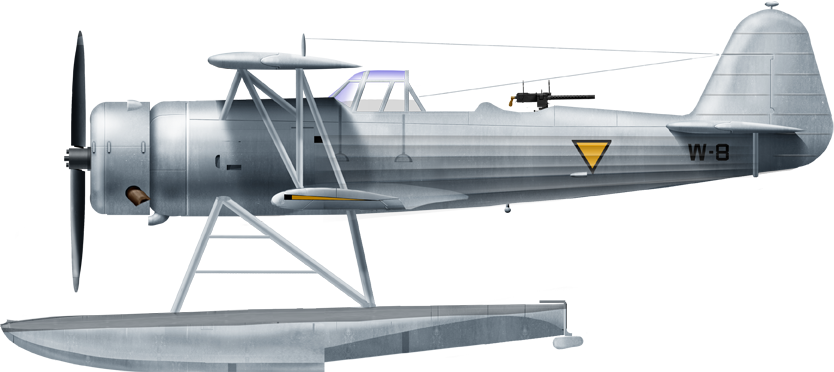 Fokker C.XI – Author's illustration.
It might sound surprising, but Dutch destroyer used by the KNIL were dependent on aviation to operate, a bit like light cruisers. They carried a single seaplane as designed, a Fokker C.XIW. It was installed in between the two funnels, not catapulted but just deposed at sea using a boom crane and recovered the same way. They were intended for scouting ahead of the combined fleet (a cruiser and two destroyers). Needless to say they were never installed, unlike the Admiralen class, which operated them in the east Indies with some success.
Completion of Isaac Swers in UK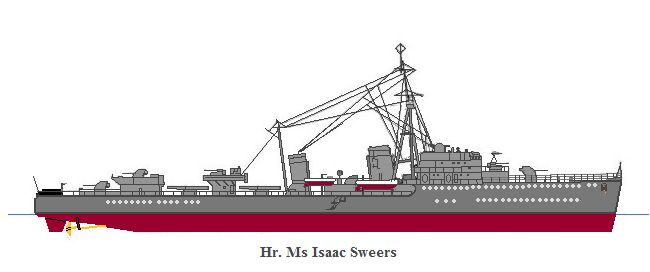 Towed in May 1940 "naked" with parts of the superstructures but no armament to UK, the Dutch government in exile (Nederlandse regering in ballingschap) later secured an agreement to complete her to British standard for full integration into the RN. Thus, when completed in 1941 she had three twin 102mm/45 QF Mk XVI (4-in DP) in light mounts on the same positions as before, two twin 40mm/56 Bofors No.3, two quad Vickers 12.7mm/62 or 0.5-in liquid cooled HMGs located between the funnels, and the same torpedo tubes banks, four Depht Charge Throwers with 12 in reserve and still the capability to lay 24 mines, which was never used.

Author's illustration of Isaac Swers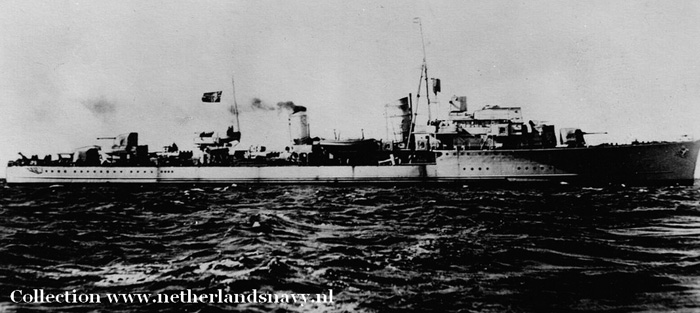 ZH1, ex Gerard Callenburg – credits netherlandsnavy.nl (in the sources)
⚙ Tjerk Hiddes specifications

Displacement
1,604 tons standard, 2,228 tons fully loaded
Dimensions
105/107m oa x 10,60m x 2,80 m (344/351 x 35 x 9 feets)
Propulsion
2 shafts Parson GS turbines, 3 Yarrow Boilers, 45,000 shp
Speed
37.5 kts
Range
Oil 560t, Range 5400/19kts
Armament
5x120mm, 4×4 40mm, 4×12.7mm AA, 2×4 533mm TTs
Crew
158
HNLMS Tjerk Hiddes (1939)
Tjerk Hiddes was in construction when the invasion of the low countries happened, Tjerk Hiddes, and of she had been launched prior to the invasion, she was far away for completion, and to prevent it, workers at the yard placed explosive charges to scuttle her in Rotterdam. She sank on 15 May 1940, but this did not prevent her into falling in German hands. The Germans had the firm intention to raise her for completion, which was fone. However a commission estimated that the damage was just too extensive for repairs, so instead, she was scrapped.
HNLMS Gerard Callenburgh/ZH1 (1939)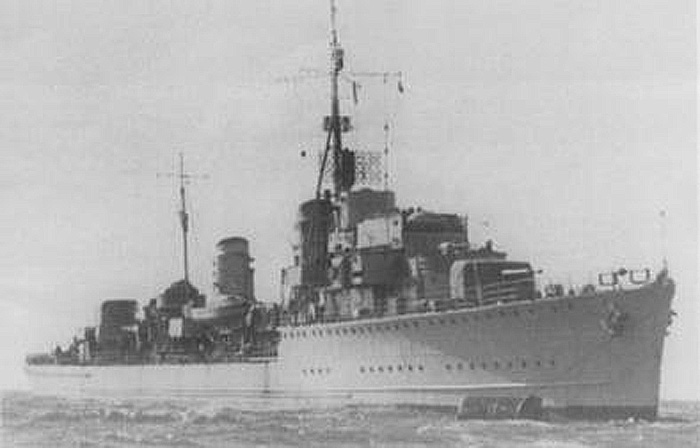 Gerard Callenburgh was also scuttled on 15 May 1940. However it seems some charges failed, because whatever the case, the Germans captured her and salvaged her to be thoroughly examined. The damage was estimated light enough for her to be repaired and completed, but after being towed back in Germany, to be completed by Blohm & Voss yard in Hamburg.
She retaining most of the Dutch armament and equipment, despite ordnance issues (the Kriegsmarine was so starved for destroyers that all prizes were welcome) and she was commissioned as ZH1 standing for Zerstörer, [destroyer] Holland, on 11 October 1942. KMS ZH1 spent the remainder of the year and of 1943 on trials in the Baltic, the crew needed to train on a ship which had all marking and procedures written in Dutch.
It seems the Kriegsmarine's staff did not want to make many modifications as they believed she was a faithful British design, and wished to compare her their own designs. They retained main armament, propulsion machinery, armament and even the fire-control systems. However for maintenance and ordnance issues, they replace the anti-aircraft armament with German equivalents, two 37 mm mounts and single 20 mm.
She sailed for the Baltic Sea on 25 October to start working up, her initial trials revealing issues, corrected during a refit in Hamburg on 18 January 1943. However in April during another sorties (11th to be exact), she collided with the Danish cargo ship SS Douro, taking light damage. However while in repair still in June she was damaged during and air raid, again delaying any sortie until October, but that gave the occasion to add a FuMO 24/25 radar set above the bridge.
Departure for France
Eventually deemed serviceable, she was transferred to Western France via the English Channel, a dificult and perilous transit started on 31 October with Z27 from Kiel for France, and while off Verdon-sur-Mer they were spotted and fired upon by British coastal artillery. Fortunately apart sme shrapnel damage, they were unscaved. However on 5 November during a sortie they were attacked by British motor torpedo boats off Cap d'Antifer and won the skirmish. She was assigned to 8. Zerstörerflotille (Flotilla) escorting the 6,951 GRT blockade runner MV Osorno through the Bay of Biscay for a first sortie. However she had troubled with her condensers and was towed to port on 26 December by T25. March 1944 saw her out after repairs, and she teamed with Z23, T27 and T29 escorting IJN I-29 to Lorient, scheduled to return to Japan with German tech. They also escorted U-boats through the Bay of Biscay in case of RAF encounters.
Operation Neptune, the battle of Ushant
On 6 June was Kapitän zur See Theodor von Bechtolsheim in charge of the 8th flotilla scrambled ZH1, Z24, Z32, and the torpedo boat T24, to head for Brest, Britanny, just above Normandy, and from there to start operations. While en route they were attacked by Beaufighters, Z32 receiving two rocket hits. ZH1 at the time was given four quadruple 2 cm Flakvierling mounts. On 8/9 June, while proceeding from Brest to Cherbourg by night, they were intercepted by the 10th Destroyer Flotilla in what became the Battle of Ushant. The British squadron consisting of HMS Tartar, Ashanti, Eskimo, Javelin, Haida, Huron and Błyskawica. All were quite powerful destroyers. The British spotted them by radar and opened fire first, the Germans launched torpedo salvoes which missed, turned away to evade. British fire nevertheless badly damaged ZH1 as she was targeted by HMS Ashanti and HMS Tartar from the start at short distance, having notably the main steam line severed aft and her forward boiler room flooded, resulting in all power lost.
Amazingly, they lost track of the stranded ZH1 in the darkness when firce fighting went on. When HMS Ashanti was about to engage Z32, ZH1 drifted back into the area and started firing on HMS Tartar in manual mode. HMS Ashanti manoeuvered in support and launched her full torpedo broadside on ZH1, severing her bow. Even in that state, the bow was still floating and guns blazing. ZH1 also fired her remaining torpedoes under manual control, but missed. Under withering fire, her captain ordered to abandon ship, preparing a scuttling by using her depth charges. Three officers and 36 crewmen were killed in this battle, and a single officer, 27 men reached France, the British capturing the remaining 140 men.
HNLMS Isaac Swers (1942)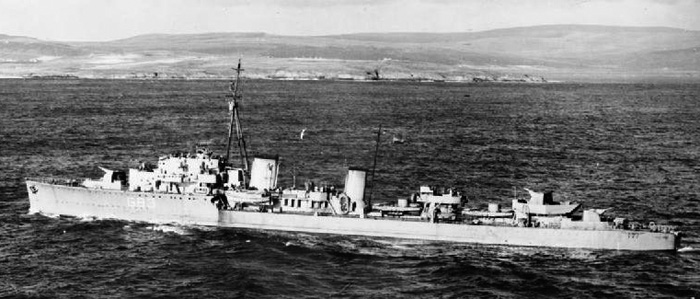 Isaac Sweers is laid down on November 26 1938 at "De Schelde" dockyard, Flushing or Vlissingen and on May 10 1940 to avoid capture, she is towed across the Channel by the tug Zwarte Zee. They escaped the Luftwaffe patrols and arrived unharmed on the 11th, on the Downs. The next day she was in Spithead.
Escape and Completion in UK
After arrangements were made between the RN and Dutch Navy, later she was towed for completion at the John I. Thornycroft Dockyard in Southampton, completed in May 29 1941. She was the only destroyer of this class to serve with the allies.
On June, 24, 1941 after a month of trials, testings and intensive training, she is declared operational for the first time, with commander J. Houtsmuller in command. She left Southampton for Greenock, via Plymouth, and through Bristol for her final trials. On 5 July she sailed for Scapa Flow, for coordination training with the RN. At last, she is allocated to the British 19th destroyer flotilla, based in Greenock on the Clyde. Her task was escorting convoys southward, to a position near Spain, the troopships beind redirected to North Africa for the ongoing campaign.
Convoys to Malta
By August 1941, Isaac Sweers covered WS-10 and back, covered the tug Zwarte Zee tryin to save Cape Rodney (4512 gt). On September 14, 1941 she collided with HMS Brocklesby, with minor damage. Three days later she left Greenock with HMS Laforey, Lively and Oribi for Operation Halbert, escoring nine merchant vessels to Malta. On the 24th she was back in Gibraltar with Rodney and the Polish DDs Garland and Piorun. They were sent to escort Nelson back to Gibraltar. On the 27th, they are attacked by 12 torpedo planes, Sweers having a near miss, 30 meters off the bow while Nelson is hit. They were soon ordered to engage an Italian battlefleet signalled 70 miles away but the latter withdrew. They are attacked off Sicily again and the Imperial Star is hit by a torpedo.
The following day the escort is back to Gibraltar. On the 29th, HMS Gurkha detects a submersible, and the Sweers but failed to sink Diaspro (Perla class), which escaped.
In October-November she escorts another convoy to Freetown and then to Malta. She takes part on the 10th to operation Perpetual, to Malta, escoting the carriers HMS Ark Royal and Argus, escorted by Malaya, Hermione and six other destroyers. Ark Royal was sunk by U-81.
On November 26, Isaac Sweers is reassigned to the 19th Destroyer Flotilla, Group I. patrolling in the strait of Gibraltar. On December 11 she was scheduled for an overhaul in Britain but was rerouted to the Eastern Mediterranean, with the 4th destroyer flotilla (Flagship HMS Sikh, Commander Stokes).
Battle of Cape Bon
During the second night, they received a report that two Italian light cruisers were spotted by a Wellington, heading southwards. The route was planned toward Bon Cape and Stokes decided to attack in the night of 12/13th of December. Ordering 30 knots the flotilla proceeds to Skerki-channel and arrive near Bon Cape at about 02.00, HMS Sikh spotting several lightflashes, but the enemy disappeared behind the cape, forcing the flotilla to round the cape, discovering the Italian cruisers the very fast "destroyer killers" Alberico da Barbiano and Alberto di Giussano capable of 40 knots.
HMS Sikh was the destroyer leader, followed by HMS Legion, Maori and Isaac Sweers, closing the line. Sikh fired four torpedoes; making 2 hits on Barbiano. HMS Legion did the same and claimed one more while opening fire, then Maori, scoring one too, completely destroying the leading cruiser. The second one fired and missed, receiving a torpedo hit by Legion and many shells. All destroyers concentrated fire on her, including Sweers, making many hits. However she soon reported an approaching Italian torpedo-boat Cigno (Spica class), and focused on her while firing four torpedoes, missing. Leaving devastation, the flotilla retired to Malta afterwards. Later they were ordered to escort another convoy, the single HMS Breconshire, 9,000 GRT from Alexandria on the 15th.
She was attached to Force K in Malta for this mission, meeting the ship on December 17. They faced air attacks at 13:00 and 18:00 h, evading all 10 aerial torpedoes launched. However a new report stated an Italian fleet of 4 battleships, with cruisers and destroyers were signalled closing. They were spotted 14 miles away, opening fire, and the convoy had to fend off another air attack, Sweers claiming one plane. They changed course twce and eventually left Breconshire behind with two destroyers while Admiral Vian ordered a diversion of the remainder with a torpedo attack. But this was enough and the Italians folded up.
December 24, Sweers had a new commander, W. Harmsen, replacing J. Houtsmuller. She later escorted the convoy MW 8 B to Malta. On January 17, 1942, Sweers successfully towed HMS Gurkha hit by U-133 out of a pool of burning oil, rescuing 240 of her crew. She landed them in Tobruk harbor and returned to the convoy the following day, reaching it at 02:00 hours.
Indian Ocean Operations
On the 23th, with the situation degrading in the East Indies, it is decided to send her to help. On the 8th, after crossing the canal, she enters the Indian Ocean, stopping to refuel at Colombo, drydocked for maintenance and fixes. She was at sea again on the 28th and back by order, but it was too late already. Instead, she is attached to the British Eastern Fleet. On April 5, she is Addu Atoll for refueling with Force B, en route to find the Japanese fleet. The latter was soon attacking Ceylon, and Colombo, later finding and sinking HMS Cornwall and Dorsetshire and another day, HMS Hermes with HMAS Vampire. Eventually, deprived of any base, Force B made it back to Bombay on the 13th.
Nothing much happened afterwards. On April 30, she stopped in the Seychelles, on May 22 was based at Mombasa in Africa but whereas the latter participated in Operation Ironclad, she left for Britain and a major overhaul, via Simonstown, Freetown and Gibraltar. this took place in June-September Drydocked at Thornycroft, gaining 20 mm Oerlikons and more depht charge throwers, new Asdic. When recommissioned, this was followed by a refresher training in Scapa Flow.
Operation Torch
By October 1942 she escorted HMS Furious to Gibraltar and went to the Azores, escorted the troop convoy KMF-1 bound for North Africa, and Operation Torch. She missed her rendez-due to a deciphering signal error and on the 5/6 passed the Gibraltar strait, but Sweers stayed here as part of Force H. On the 11th she rescued survivors from the 11.069 GRT Nieuw Zeeland, with HMS Porcupine, torpedoed by U-380. On the 12th, she returned with Force H, refuelled underway and by night, covered the resplishment Force R before joining back Force H.
The following day however at 05:00 hours, her luck turned. She is hit by two torpedoes on her starboard by an unknown submarine (later identified as U431, Kapitän-Leutnant Wilhelm Dommes). She is soon flooded and ablaze after a fuel tank is hit, burning oil spreading rapidly. The second torpedo hit next to the officers quarters, asleep by then and all killed. She would rapidly sink, with only 86 survivors out of a crew of 194, some rescued by the trawler Loch Oskaig.
HNLMS Philips Van Almonde (never)
HNLMS Philips Van Almonde's hull was still in construction at KM de Schelde since 2 March 1939 when captured in May 1940 but the Germans. She was not even sabotaged, and examined after capture. Since work to be done was still considerable, German authorites estimated her 1000+ tons of high grade steel was more valuable for other uses, and she was broken up on her slipway from 17 May 1940.
Read more/Src
Conway's all the world's fighting ships 1922-47
M. J. Whitley, Destroyers of World War 2, 1988 Cassell Publishing
https://www.netherlandsnavy.nl/Torpedoes.html
https://www.navypedia.org/ships/netherlands/nl_dd_g_callenburgh.htm
http://www.navweaps.com/Weapons/WNNeth_Main.php
https://uboat.net/allies/warships/ship/7807.html
https://uboat.net/allies/warships/ship/2855.html
https://www.netherlandsnavy.nl/Sweers_his.htm
https://www.netherlandsnavy.nl/Callenburgh.htm
https://en.wikipedia.org/wiki/Gerard_Callenburgh-class_destroyer