HSwMS Dristigheten was Swedish Navy's coastal defence ship of the new century, single in her class, and essentially a modified version of the Oden-class of 1894-99. Launched 28 April 1900, she became a seaplane tender in 1927-1930 with hangar and deck aft, cranes and three floatplanes. She served as such in WW2 and was reclassified as a target postwar, still active until 1961, quite an old ship at that point…
Design Development of the HSwMS Dristigheten (1896-1899)


1899 Panorama of the Swedish Navy (Svenska Flotten), HMS Dristigheten is in the background, she was still in constrcution at the time.
At the end of the 19th century, technical developments were ongoing throughout Europe and ship design and contruction progressed very quickly in many areas. At the time the Oden class were still in construction, by the autumn of 1896, the Swedish Marine Administration was commissioned to starte early phase development of a new Panzerkepp (Armoured ship) for the coastal defense. Drawings were soon produced for a new coastal battleship of the same type but improved. In 1897, a proposal was submitted for a modified Oden class improvemed in several ways, and two yards, Motala and Lindholmens Verkstads (Shipyard), were jointly commissioned to build the new, still unmanned vessel. The keel was eventually laid down in Lindholmen (Gothenburg) on 6 February 1899 while the final design was still in the workings. Unlike previous panzerkepp named after Norse mythology figures, it was decided by the Riskdag to honor King Gustav III's reign. "Dristigheten" loosely translates as "boldness" or "hardlihood". A previous ship was built in 1785, a two-decker ship of the line.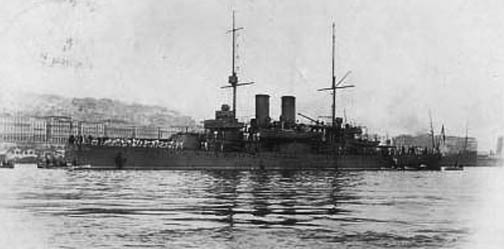 Design of the HSwMS Dristigheten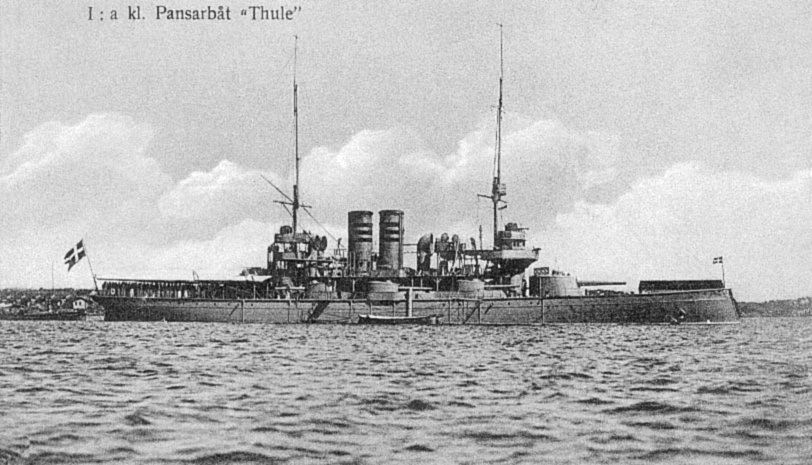 HSwMS Thule (1893). Third ship of the Svea class (also Göta), these were sea-going coastal battleships, unlike the previous monitors Loke (1871) and J.Eriksson class of 1966.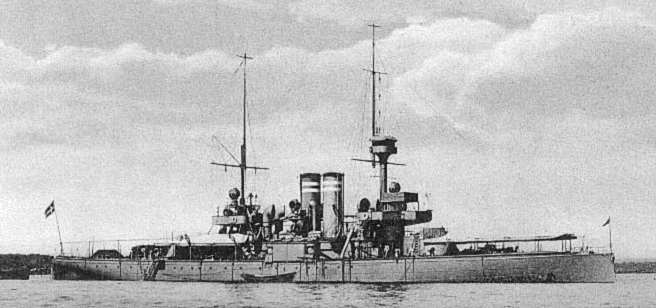 HSwMS Oden (1897), virtually a repeat of the previous Svea class, slightly larger and faster. The class comprised also Thor and Niord.
Compared to the previous oden class, Dristigheten was a gradual improvement in scale and with a completely revised armament made for fast-firing at longer ranges. This was the stepping stone on which were built the Äran class in 1902-1904. They were gradual improvements, slightly larger and faster (17 knots).
Hull & protection

The HSwMS Dristigheten overall lenght was 89 meters, for 14.77 meters in beam, and 4.92 meters of draught. Her standard displacement was noted at the time to be 3,200 tonnes with a contracted maximum displacement of 3,600 tonnes (as the previous Odin). Her armor scheme was simple and largely inspired by the previous Odin class, with a new surface-hardened plating offering better protection, of the Harvey Nickel Type (HN). Overall, this allowed to reduced the armour figures thickness and cover more of the ship without increasing the displacement. The belt was protected by 8 inches (200 mm), the armor deck by 2 inches (25 mm) and the turrets from from 6 inches to 8 inches (150 to 200 mm). The previous Odin class used Creusot Steel plates, and the belt reach 9-1/2 inches, Odin even having 10 inch turret faces (250 mm).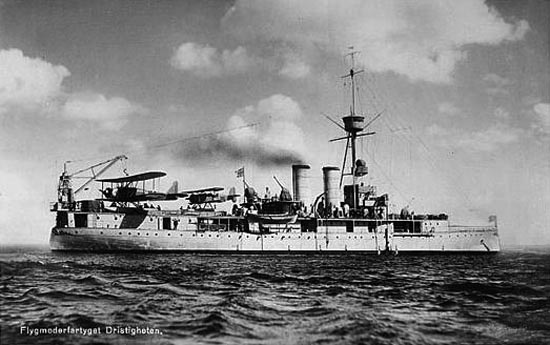 Propulsion
The machinery comprised two 3-cyclinder triple expansion piston steam engines plus eight steam boilers. The latter were set up in two fire rooms, fitted for the first time with watertube boilers, unlike Odin clas classic type. The forward boilers fed the two steam engines which 5,400 indicated horsepower combined as contracted. Each machine was driving a single shaft propeller. On trials, Dristigheten reached her design speed.
Armament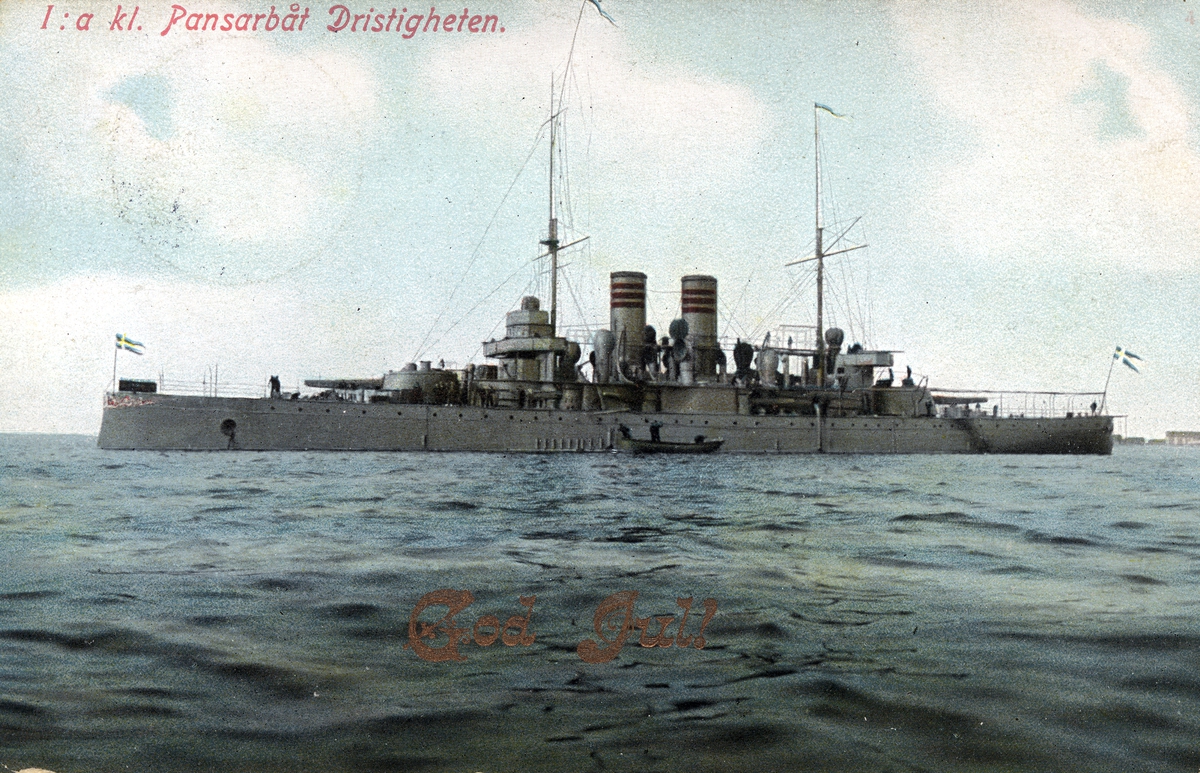 Main artillery:
The armament of HSwMS Dristigheten was the object of much debate and discussions. It ended with a compromise, with medium guns, but more of them. The previous Odin class had 10 inches/42 cannons (25.4 cm) fore and aft while HSwMS Dristigheten had instead two 8.3 inches/44 (21 cm), which seems far lighter. But these Krupp guns were faster-firing combined with a longer range. These two 21cm m/98 were installed in two turrets fore and aft, like in the previous class. The next point was second artillery in the light of recent engagements needed to be buffed up, and on HSwMS Dristigheten this translated to six 15.2 cm cannons w/98 placed in three armored casemates on the broadsides, instead of six 4.7 inches (120 mm) on the previous Oden.
Light artillery:
It consisted in ten 57 mm cannons m/798B, plus one 37 mm cannon m/98B in each steam pinnace on board. This was completed by two 45.7 cm underwater torpedo tubes m/99 for close quarters.
⚙ Specifications 1914

Displacement
3200-3445t standard, 3,600t FL
Dimensions
86.87/89 oa x 14.78 x 4.88 m (285 x 48 x 16 ft)
Propulsion
2 shafts Steam TE engines, 8 boilers, 5,400 shp (4,000 kW)
Speed
16.8 kn (30.6 km/h; 19.0 mph)
Range
2,900 nmi at 10 kn (19 km/h; 12 mph)
Armament
2 x 210 mm/44cal. Bofors M/98 (8.3 in)
6 x 152 mm/44cal. Bofors M/98 (6 in)
10 x 57 mm/55cal. Ssk. M/89B (6-pdr)
2 x 45,7 cm TTs (18 in)
Armor
Harvey Nickel 203 mm (8 in) main belt & main turrets
Crew
262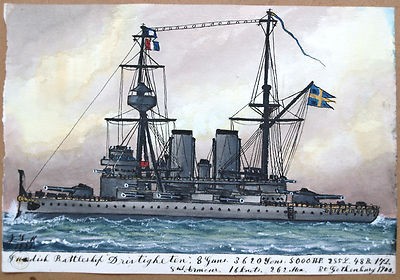 Interwar Reconstruction
1922 Overhaul
It was clear after WW2 HSwMS Dristigheten's armament needed a modernization. She kept her two main guns, six secondaries, but reduced the lighter guns to eight 6-pdr (57 mm), two removed, and two more 6-pdr, of various models and possibly used for landing parties, while the torpedo tubes were removed. Also the military tops were removed to improve stability. Two of the 57 mm cannons were replaced by anti-aircraft guns, placed on the roof of the forward turret. Previously in 1911 she had received a new rangefinder and tripod mast.
Armament
2 x 210 mm/44cal. Bofors M/1898
6 x 152 mm/44cal. Bofors M/98
8 x 57 mm/55cal. Ssk. M/89B
1 x 57 mm/21,3cal. Bofors lvk M/16
1 x 57 mm/21,3cal. Bofors lvk M/19
Crew
Circa 380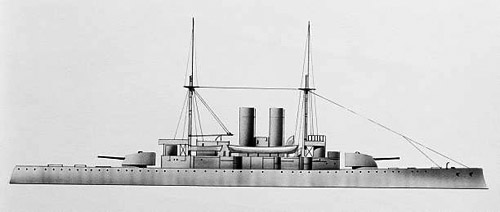 HSwMS Dristigheten 1927-1930 Reconstruction
In 1927, it was decided to convert HSwMS Dristigheten into a depot ship for the floatplanes of the Swedish Coastal Fleet's aviation. The 21 cm cannons and light artillery was removed and four the 15.2 cm (6 inches) cannons were later landed to be reused by Swedish auxiliary cruisers used during WWII. The new focus was on air defense, with four 7.5 cm m/15-23 models and four 8 mm machine guns m/14-29. A new superstructure was also constructed, extending over the entire stern, including workshops. Its roof also had parking space for floatplanes, lifted by a crane mounted at the far aft. There was no catapult, so the planes were simply lowered at sea for taking of. In 1939, these were Fairey IIIs.
| | |
| --- | --- |
| Armament | 4x 75, 2 x 40 mm AA, 4 MGs |
| Aviation | 2-3 seaplanes T1 Heinkel HD 16, J4 Heinkel HD 19 |
| Crew | 427 with air crews |
HSwMS Dristigheten in service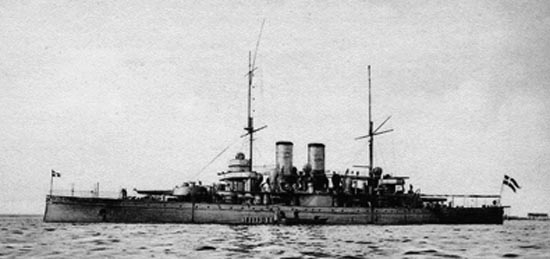 Dristigheten as completed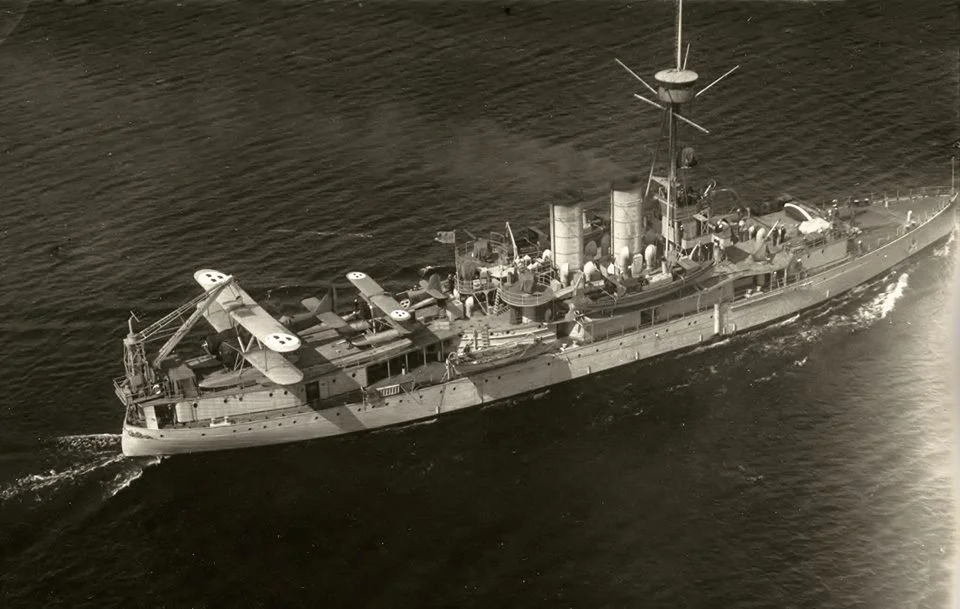 HSwMS Dristigheten was launched on April 28, 1900, she lade her sea trials and was commissioned on September 5 1901. Nothing much happened until 1906, as she trained in home waters and the other Oden class coastal battleships. In 1906, however she started for a limured cruise, visiting Germany and Great Britain (east ports) due to her limited range. However by November, HSwMS Dristigheten started a long voyage for the winter, going south to the Mediterranean, visiting many ports in southern Europe and North Africa. In April 1907 she was back in Karlskrona. nothing is wothy to mention in 1907-1910. That year and until 1911, she went into drydock from an overhaul and refit: He front mast was rebuilt into a tripod for more sturdiness, in order to support a platform for a modern two-meter rangefinder. During WW1, she was part of the neutrality fleet, trying to enfore Swedish Waters integrity and to protect Swedish trade. After the war, in 1922 she underwent a second refit, mostly revolving around modernizing her armament, although she kept the original battery unchanged.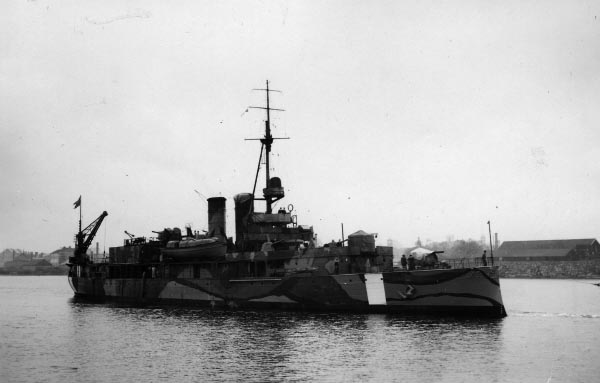 HSwMS Dristigheten in WW2 and afterwards


HMS Dristigheten in WW2 – Old Author's illustration
Nothing much happened during the interwar worthy of note. In September 1939, war started and trigerred the mobilization plan in Sweden. HSwMS Dristigheten entered the Coastal Fleet's reconnaissance squadron ans a backup protection. She teamed with HSwMS Gotland and six torpedo boats. However she was not inspected toroughly enough to see her machinery problems. Accidents soon multiplied in the boilers and steam engine, causing frequent stops and ultimately seeing her confined to harbour. When Denmark and Norway were invaded (April 9, 1940), HSwMS Dristigheten was still inspected in the naval shipyard of Stockholm, planning a possible overhaul. This inspection properly asessed the needs and she was after some fixes, relegated to the coastal fleet, and later, camouflaged and having neutrality bands, stayed mostly static until the end of the war. In 1945 she sailed to Karlskrona, pending her fate.
Post-WW2 service
After World War II, HSwMS Dristigheten was placed in reserve due to her age. She was stricken eventually on June 13, 1947. Instead of being sold for scrap, she was used as a target ship for many many years, being shelled and blasted by aviation. In the summer of 1960, she saw her last firing exercise, destroyers and frigates testing their AP shells. She was inspected after this exercise by a security team on board. They quickly located several servere leaks to seal, and she was prepared to be towed towards Karlskrona. However before arriving there, she sank to a depth of ten meters, still largely above water. The authorities decided she could not be left here, even blasted, so a team built a rim of boards around the ship to refloat her. Operations went on and water was pumped out. She was refloated and conducted to the Oscarsdockan in Karlskrona. In 1961 she was sold for scrapping in Gothenburg.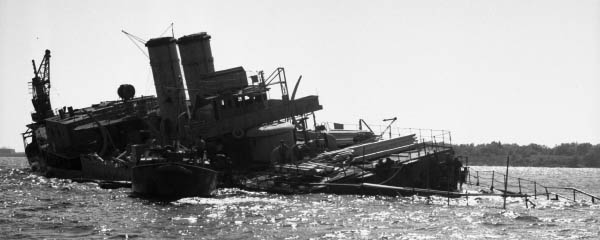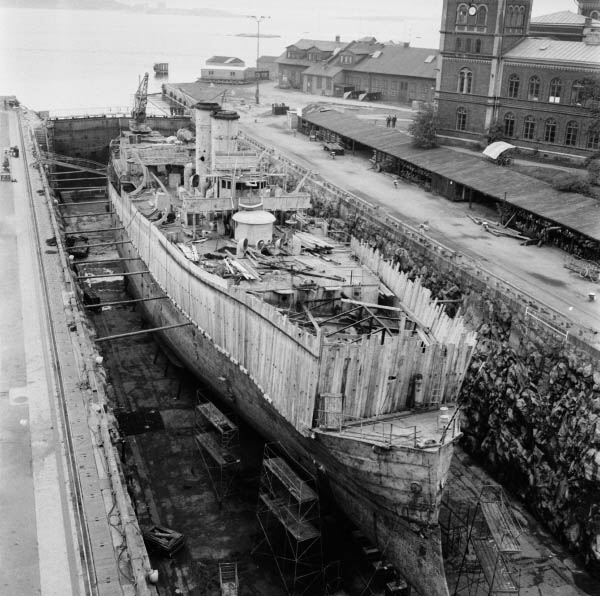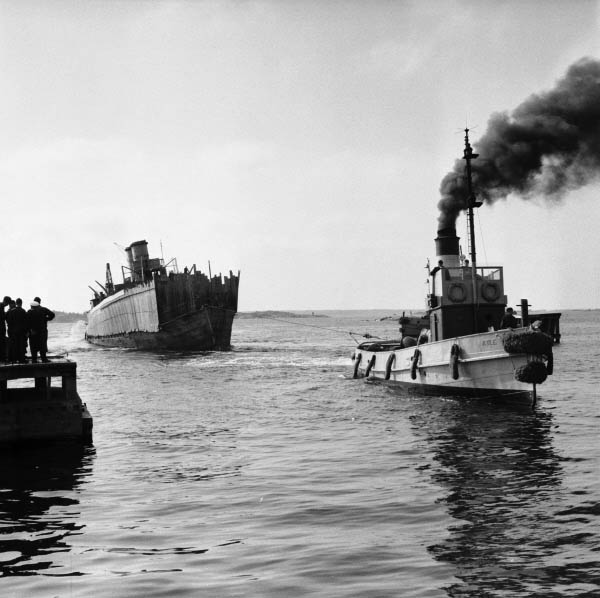 Sinking, salvage and drydock repairs, 1960-61.
Sources/Read More

Old article on runeberg.org
On navypedia.org
On worldnavalships.com
HD Picture on digitaltmuseum.se
On shapeways
---
Borgenstam, Curt; Insulander, Per; Åhlund, Bertil (1993), Kryssare : med svenska flottans kryssare under 75 år (1:a), Karlskrona
von Hofsten, Gustav; Waernberg, Jan (2003), Örlogsfartyg: Svenska maskindrivna fartyg under tretungad flagg (1:a), Karlskrona
Holmquist, Åke (1972), Flottans beredskap 1938-1940, Uddevalla: Bohusläningens AB
Insulander, Per; Ohlsson, Curt S (2001) (1:a), Falkenberg: C B Marinlitteratur AB
Lagvall, Bertil (1991), Flottans Neutralitetsvakt 1939-1945, Karlskrona