The workhorse of interwar USN observation
The name "corsair" in the USN for an aircraft has a long legacy. The cokd war LTV A-7 Corsair II produced by Vought through Ling-Temco-Vought is now retired, but modern drones are likely to retake the name, first granted to a Vought plane back in 1928. This was the original one, before the legendary WW2 fighter-bomber.
From the 1926 Vought XO-26 prototypes to the production O2U Corsair, the Navy had its standard biplane scout and observation aircraft, both usable with floats or interchangeable wheeled undercarriage. It was used notably on virtually all interwar USN aircraft carriers in wheeled version, being only retired in 1939 on these (O3U), and was also standard on most interwar US Battleships and cruisers.
That very long legacy did not ended in WW2, as no fewer than 141 Corsairs were still serving with the US Navy and Marines, and the type was still used by many countries outside the US, notably for training. It saw action in China, in the Colombia-Peru war, and by the Thai air force against France in 1941. It became iconic in the last scene of 1933 classic "King Kong" as well.
Start of the legacy: Vought UO and O2U
Vought UO-1 (1922)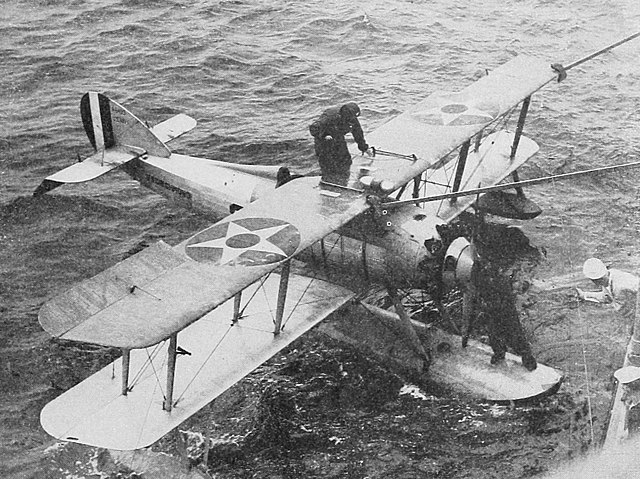 The previous Vought UO-1 (1922)
The Vought Corporation was not new to aviation, starting in 1917 with the successful Vought VE-7 1917 biplane trainer and fighter, produced throughout the early 1920s. USN experience with the VE-7/9 shown the way forward with onboard catapult-type seaplanes, and Vought proposed the UO-1, a streamlined VE-7/9, first with the improved inline with the Aeromarine U-8-D engine in 1921 and soon with the radial Wright J-1 in 1922. Its Basic structure as two-bay biplane was essentially the same but with a better shape, and all parts remaining standard between series.
The radial engine caused more drag, compensated by rounded fuselage sides and faired out behind side-mounted fuel tanks, a modified forward cockpit, sligthly taller vertical tail, redesigned center section, new tail surfaces. The UO was the floatplane version, with a central float and two smaller ones, and it replaced the VE on all ships. Later in 1922 after the prototype was successfully tested, the Navy placed an order for 141 UO-1. This was the company's first big interwar military sale. The UO also led to a fixed undercarriage variant called the Vought FU (20 built, mostly exported). The Navy turned again in 1925 to Vought for its replacement, leading to the company answering specifications in 1926 with two prototypes.
Vought O2U (1926)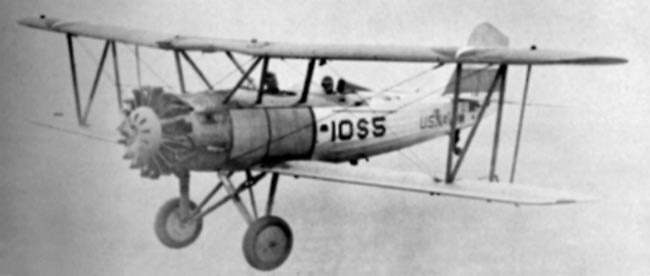 The Vought O2U (1927)
The prototypes ordered in 1926 were tested by the Navy Trial Board. No serious issues were found and the Navy ordered two production batches. In 1927, these completed amounted to 291 O2Us, as delivered. In between the Variant O2U-2 was soon proposed by Vought, with a better span for better carrying capacity and safer landing speed, as well as a larger tail for better maneuvrability. It was accepted right away by the Navy as the following O2U-3 which had a revised wing rigging and redesigned tail surfaces, notably to deal woth the new Pratt & Whitney R-1340-C engine. The O2U-4 had a few equipments changes asked by the Navy, and followed, all three ordered in 1928.
The Vought O3U and SU scout series
By 1930 Vought worked on a brand new evolution of the type, which in addition to all evolutions of the previous models crystallized on the O2U-4, had a new Grumman float. It was soon also accepted by the USN as the O2U-3, and manufactured until 1936 with a grand total of 289 being delivered. They evolved into the 2, 3, 4, with new cowled engines, enclosed cockpits notably for the O3U-6 (see variants). The Grumman float took place in the center and housed a telescopic landing wheeltrain, so it gave this model and amphibious capability the navy appreciated much. It alo participated in the quick celebrity of Grumman in the Navy.
The O3U-2 had a more powerful Pratt & Whitney R-1690 Hornet engine and so its airframe was much reinforced to cope with the speed. The U-3 swapped for the 550 hp (410 kW) Pratt & Whitney R-1340-12 and the U-4 had the even better Pratt & Whitney R-1690-42 Hornet. The ultimate O3U-6 was the ultimate evolution, much imprived in wind tunnet: It kept the same engine but adopted a NACA cowling and enclosed cockpits.
The O3U and its variants became the standard onboard observation plane for all battleships and cruisers of the USN, also seeing service on the Lexington class, USS Ranger, and USS Yorktown. They were retired in 1939-40. Alongside these amphibians, the Navy also adopted for its land bases a wheeltrain version called the SU series (SU-1, 2, 3, 4) based on the O3U-2 and 4. The O2U-3 was also evaluated by the United States Army Air Corps, but aside exports to China, Thailand, Brazil, Argentina, Peru and Mexico (it as even licence-built there), it was also evaluated by the RAF, the Luftwaffe and the IJN.
Design of the Vought O3U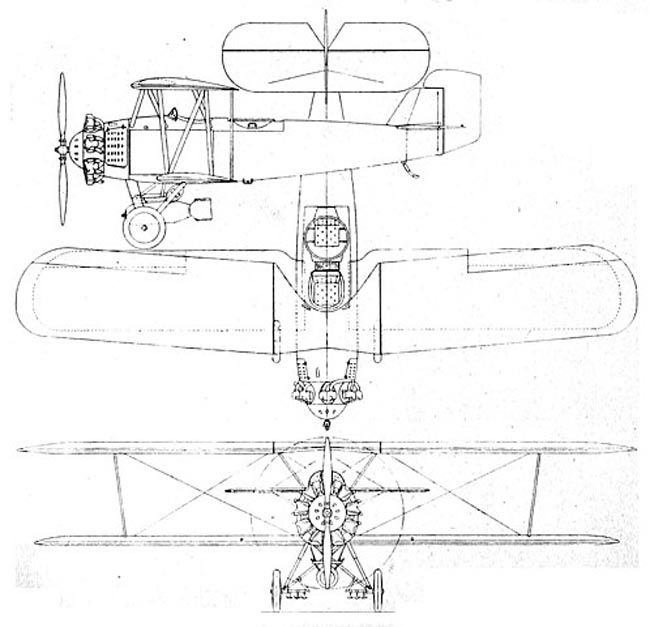 Blueprint of the Vought O2U-2
The Vought O2U/O3U was typical for the time as a single-bay biplane with wings of near-equal span, rounded, with some dihedral for the upper wings, and two "N" struts for support plus elevons struts, and a pair of three (V plus single) connecting the fuselage. The forward part, behind the open air Pratt & Whitney Hornet engine was all metal, englobing the pilot seat and containing the gasoline tank, and the rear part was made of a metallic framing wrapped in canvas, with the observer seat, unarmed on the O2U.
The wheeltrain version had a standard two legs system (not interconnected) to spport the wheels, with two main leg and a support each. There was also a fixed tailwheel. The tail was large and rounded. The O2U only had a single .30 cal (7.62 mm) Browning machine gun forward firing in the upper wing. The O3U and SU versions had a trainable mount with a twin .30 cal Browning in the rear oberver cockpit. The O2U and O3U could carry a small bomb load, strapped under the wheeltrain for the SU, up to four 116 lb (53 kg) or ten 30 lb (14 kg) under the lower wings. The amphibian O3U had a central float with two small underwing floats. The O2U, O3U and SU were all called "Corsairs" and the Mexican version was even called the "Corsario". The O3U-6 were delivered both as land planes and floatplanes, and in that case, the conversion was done by the Naval Aircraft Factory.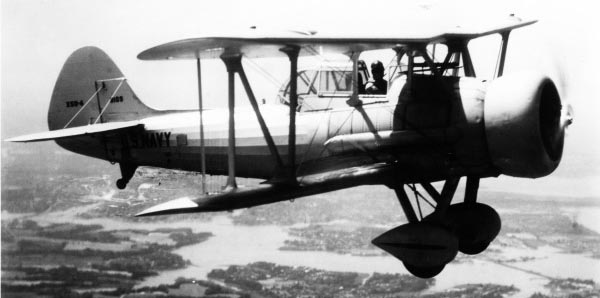 Vought XSU-4 c1933
About the engine: Pratt & Whitney Wasp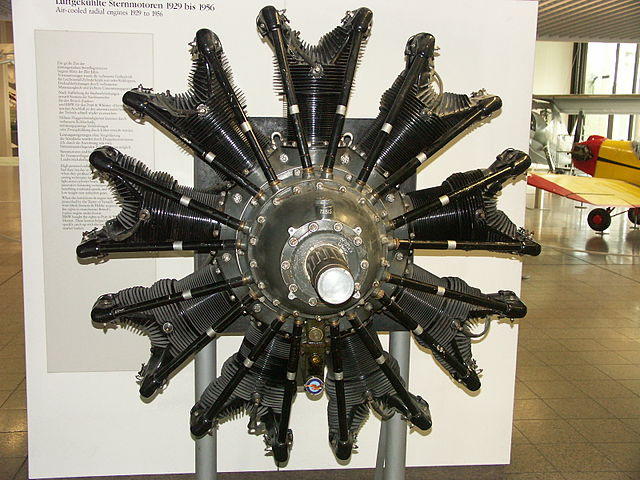 Pratt & Whitney R-1690 Hornet
This famous, powerful, compact and very reliable Hornet appeared first on the O3U-2 as the O3U-1 was given the same Pratt & Whitney R-1340-C as the O2U-3. The Hornet, designed from 1926 developed in its first version R-1690-3, 525 hp (391 kW). In 1930 it was likely the R-1690-5 (525 hp), and later the R-1690-11, rated for 775 hp (578 kW). The U-3 was also remotorized, with a Pratt & Whitney R-1340-12 Wasp engine which developed like the -16, 550 hp (410 kW).
The experimental XO3U-5 tested the Pratt & Whitney R-1535 (rated for 750 hp (560 kW)). The next experimental U-6 returned to the more trusted Pratt & Whitney R-1340-12 Wasp in early production (only 16, for 32 total) while the next batch was given the R-1340-18 which developed 600 hp (450 kW), 50 hp more. The land-based SU-1, 2 and 3 followed the U-2, U-4 engines. It's difficult to track down engines fitted for the export models, but the very last serial SU-4 had the 600 hp R-1690-2 engine. 41 were delivered.
Variants of the Vought O2U/O3U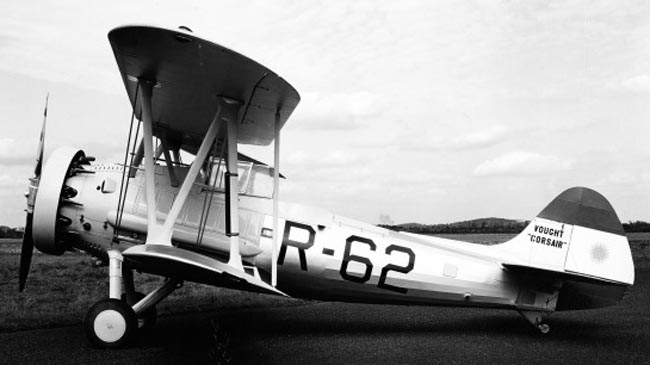 Argentinian export version
XO-28: U.S. Army Air Corps evaluation prototype (29-323) at Wright Field, with a 450 h.p. R-1340-C engine. Destroyed by fire March 1930.
O2U-1: 2 prototypes, 130 production with wheel/float landing gear +28 escort 450 hp (336 kW) R-1340-88 engine
O2U-2: Greater span and rudder (37 built)
O2U-3: Rigging and tail surfaces mods, R-1340-C engine (110 built +30 export)
O2U-4: O2U-3 with equipment changes (43 built +1 export)
O3U-1: Battleships/cruiser standard observation seaplane with the Grumman float (87 built)
O3U-2: Airframe modified to cope with the better R-1690 Hornet engine (29)
O3U-3: Pratt & Whitney R-1340-12 Wasp engine (76)
O3U-4: R-1690-42 Hornet engine (65)
XO3U-5: Pratt & Whitney R-1535 engine prototype
XO3U-6: O3U-3 with NACA cowling, enclosed cockpit
O3U-6: Serial variant with the R-1340-12 and the above (32)
O3U-6(late): Pratt & Whitney R-1340-18 Wasp engine (16)
SU-1: Scout version wheeltraib based on the O3U-2 (28)
SU-2: Same, based on the O3U-4 (53)
SU-3: Low-pressure tires variant (20)
XSU-4: Prototype with a 600 hp R-1690-42 engine
SU-4: Production model with the R-1690-2 engine (41)

---

Exports

Vought V-65B: Brazil (36)
Vought V-65C: Nationalist China
Vought V-65F: Argentine Navy
Vought V-66B: Brazil
Vought V-66E: Evaluated by the Royal Air Force
Vought V-66F: Brazil and Argentine Navy
Vought V-80F: Argentine Navy
Vought V-80P: Peruvian Air Force
Vought V-85G: For Germany (evaluation)
Vought V-92C: Nationalist China
Vought V-93S: O3U-6 for Thailand
Vought V-99M: same for Mexico
TNCA Corsario Azcárate: Licence-built O2U-4A (31)
Vought AXV1: Evaluation prototype for the IJN in 1929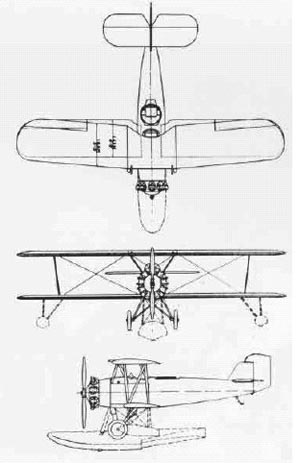 Drawing O2U-1 floatplane
Specifications O2U-1

Dimensions*:
9.65 x 12.65 x 3.02m (32 x 41 x 9 ft)
Weight (Light):
2,094 kgs (4,606 lb)
Weight (Max take-off):
3,271 kg (7,197 lb)
Propulsion:
Pratt & Whitney R-1535-94 Twin Wasp Jr
Performances:
825 hp (615 kW), 357 km/h (222 mph)
Range:
1,000 nmi (1,150 mi, 1,852 km)
Armament – MGs:
1x 0.5 in, 1x 0.3 in
Armament – Bombs:
1,000 lb (454 kg) under fuselage, 2x 116 lb (52.6 kgs) under wings
*Length, Wingspan, Height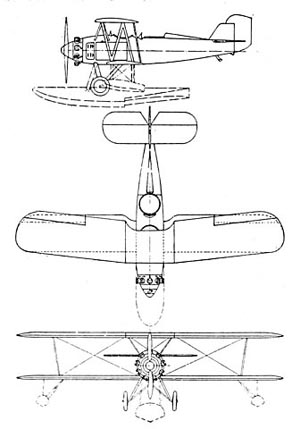 Vought O2U-3 view Aero Digest May 1927
Specifications O3U-6

Dimensions*:
9.65 x 12.65 x 3.02m (32 x 41 x 9 ft)
Weight (Light):
2,094 kgs (4,606 lb)
Weight (Max take-off):
3,271 kg (7,197 lb)
Propulsion:
Pratt & Whitney R-1535-94 Twin Wasp Jr
Performances:
825 hp (615 kW), 357 km/h (222 mph)
Range:
1,000 nmi (1,150 mi, 1,852 km)
Armament – MGs:
1x 0.5 in, 1x 0.3 in
Armament – Bombs:
1,000 lb (454 kg) under fuselage, 2x 116 lb (52.6 kgs) under wings
*Length, Wingspan, Height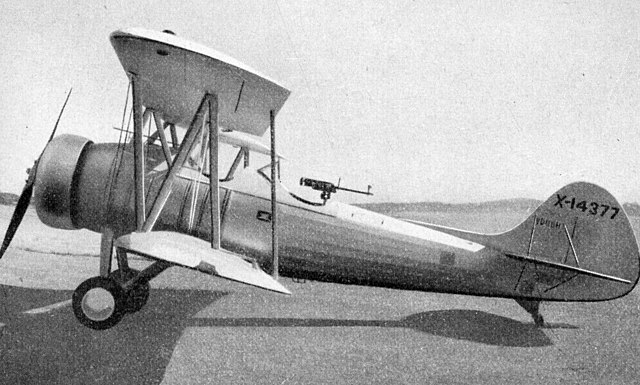 Vought O3U-6
The Corsair in combat
The Corsair became the standard obervation plane of the USN from 1927 to 1937. Battleships and cruisers still operated the late O3U-3, 4 and 6 in 1939. The model also saw a great deal of action in South America (border disputes between Argentina, Peru and Brazil) but also intense combat with the Chinese Republicans, although this is off-topic there.
Some O3U-6 sarved until late 1941, converted into target drones or radio controlled drones, by Naval Air Factory. They were also tested for flights under hazardous conditions. A single O3U-6 was given experimentally dual-position flaps and full-length ailerons, designated XOSU-2. The NAF models were former O3U-6 in 1940, with a three-wheeled chassis.
In total, 289 SU models served in addition with the USN. The O3U was from 1936 to 1939 the default observation carrier-based plane, on duty from USS Langley, Lenxington, Saratoga, Ranger, and Yorktown. Transition started from USS Enterprise, but after commission in May 1938, she operated the Vought O3U and SU versions of the Corsair. 141 "Corsairs" were still active with the US Navy and Marines in December 1941. Soon after they were replacd by the SOC Seagull, and in 1942 by the Seamew and Kingfisher. Isolated O3U from local NAS around the US Coast probably spotted potential threats but no record of military action was recorded. By the end of 1941 indeed, all 03U and SU were transferred to the Continental reserve, and in training units, operating until 1945.
Mexican "Corsarios"
In March 1929, Mexico purchased 12 armed O2U-2M, powered by the 400 hp Wasp, in order to quell a recent military coup. Later Mexico obtained a licence to assemble 31 more, called "Corsarios Azcárate O2U-4A". In 1937, ten V-99M powered by the Pratt & Whitney R-1340-T1H-1 (550 hp) Wasp were also purchased, although some soyrces claimed they could have been reditected afterwards to Spain, under embargo, in service of the Republicans. In that case, they took part in the Civil war early phase 1937-38.
Chinese Hǎidào (Corsairs)
China purchased succsesively 42 export versions of O2U-1 (Vought V-65C) in 1929, delivered until 1933. The same year, the Chinese nationalist government ordered 21 export versions of O3U (Vought V-92C) delivered in 1933–1934, so a total of 63. They saw action soon, used for reconnaissance and bombing, but also close support. The O2U-1 took part in the battle or the Central Plains and were present during the January 28 Incident, strafing Japanese troops. The O3U took oart in the Battle of Pingxingguan in close support of Chinese ground forces, and later to bomb and strafe Japanese positions in Shanghai.
Thai Bin Jaw Thing 1 (VS-93SE)
The Royal Air Force of Siam ordered 12 Corsairs. Nine were V-93S classed as pure reconnaissance aircraft, but the remaining 3 were close support aircraft, also called V-93SA: They were equipped with no less than four 8-mm Vickers machine guns in the fuselage plus two more manned by the rear gunner, six total. They also carried the same bomb load as the standard version.
In addition to the V-93, the Kingdom signed a contract (March 30, 1934, for 240,156 dollars) to provide a construction license in Siam, for an unlimited number. It also included all the technical documentation, for 9900 dollars in all. They would be fitted with Pratt & Whitney "Hornet" S5E-SD 745 hp engines and their metal two-bladed fixed-pitched propellers and their townend rings. Assembly of this new model, called locally "Bin Jaw Thing 1" was carried out at the Siamese workshops directed by German chief engineer Eric Hoffman. In 1936, 1937 and 1939, no less than three batches of 25 V-93SA were ordered in succession, until the US government imposed a ban on engines supply, since the political views of the Kingdom tended to lean towards the axis. The Siam nevertheless ordered 40 Hornet S5E engines and NACA cowlings.
So an unknown number of these took part in their only notable action in wartime, the French-Thai war of November 1940 to January 1941. The Thai Royal Air Force had listed 60 V-93SE, in four reconnaissance squadron (32nd, 34th, 42nd, 44th) plus three assault squadrons (35th, 41st, 43rd), and only the 32nd, 34th, 42nd and 43rd Sqn were called to action (around 36). They raided French airfields and artillery positions, had no losses but a few damaged by French fighters and AA. A unique V-93SA was shot down by AA and another, making an an emergency landing was captured by the French. Thai pilots of an assault version claimed a single old biplane Potez 25TOE. The Thai V93SE soldiered on until 1945, and afterwards, only 5 were suitable for flight, scrapped in 1949, one preserved.
Read More/Src
On wings-aviation.ch
About the O3U-6 on vought.org
About the Vought UO, a VE-7 with radial
Generic page abut the Vought models on vought.org
Serial numbers 1922-29
Article on pospsci 1931
Article on popsci 1933
Vought on aerofiles.com
On airwar.ru
On aviadejavu.ru
O3U on wings-aviation.ch
O2U on wings-aviation.ch
O3U-3 on internetmodeler.com
wikimedia commons
Eden, Paul; Moeng, Soph (2002). The Complete Encyclopedia of World Aircraft. Amber Books
Hagedorn, Daniel P. (1993). Central American and Caribbean Air Forces. Tonbridge
Lezon, Ricardo Martin & Stitt, Robert M. "Eyes of the Fleet: Seaplanes in Argentine Navy Service p2". Air Enthusiast
Young, Edward M. (1984). "France's Forgotten Air War". Air Enthusiast.
Núñez Padin, Jorge Felix (2009). O2U-1A & V65F / V66F Corsair. Serie Aeronaval, Bahía Blanca
Illustrations: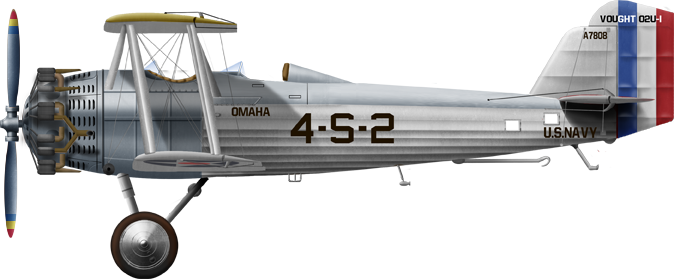 Vought-O2U-1 VS-4b light cruiser USS Omaha air wing, 1928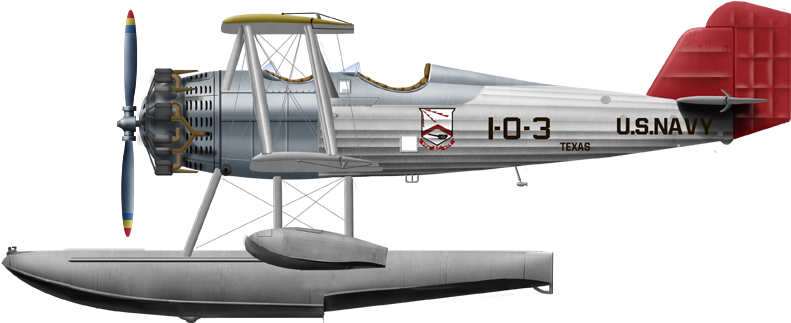 O2U-1 VO1b, Battleship USS Texas, 1928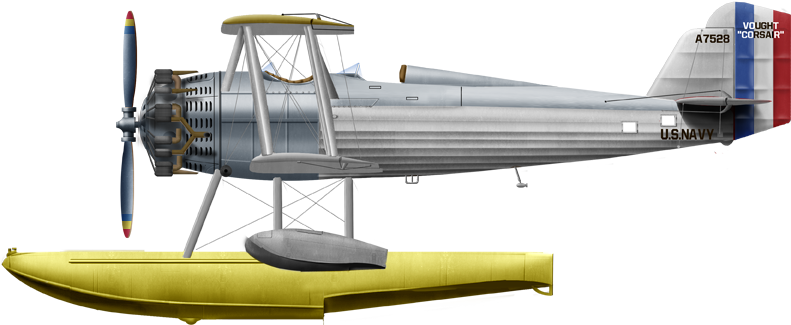 Unknown O2U-1 of the USN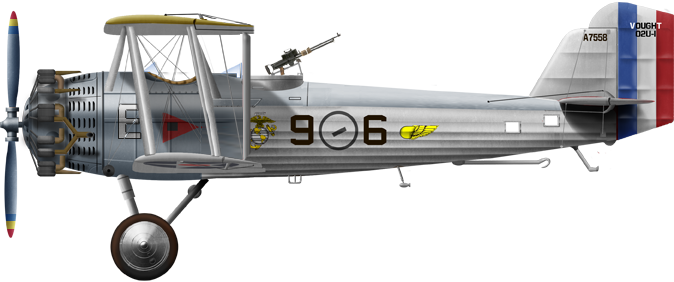 O2U-1 with aft Lewis machine-gun and VO9M, USMC, NAS San Diego, 1928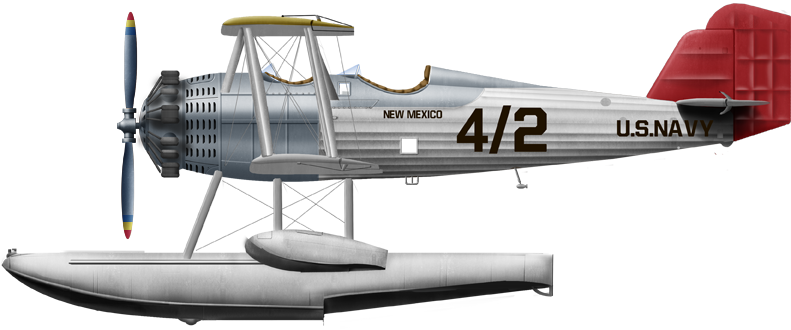 Vought O2U-1 floatplane, VO 4b USS New Mexico 1929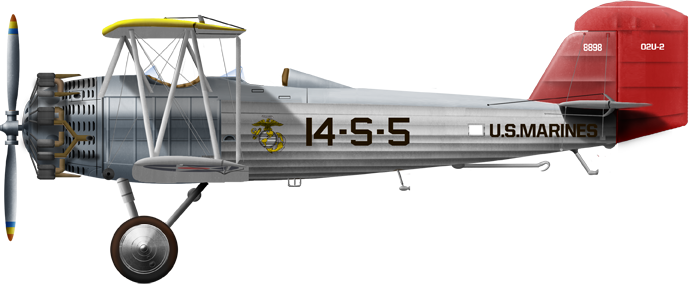 O2U-2 VS14M, USS Langley 1928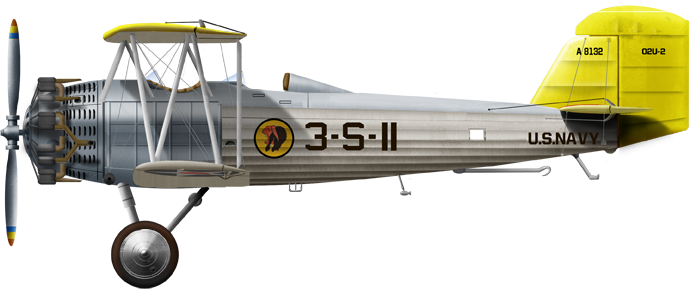 O2U-2 VS-3B, USS Lexington 1928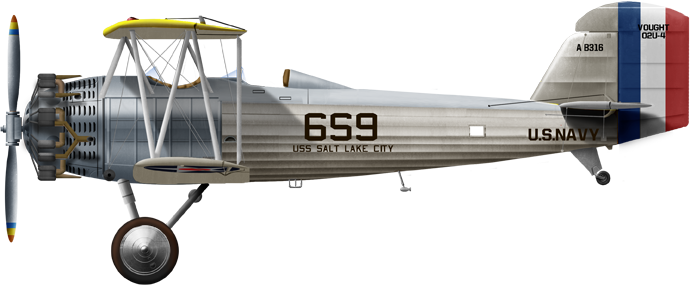 O2U-4, VS-6S USS Salt Lake City 1929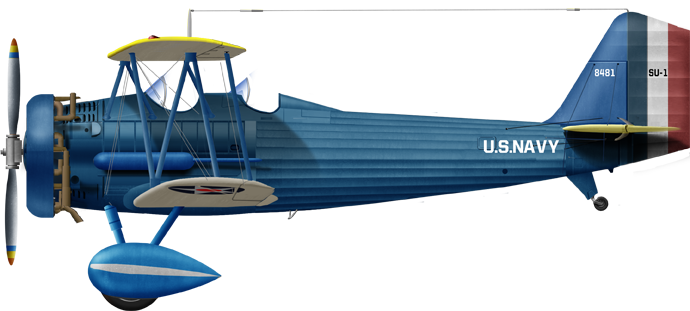 SU-1 Special Executive USN model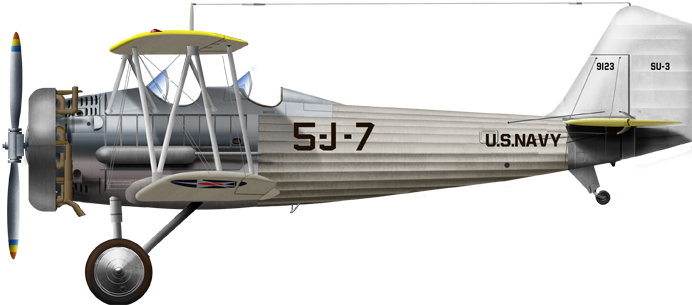 SU-3, USN 1931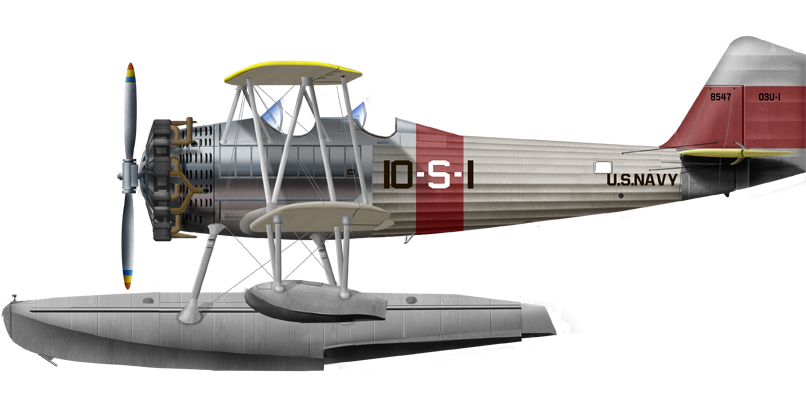 O3U-3 VS-105 USS California 1932
photos: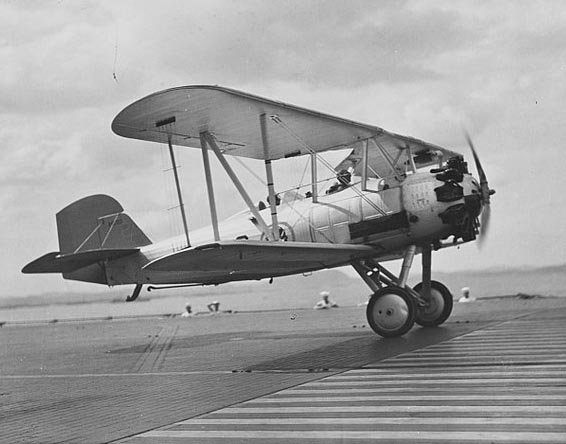 Vought O2U-2 Of Scouting Squadron 3-B, takes off from USS LEXINGTON (CV-2), 28 February 1929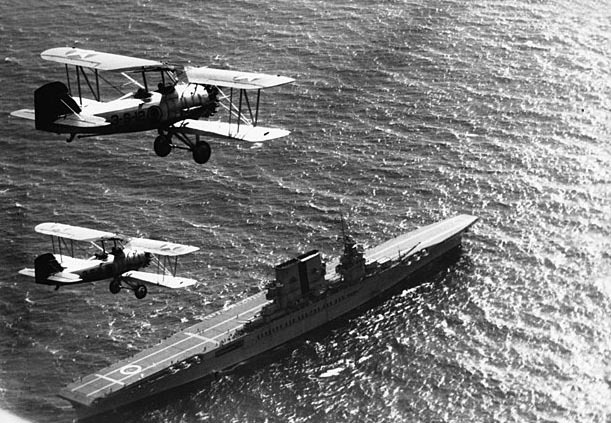 O2U Corsairs of VS-3 over USS Saratoga on 3 may 1929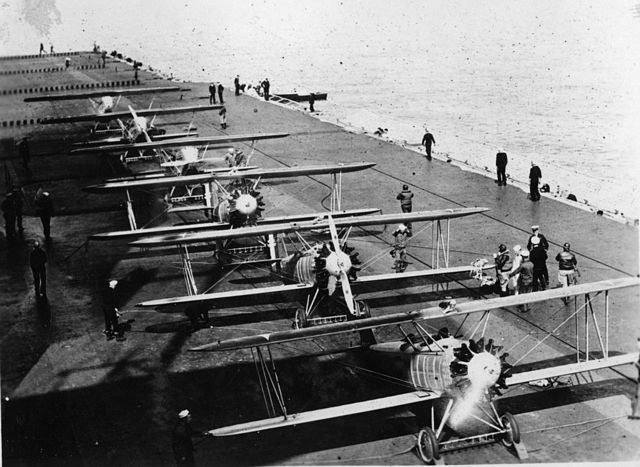 Vought O2U on USS Saratoga? – San Diego Air and Space Museum Archive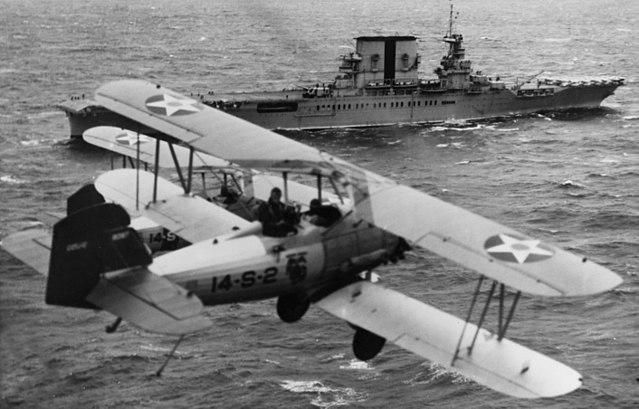 O2U-2 Corsairs of VS-14M fly over USS Saratoga, 1930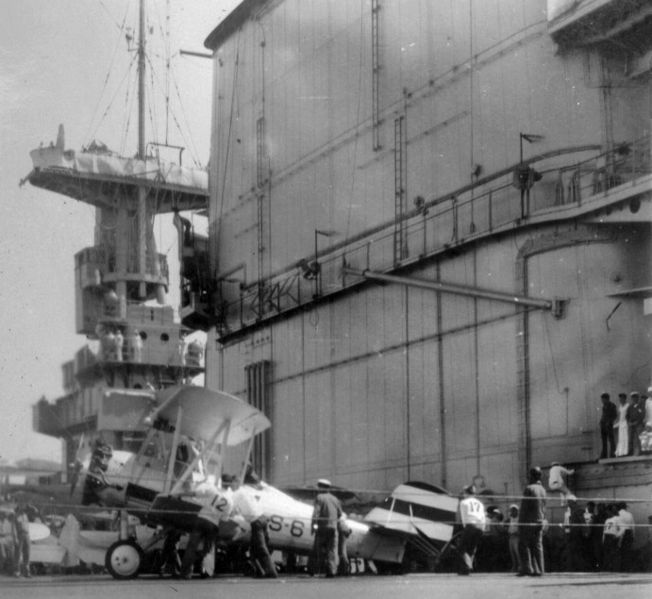 O2U-3 on USS Saratoga 1928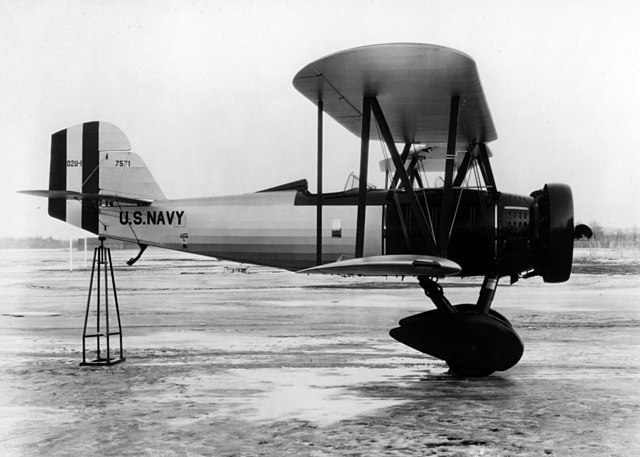 O2U-1 Corsair 1926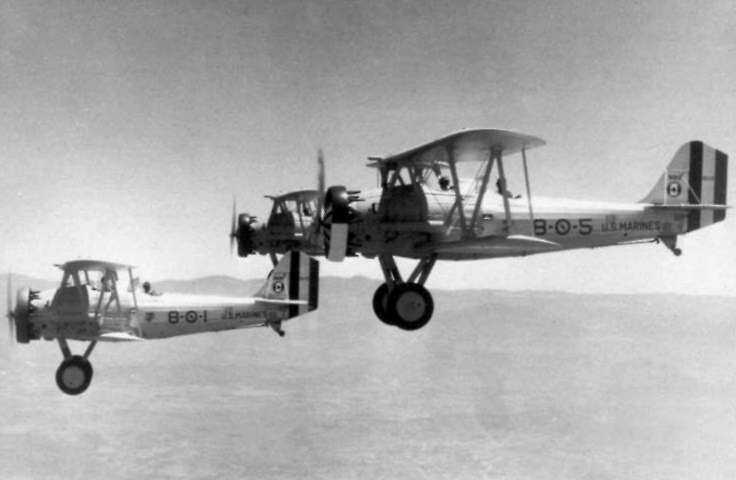 Vought SU-2 VO-8M in flight 1934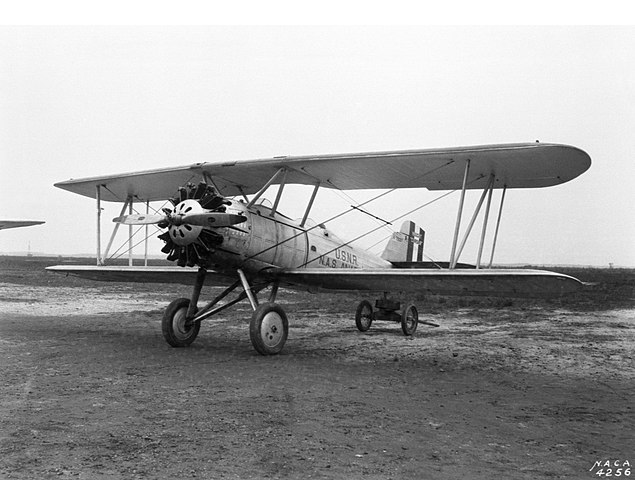 Vought O2U NACA 1930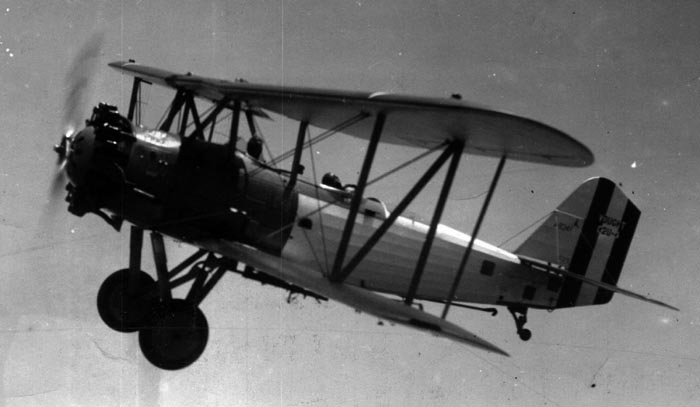 Vought O2U-4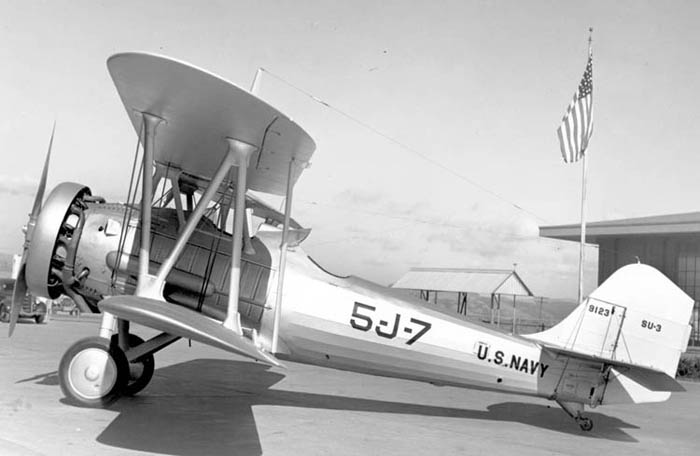 Vought SU-3