The Fairey Seal was designed and built by Fairey Aviation, first flying in 1930, entered service with the Fleet Air Arm in 1933. Only 91 were produced, many also exported. Although largely forgotten today, this model was a derivative of the Fairey III, sharing practically everything but the radial engine (the Fairey III had an inline Napier Lion engine). It was used mainly for observation but could carry a small load of bombs and was used in British interwar carrier air groups until replacement started right away in 1936, by the Swordfish. A closely related model was also built for the RAF, the Fairey Gordon.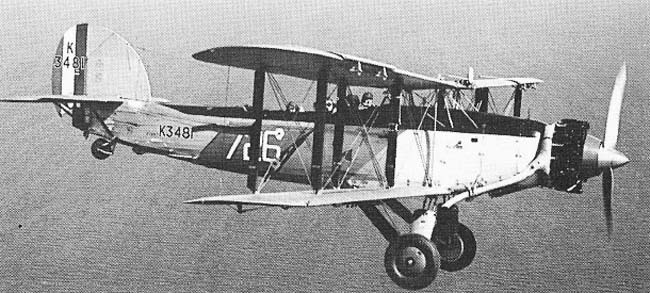 Fairey Seal mark.I in flight
Design process of the Seal
Since 1917 the Fairey III was an essential part of the combat aircraft of the British Air Force and served since 1927 in the version IIIF in several squadrons in the Middle East, light bomber squadrons at home and several flights in the Navy. In order to improve take-off performance with a full load, in particular, Fairey had proposed a version with a double-star Panther engine from Armstrong-Siddeley instead of the water-cooled Napier Lion, which went into series production as Gordon and of which more than 200 machines, a small part too created by the rebuilding of IIIF.
The British naval aviators had identical wishes and Fairey converted the IIIF Mk.IIIB S 1325 into the prototype IIIF Mk.VI according to the tender tender 12/29 with a 525 HP Armstrong-Siddeley-Panther IIA, which was then named Seal. In terms of its external dimensions, the Seal was largely identical to that of the Gordon procured from land-based squadrons. The first series order under the specification 17/32 then only received slightly more rounded rear surfaces and a rear wheel in place of the spur previously used.
The Fairey Seal was the British Navy model closely related to the Gordon, designed to specification 12/29. The prototype used the Fairey IIIF Mk IIIB as a base, and received significant changes, not least the engine and tail, as well as many other detail. The prototype was in fact at first designated Fairey IIIF Mk VI. Fairey just made a clone of the Gordon, but with a crew of three and all the necessary equipment for naval operations, including from aircraft carriers. Like the Fairey III is strongpoint was a an underbelly caisson accepting either float, or a wheeled landing undercarriage.
This land variant also had a well suspended tail wheel, and main wheels reinforced springs and brakes. There was also a tail hook, an ejection system with floating bags for the plane to stay afloat when splashing, and a strapping system to lift the floatplane from the sea. The Seal ws therefore also catapulted from most warships of the time, but could also operate from the deck of aircraft carriers, the lack of folding wings being a problem however. It was only solved by Fairey on the Swordfish.
The first prototype aircraft, immatriculated S1325, first flew on September 11, 1930, with an undrcarriage, but it was converted with floats and took off at sea on September 29, 1932. The admirakty did not requested changes and ordered a first batch (Mark.I) of 11 serial models, signed in early 1932. These were upgraded later to the Gordon Mk.II standard, which was earlier. The first of these production Mark I flew in November 1932, and the first batch arrived in December 1932, assigned to Squadron 444, Fleet Reconnaissance Catapult based on the 2nd Battle Squadron ships.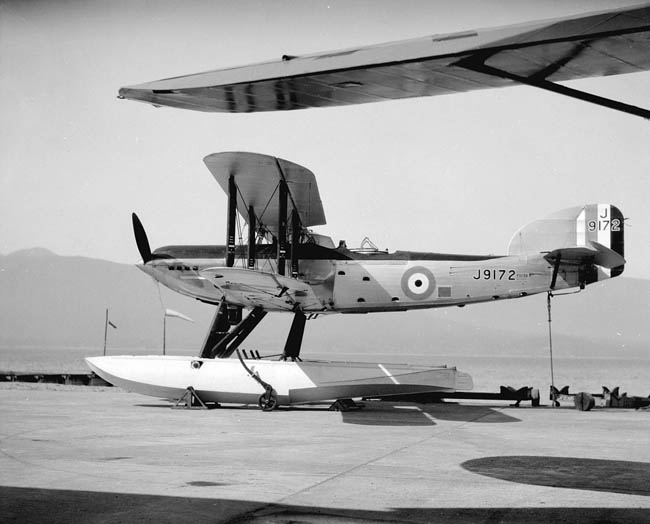 The related Fairey IIIF floatplane
About mid-production, Fairey engineers worked out the installation of a more powerful engine, the Armstrong-Siddeley Panther III. To answer to export demands, they also fitted some with the Panther IV (Argentina and Peru), the Bristol Pegasus IIIM3 (for Latvia), and the Napier Lion IX (for Chile). In total, "only" 90 Fairey Seal were ever manufactured, all as Mark I. Deliveries ended in March 1935 and soon, the Seal was in active frontline service with eight Fleet Air Arm squadrons.
They were stationed notaby aboard the carriers Hermes, Courageous, Eagle, Furious and Glorious, so all active ships of the Grand Fleet. The Seal started to be replaced by the Swordfish Mark I and started to be decommissioned before 1938, but was still used for training until 1943, notably in India and by the photo reconnaissance squadron. The low production was not reflecting any default. The Seal was recoignised in its time as an extremely successful model, reliable, versatile, and cheap since it benefited from a share conception and pool of spare parts also used on the Fairey IIIF, the Gordon, and other planes of the company. Its export success was well deserved, and all these users still used it during WW2.
Design specifics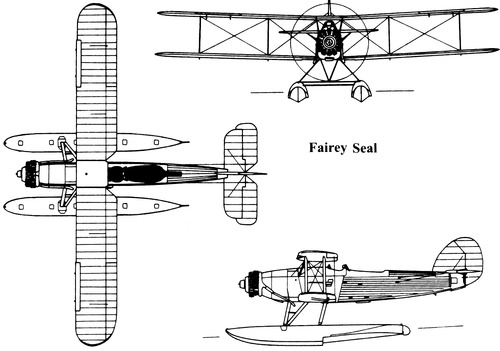 The Navy Air Force, at that time still part of the Royal Air Force, received only one version:
Seal: equipped with a 525 PS (356 kW) Armstrong-Siddeley Panther IIA of which 91 machines were built. It was the first airborne British aircraft type with wheel brakes and a catch hook.
General conception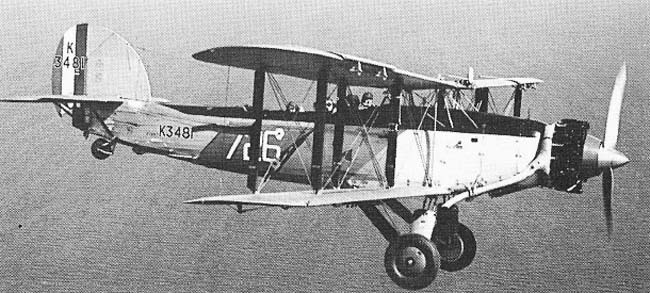 The Seal was a single-bay biplane with the same mixed construction of the Fairey IIIF: All metal engine hood with gasoline tank behind the radial engine, then framed fuselage from the wings section to the tail, all metal bracing, and longerons, and canvas cover. The two wings were of the same size, straight with a slight fairing, bracing, same type as the Fairey III. The crew compartment comprised the pilot, the radio/observer seated behind him, and the gunner seating backwards aft.
Engine

Armstrong Siddeley Panther (1929)
The Seal was propelled by the Armstrong Siddeley Panther IIA, a 14-cylinder air-cooled, radial piston engine. It was rated for 525 hp (391 kW), which was a low figure for such a large plane, but still range and reliability were favored in this rome above performances. The Swordfish had better engines allowing some outstanding in-flight performances and agility.
There was no engine upgrade, which stayed the same for the whole Mark I production.
The Armstrong Siddeley Panther was first designed in 1929 and also used on the Atlas Mk II, Armstrong Whitworth A.W.XIV Starling MkII, Whitworth A.W.16, A.W.35 Scimitar, Fairey Gordon, Fokker C.V, Hawker Hoopoe, Marinens Flyvebaatfabrikk M.F.11, Supermarine Air Yachtand the sole protoype of the Westland Wapiti V.
Armament
The Fairey Seal was armed with fixed forward-firing Vickers machine gun installed on either side of the fuselage and a third defensive lighter Lewis machine at the rear on a flexible rail mount. Under the wings racks accepted bombs up to 227 kg (500 lb). The second production order followed specification 11/34, but this did not change significantly the armament, although the Seals undercarriage belly modular system was set to fit a float chassis, tested by the prototype S1325 on September 29, 1932. The Seal was never tested to carry a torpedo, so it was replaced by the Shark for this reason.
Specifications Seal Mark I

Crew:
3: Pilot, Gunner, Observer
Dimensions:
33 ft 8 in x 45 ft 9 in x 12 ft 9 in (10.26 m x 13.94 m x 3.89 m)
Wing area:
443.5 sq ft (41.20 m2)
Weight: Light
6,000 lb (2,722 kg)
Propulsion:
Armstrong Siddeley Panther IIA 14-cyl. air-cooled radial 525 hp (391 kW)
Performances:
Top speed: 138 mph (222 km/h, 120 kn)

Service ceiling: 17,000 ft (5,200 m)

Rate of climb: 5,000 ft (1,524 m) in 5 minutes 20 seconds

Endurance:
4 hours 30 minutes
Armament – MGs
1x .303 cal (7.7 mm), One Lewis MG aft
Armament – Bombs
500 lb (230 kg)
Royal Navy service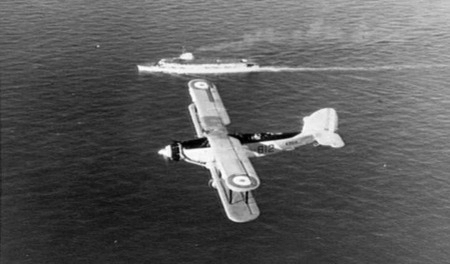 Flyby over HMS Glorious, 1936
The Seal was operated on the carrier squadrons, HMS Hermes, Eagle, Glorious, Furious, and Courageous, introduced from 1933. They were operated for observation, but could carry also a 450 mm torpedo (18 in) or small bombs. By 1936, the Swordfish Mark I started to replace it, and in 1938 all FAA torpedo squadrons were fully re-equipped with the Swordfish. The Seal was completely removed from front-line service in 1938 also, but remaining in secondary and support roles. As WW2 broke out, just four Seal Mark I remained in service in second-line observation squadron, now used for training. It was declared obsolete and fully retired in 1943. The last British Seals Mk.I were still insed in a single Indian unit: It was used as an instructional airframe at the Royal Navy Photographic Unit. Also in India, it was used as target tug, with twelve Seals part of the RAF's No 10 Bombing and Gunnery School, until 1940. Four were also used by 273 Squadron, based in Ceylon, and still performed coastal patrols in land or floatplane versions. By May 1942, it was already retired in Indian from frontline service.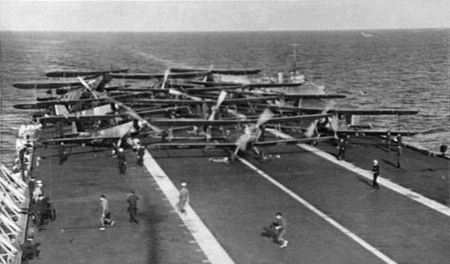 Fairey Seals preparing to take off frm HMS Glorious in 1936
First show
Before deliveries started, the prototype was sent to Buenos Aires on to be tested on HMS Eagle. It was part of an additional flight (swarm) on board the carrier, supposed to demonstrate the new British aircraft types at the "British Empire Trade Exhibition" in March 1931, held abroad for the first time. This exhibition also included the Hawker Nimrod and Osprey, and Blackburn Ripon. The exhibition was opened by the Prince of Wales, whose De Havilland DH.80 Puss Moth was also transported on the carrier.
Seal float plane
The first serial seaplane Seal equipped with floats flew on December 1932, assigned to Sqn.444, 2nd Battle Squadron, equipped with Fairey IIIF floatplanes. Until December 1933, there was at least one Seal here. From November 1936 to February 1938, there was also at least one with Flight 701, 1st Battle Squadron, Mediterranean. From February 1937 to October 1938, another served with Sqn 702, 2nd Battle Squadron, Home Fleet. This was also the last Fairey Seal floatplane unit operational until WW2.
Carrier-bone Seals
The first carrier-supported unit, 821 squadron on HMS Courageous, was converted from the IIIF to the Fairey Seal in April-May 1933. Initially nine came, later raised to twelve. Seals served for 35 months before replaced by the Blackburn Shark Mk.I from March 1936.
Sqn 820 on HMS Courageous also replaced part of their IIIF from June 1934, with six seals. It was never completely converted, receiving the Blackburn Shark from December 1934. The new squadron 824 received also nine Seals, set up on October 8, 1934. The squadron served on HMS Hermes in the Far East, staying aborad until back into the reserve, as the carrier was replaced by HMS Eagle at the China Station, and a Fairey Swordfish squadron.
In December 1934, 823 Sqn replaced its IIIF with six seals from 820 Sqn, itself converted to the Shark. The squadron was assigned to carrier training during the overhault of HMS Glorious and Courageous, and replenished to twelve operational Seals.
The Abyssinia crisis had Glorious and Courageous moved to the Mediterranean in August 1935. Their air groups now consisted of squadrons 802 (Nimrod/Osprey), B-Flight 823th squadron (wit the Seal), Sqn 812 (Blackburn Baffin) leaving behind on HMS Eagle on September 2, 1935 and transferred in Malta its Sqn 825 (Fairey IIIF) from HMS Glorious wilt Sqn 800 (Nimrod / Osprey), Sqn 810 (Baffin), A-Flight Sqn 820 (Baffin), Sqn 821 (Seal), B-Flight/822 (IIIF) and A-Flight Sqn 823 (Seal) on HMS Courageous. In October 1935, 823 Sqn was reassigned to the Glorious and by November 1936 reequipped with the Fairey Swordfish.
As the last airborne squadron flyng the Seal was 822 Sqn, temporarily replacing their Fairey IIIF with twelve Fairey Seal from the recently converted 821 squadron, before conversion to the the Blackburn Shark Mk.II from November 1936. At the start of 1937 there were no Seals onboard British carriers, the only ones maintained in service with the Grand Fleet were floatplanes catapulted from battleships and those of 824 squadron, HMS Hermes mostly used for training and they remained in Ceylon for a couple of years.
The Seal never completely replaced the the Fairey IIIF and had a short span of service before replcement by the Blackburn Shark, also a transitional type soon replaced itself by the Fairey Swordfish before the Navy decided to standardize all its carriers with the new biplane, including reconnaissance squadrons of th FAA, remaining in service in WW2. Four Fairey Seal still served at the FAA Observer School, 753rd Squadron completed by Shark Mk.II. The FAA's last ones flew in 1941 with the 782nd Northern Communication Squadron. The Royal Air Force also used some as target tugs. No 10 Bombing and Gunnery School had twelve Seals until 1940, four were in Ceylon's 273rd Squadron for coastal surveillance, but by May 1942, the RAF retired its last seal.
Foreign service
-Argentina adopted it in 1935, the Argentine Navy in particular.
-Chile: Both the Chilean Navy and Air Force had it in service The floatplane version came with the Fairey III alternative Napier inline engine.
-Peru: The Peruvian Air Force and Navy also operated the Seal.
The case of Latvia
In 1934 Latvia ordered four Seal floatplanes for its naval aviation (F.2112 to 2115, tactical numbers 26–29 and later 98–101) to replace the previous 1926 Svenska S.IIa (He.4 under licensed in Sweden). Although mundane, they came to the forelight when on 22 June 1936, three of them, under command of Colonel Janis Indans undertook a 6,000 km journey from Liepāja, across the Baltic, and arriving in England, then back in July. In autumn 1940 Latvia was annexed by USSR and these were taken by Soviets troops. They were just stored in Kisezers lake and lost when on 28 June 1941, their hangar was destroyerd by the Luftwaffe. From 1934 to this date, contrary to the previous Svenska S.IIa, there was no accident of fatalities on the Fairey Seals, which were praised by the small Navy for their reliability.
Latvia's fleet at the time comprised only two 1926 minesweepers and two submarines, all French-built as well as a few guardships as its only assets. At least the four Seals gave a versatile, long range obervation and strike capability. They had been ordered both with floats and undecarriage and fitted with a 690 hp air-cooled engines "Bristol Pegasus" III Mk.2, delivered in March 1935. They served with the Juras aviacijas divisions, commanded by Lieutenant Colonel Voldemars Jakubovs, then 8th Naval Squadron (Aviacijas pulka 8. juras eskadrilla). The three planes 1936 expedition, which arrived in Dover, then Southampton, feasted like celebrities.
Links and resources
---
The model corner
-Trumpeter, Ark Models, Tamiya, Smer, Airfix, SMK
Gallery
Author's illustrations: Types and liveries


Seal Mk.I 824 Sqn. HMS Hermes 1935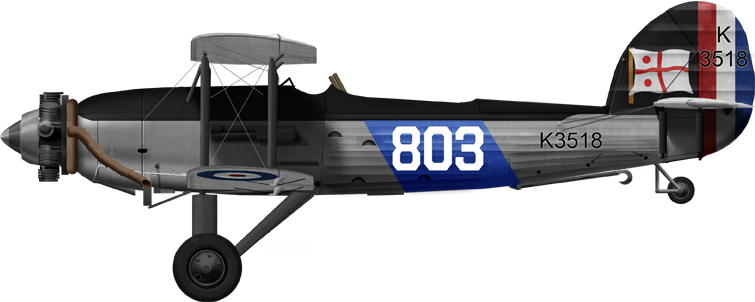 Seal Mk.I 823 Sqn. HMS Courageous 1935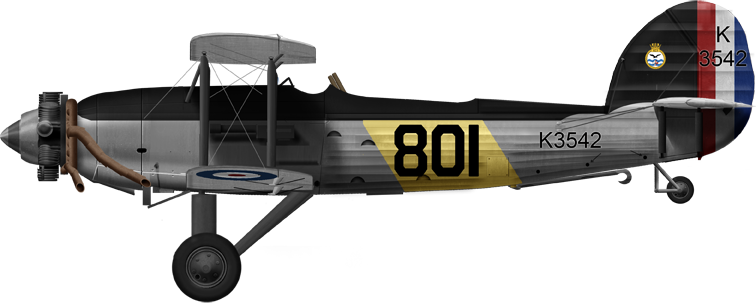 Mk.I of 823 Sqn. HMS Glorious, 1936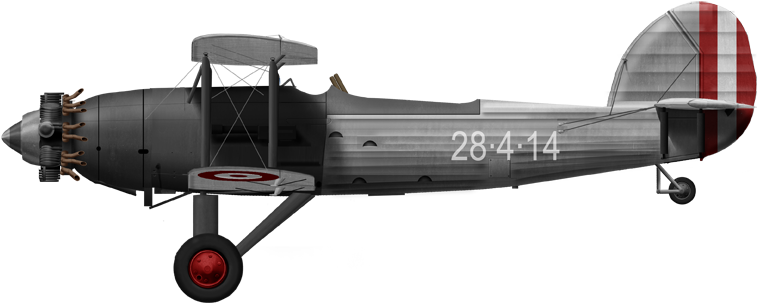 Mk.I of the Peruvian Air Force used for training, 28th Escuadra, 1941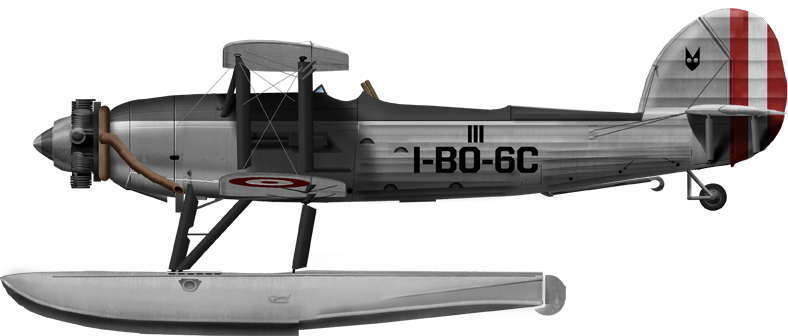 Floatplane of the 1st Escuadra Naval Bombardier/Observation unit, 1935


Mk.I of an Argentinian training unit, 1935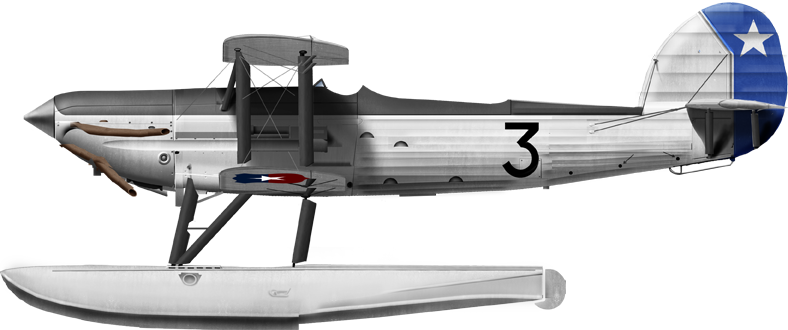 Seal Mk.I floatplane of the Chilean Navy with the Napier engine, 1940


Fairey Gordon Mk.I, 6 Sqn RAF, the land cousin of the Seal
Additional photos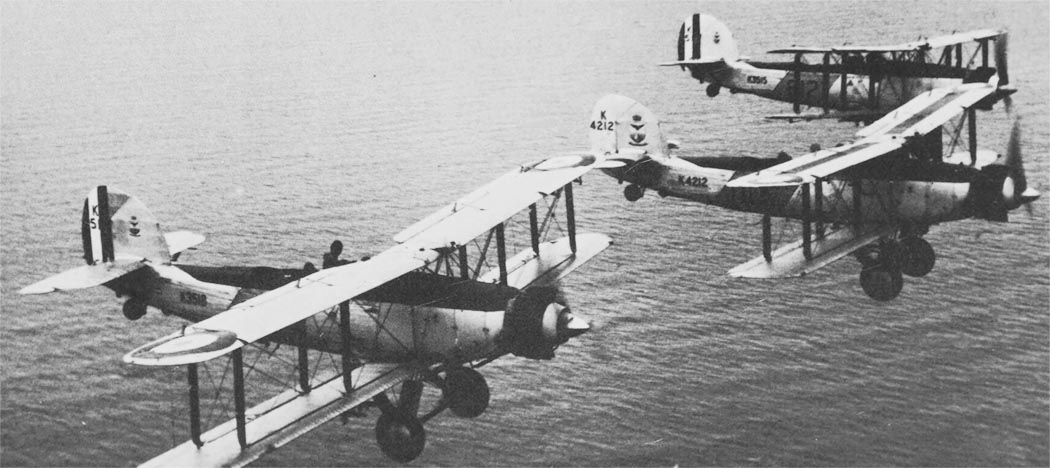 Three Seals in formation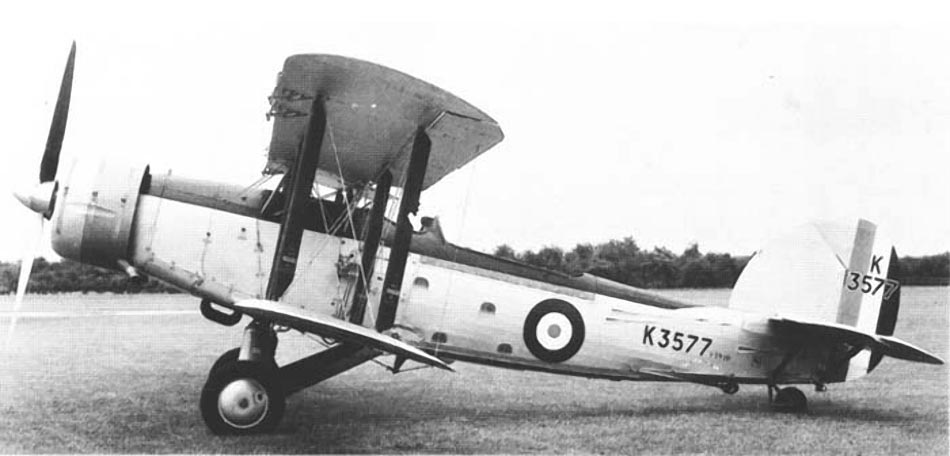 Fairey Seal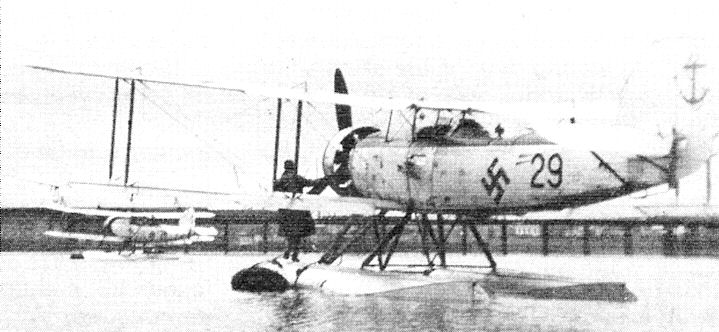 Latvian Seal flotplanes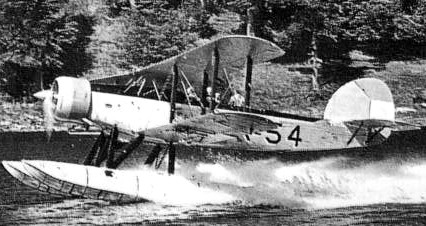 Argentinian Seal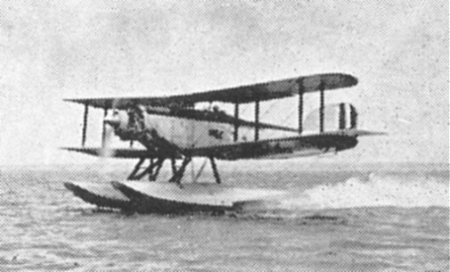 Fairey Seal floatplane Taking off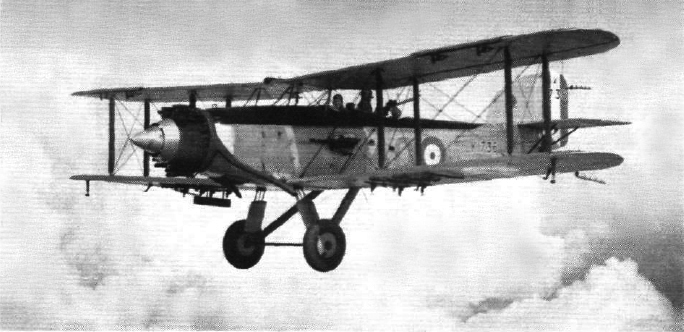 Fairey Gordon