Erzherzog Friedrich class Steam Frigates

Austrian Steam Corvettes (1857)
Design of the Erzherzog Friedrich Class
The construction of these wooden corvettes, SMS Erzherzog Friedrich and her sister ships, was ordered in Venice Arsenal, during the "Italian phase" of the future Austro-Hungarian Imperial Navy. They were designed by the Inspector of Naval Construction Axel Ljungstedt. SMS Erzherzog Friedrich was laid down on February 14, 1854, launched on 11 April 1857, and commissioned in the K.u.k. Kriegsmarine on July 4th, 1857.
Her design was conventional for the time with three square masts, a bowsprit and mainsail, four single 66-pounder smooth-barreled iron guns completed by seventeen 30-pounder in the broadside, all also smooth-barreled iron guns. There was also a single deck-mounted 48-pounder pivot gun on the deck smooth-barreled too. All these were muzzle loaded or course (acronym MLS for Muzzle-Loaded, Smoothbore).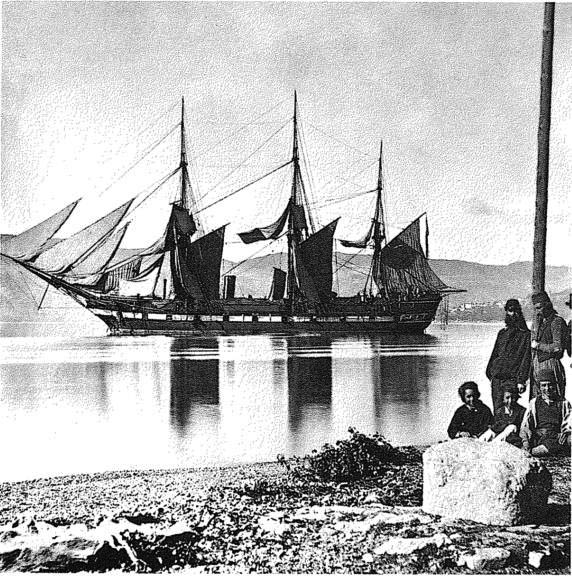 Construction
SMS Erzherzog Friedrich was a of mixed construction, a current design at the time, with an external wooden hull, reinforced by an internal iron structure. These were called "composite" at the time in British standards. She displaced 1,570 tons for 56.05 m long at the waterline, 12.16 m wide, for 5.07 m draft, identical to her sister ship SMS Dandolo.
Her propulsion comprised a single shaft driven by a Strudthoff horizontal 2-cylinder machine, fed by two 12-burner boilers. Maximum output was a modest 920 Psi. The single propeller was a Griffith two-blade bronze model. With a sailing area of 1,400 m² she could reach 6-7 knots on sail alone. 8 knots combined with steam. When her amchinery was overhauled and modernized, she reached 9.02 knots on her 1874 trials. Her armament in 1859 was composed of iron smoothbore, muzzle loaded cannons as customary at the time. They fired iron balls, and accuracy was limited to 1,500 m in the best cases. This was modified in 1863 for two 24 lb cannons, four 60 lb, and sixteen 30 lb muzzle loading guns. Like her sister-ship this was revised in 1866 for sixteen 30 lb, four 60 lb, two 24 lb BLR, and the next year in 1877, twelve 6 inches Wahrendorf BLR, one 70 mm BLR and a crew of 294. She was not upgraded further.
SMS Dandolo was also designed by Axel Ljungstedt ordered at the same time the Venice Arsenal, keel laid down on 26 September 1854, launched on 7 August 1857 and entering on 9 August 1859. She was armed the same way exactly and her Technical description was the same as well in many details. She was named after Conte Silvestro Dandolo. Her specs changed however, as she displaced 1,724.77 tons, for 56.05 m long at the waterline, 12.16 m wide, 5.53 m draft. Her propulsion system called for a Strudthoff horizontal 2-cylinder machine like her sister ship, the same boilers and Griffith two-blade propeller, same sail area, and 8 knots top speed. When her amchinery was rebuilt, she became even faster at 9.02 knots (1874). In 1866 her armament was sixteen 30-pounder, four 60-pounder and two 24-pounder guns used for landing parties plus two 4-pounder smoothbore guns also on deck. In 1871 this was again revised for fourteen 24-pounder, still smoothbore guns but Breech loaded (BLM) and a single pivot mounted 3-pounder. In 1877, with her last refit, she was armed with twelve 6-inches (15 cm) long range Wahrendorf breech-loading rifled guns (BLR) plus two deck-mounted pivot 6-inches (7 cm) rifled breech-loading guns (BLR) and a crew that comprised at the start 274, officers and sailors.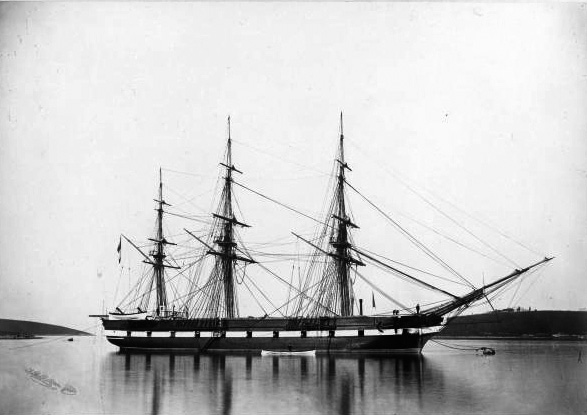 SMS Dandolo 1872
1857 Specifications

Dimensions
56 wl/67.80 oa x 12.16 m x 5.20 m
Displacement
1,570 t light/1700 tons FL
Propulsion
1 shaft HT 2cyl Strudthoff, 2×12 fires Boilers, 8 kts
Armament
16x 30-pdr, 4× 60-pdr Paixhans, 2× 24-pdr (+ 2×4-pdr)
Crew
294
SMS Herzherzog Friedrich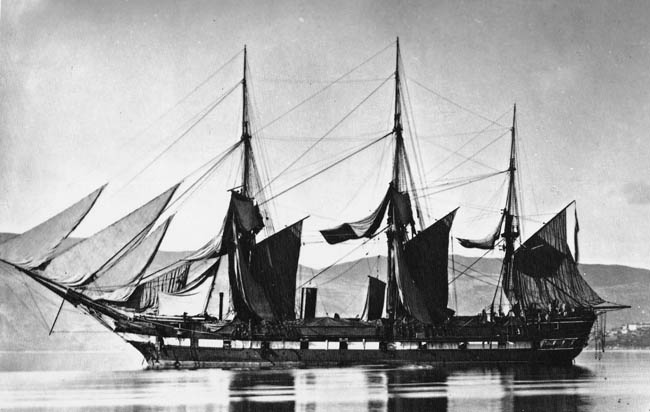 SMS Herzherzog Friedrich started her sea trials on 10 July 1857, during her transfer from Venice to Trieste. Until 1859 she trained by cruising in the Adriatic Sea, but also the Mediterranean and Black Sea, and stopping at numerous ports along the way. On November 25, 1858, she participated in an expedition on the Barbary coast, shelling known Moroccan corsair cities, and rescuing an Austrian crew, and later the merchant ship itselfpreviously captured.
In April 1859, her new captain was the famous Wilhelm von Tegetthoff. She carried out various missions, notably trnasport of military hardware from Trieste to Ancona. She took part in the second Italian war of independence, and made also several training cruises in the Mediterranean. On March 30, 1864, she was sent to the North Sea Squadron, comitted by alliance with Prussia in the war against Denmark. She remained there until May 20, 1866 before departing back to Pola, arriving on the 28.
The third Italian war of independence saw SMS Erzherzog Friedrich assigned to the Second Division, under command of Commodore Anton De Petz, as part of Rear Admiral von Tegetthoff naval squadron. Her new captain was then Fregattenkapitän Marco Florio. She took part in the battle of Lissa, an Austro-Hungarian victory.
There, she fired volleys at Italian vessels but remained unscaved, not loosing a single man. On November 14, 1866, she sailed to Civitavecchia (NW of Rome) to embark Pope Pius IX and his followers, en route to Kumbor and Messina. On March 31, 1867 she entered the drydock in Pola for maintenance. On September 27 1868, back in service she was ordered to Gibraltar before proceeding to Cape Town, reaching it on February 18 1869. She made also a two-year trip on 3 January 1871, being first Austro-Hungarian vessel crossing the the Suez Canal.
Back in Pola on January 20, she was overhauled and the next three years served in the Mediterranean. By May 1874 she headed for the Far East under command ofher new captain Tobias Freiherr von Österreicher, crossing the Suez Canal again, and stopping along the way in many Pacific Ocean ports, until reaching San Francisco. She then depared and crossed the Magellan strait (Good hope), back to the Atlantic Ocean. She arrived on 10 February 1876. She sailed to Gibraltar on June 8, then to Pola for drydock maintenance. This long cruise led to the writing of a famous book in Austria at the time "Um die Erde: Reiseskizzen von der Erdumseglung mit SM Corvette Erzherzog Friedrich in den Jahren 1874-1876", published two years later.
For her last overhaul, she was decommissioned in December 1880, and reativated on February 4, 1881. She made a training cruiser in the Mediterranean, Atlantic and Caribbean, Levant and Black Sea and back to Pola. She was eventuallu stricken on 5 August 1897, becoming a barge to carrying boilers from Trieste to Pola. This went on until May 1899, and she was sold for BU and scrapped in 1900.
SMS Dandolo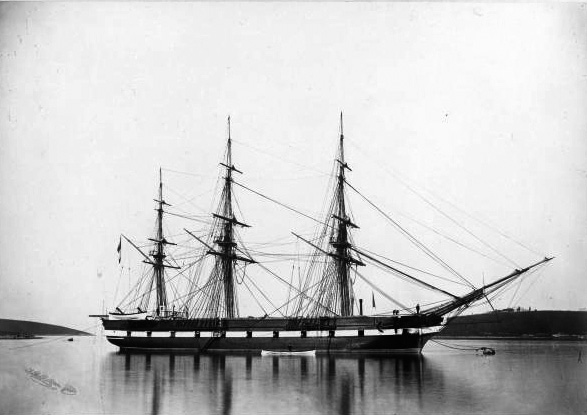 During most of her early operational career, SMS Dandolo (named after the famous Venice Dodge, Enrico Dandolo) served in the Adriatic Sea. She was a well-known ship in Corfu, Messina, Gibraltar, Algeciras, Ceuta, and Malaga. In August 1863 for the first time she was scheduled a long cruise to Brazil, but suffering underway a serious engine breakdown, a boiler overheating dangerously bing shut. This was canceled and until 23 November 1863, she was in repairs in Piraeus (Athens).
She stayed in the Mediterranean until January 9, 1865, entered the shipyard for an overhaul and headed for Vera Cruz in Mexico, arriving on May 28 1867. The goal was to support the new alliance fleet pressuring Mexican banks and the government.
She made a two years cruise in South America before heading back to Pola on June 8, 1867.
After shipyard maintenance, she left on June 17, 1869 to be used as cadet ship for the newly created Austro-Hungarian Naval Academy. She made several educational cruises in the Mediterranean. In 1870, she made another cruise in South America, visiting Brazil, Argentina and Uruguay, and back, she visited ports on the west coast of Africa, and up to Gibraltar. She was back in Pola on December 27.
After another drydock refit in September-October 1871 she was placed in reserve. She reported for duty on November 4th, and on February 17, the next year, SMS Dandolo started another Cadets cruise. She stopping at Messina, Gibraltar, London, Texel, Den Helder, and Leith, then back to Muggia, on December 14. For three years afterwards, she mostly operated in the confines of the Mediterranean. In January 1875, she departed Gibraltar for Fort-de-France (Martinique, French Carribean). She arrived there on February 22 and was back to Pola.
She made other cruises in North and South America and by January 1879, she was assigned to the Artillery School, in a static role due to her advanced age.
By late 1880, she was laid up and converted into a barge. She made a few utilitarian trips until July 1881, when her machinery was retired. She was by then anchored until July 1882 and transformed into a barracks ships, port guardship, in Pola. By June 1886, she became a floating hospital for cholera patients, transformed as such. In 1887, she became a warehouse to store mines and torpedoes, in Sibenik. She also became the Sibernik students accommodation ship until September 1900. But she would not see WWI. Instead she was discarded and BU in 1901.