Type 053H3 Jiangwei II class Frigates (1997)
Chinese PLAN (1997-2004)
Lianyungang, Jiaxing, Putian, Yichang, Huludao, Sanming, Xiangyang, Huaihua, Luoyang, Mianyang
In the 1980s, the PLA Navy ordered Hudong Shipyard in Shanghai, later Hudong-Zhonghua, to design a replacement for the Type 053K AA frigate. The new vessel would be based on the previous Type 053H2 frigate, and natural designation followed as H2G. Development Project 055 was the programme name. The Type 053H2G was slightly larger, and crucially, fitted with the new HQ-61B surface-to-air missiles (SAM). Tests of the later however proved soon disappointing, and the type was limited in production to four vessels only, still in service after modernizations.
The design bureau revised the plans with ended with a variant called the Type 053H3. It was an improved Type 053H2G fitted with the proven HQ-7 SAM. This was a Chinese-produced version of the French R330 Sea Crotale obtained back in the 1980s. Not many changes followed and in all, ten Frigates Type 053H3s were produced between 1996 and 2005.

Sanming (pennant #524) at anchor, she has been laid down at Guangzhou presumably, launched in December 1998 and completed in December 2000 for the East Sea Fleet.
Upgraded construction
Hudong Shipyard was trusted for the construction of the improved Jiangwei II in 1996, laid down three years after the launch of the last Jiangwei-I class #542 Tongling frigate. Both classes only differed in size and arrangement, which allowed to speed up construction time and found commonality reducing costs overall, including supply, maintenance and training. They however have upgraded radar and fire control systems. Their SSN capability was boosted by two more missiles of the YJ-8II SSM types due to the adoption of quadruple instead of triple launchers, and an octuple HQ-7 SAM system, which was shorted range but more accurate. Despite improvements they still lack a more secure and modular vertical-launch system and the launchers stays vulnerable.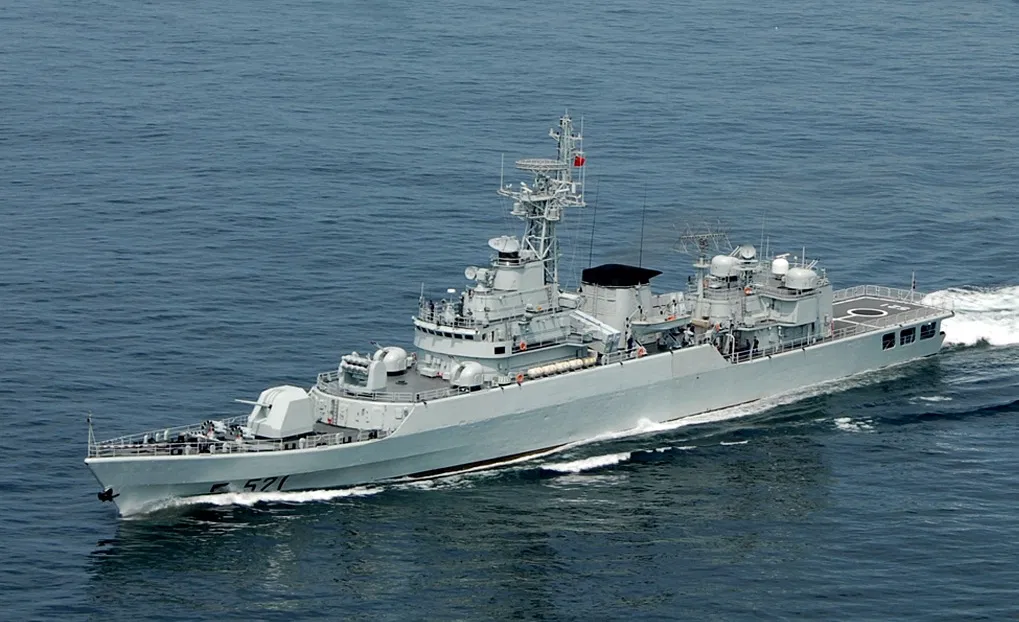 Frigate Jiaxing, #521 (credits sinodefense)
Design of the type 053H3:
The final design of the anti-ship Frigate displaced 2,250 tons standard for 2,393 tons fully loaded, a length of 112 m, beam of 12.4 m and draught of 4.3 m. They carried 168 men, including 30 officers.
The most obvious visual distinction between NATO Jiangwei I & II (H2G and H3) are the HQ-7 SAM instead of HQ-61B system, eight C-802 anti-ship missiles instead of six, and aft AAA mounts elevated. The Jiangwei II was only briefly equipped with HQ-61B SAM before replacement by the final HQ-7 during an upgrade. Some sources claims this upgraded version was called Type 057 in PLAN's nomenclature.
The Type 053H3 displacement is 2,250 tons standard and 2,393 tons fully loaded, comparable to the H2G, with the same overall length of 112 m (367 ft 5 in), a beam of 12.4 m (40 ft 8 in) and a draught of 4.3 m (14 ft 1 in), the same as the H2G, at least officially. However the upper forward deck is lengthened in order to accommodate the new weapons system. Radars are also different, the superstructure is remodelled and the twin guns are replaced further aft and in high positions abaft the helicopter hangar.
Propulsion of the Type 053H3 Frigates:
The Chinese Type 053H3 Frigates are relying on a sturdy but modern, Western-influence CODAD system (Combined diesel and diesel) mated on two shaft. They are more powerful than the previous Frigates, with two 18E390VA diesel rated for 23,600 hp (17,600 kW) total, and two German-pattern MTU diesel rated at 8,715 hp (6,499 kW) total. This allows a top speed of 28 knots (52 km/h; 32 mph). Range is officially 5,000 nautical miles (9,300 km; 5,800 mi) at 15-16 knots (28 to 30 km/h). This was the same as the Type 53H2G.

YJ-83J Missile
Armament of the Type 053H3 Frigates:
This was about the same as the H2G, with AA, SSN, and ASW capabilities making these ships versatile platforms despite their limited size.
Eight YJ-83 SSM in two quadruple cell box launchers either side
One octuple HQ-7 Surface-to-air missile system
One PJ33A dual 100 mm gun (automatic)*
Four Type 76A dual-37 mm AA guns*
Two 6-tube Type 3200 ASW rocket launchers (36 rockets)*
Two DC racks & launcher*
Six torpedo launchers 324 mm ASW*
Two decoy racks Type 946/PJ-46 15-barrel rocket launchers*
Harbin Z-9C ASW/SAR helicopters*
*Identical to the Type 053H2G
The great novelty of this design, but not new in the Chinese PLAN as already used on destroyers previously. This system was derived from the French R330 Sea Crotale. Originally the Crotale system was a joint effort for South Africa which searched for a short-range SAM. Developed by Rockwell International and Thomson-Houston/Mistral in France by 1967, the system was first named Cactus. Impressed, the French air force adopted it too, and soon it was widespread in all three services. Since 1978, the system has been improved gradually and is a staple for short-range AA defense in many navies, with 330 systems sold to 11 countries.
In China, one system was purchased on the 1980s and reverse engineered, creating the HQ-7. Gradually the system was improved and the current HQ-7A/FM-90 is used on the Type 053H3 and Type 054 frigates. The 054A used the longer range HQ-16, derived from the Russian "Buk" SAM. The basic HQ-7 used a Type 360S E/F-band Doppler radar capable of a detection range of 18.4 km. It was coupled with a ZJK-4 combat management system, capable of managing up to 30 targets, tracking 12 simultaneously. The improved FM-90 produced by CNPMIEC is faster and has a longer range, using an IR-tracking camera. Introduced in 1998 it is mainly proposed for export.

Type 53H3 schematics – Note this is not the standard weapons system, but the refitted Huaihua
Electronics of the Type 053H3 Frigates:
Command and control architecture comprised the Chinese-built ZJK-2 combat data system. It was derived from the French TAVITAC imported in the late 1980s.
This system is in open architecture, with modular, multifunction consoles and for display large, HD colour flat screens. The C&C system compiles and displays tactical pictures and maritime picture (RMP) from sensors data. Its functions are threat evaluation, weapon allocation and engagement co-ordination of the armament against multiple targets at once.
This package comprised the following:
Onboard Sensors & processing systems
Type 360 Radar (SR60) Surface Search, E/F band
Type 517H-1 (Knife Rest) 2D long-range air search, A-band
Type 345 Radar (MR35) HQ-7 SAM/100 mm gun FCS, J-band
Type 352 Radar (Square Tie) surface search and SSM FCS, I-band
2 × Type 347G/EFR-1 (Rice Lamp) dual 37 mm AA FCS, I-band
2 × Racal RM-1290 Navigation radar, I-band

Electronic warfare, decoys:

Data link HN-900 (Chinese Link 11A/B)
Communication: SNTI-240 SATCOM
Combat Data System: ZKJ-3C
RWD-8 (Jug Pair) intercept
Type 981-3 EW Jammer
SR-210 Radar warning receiver
Type 651A IFF
Construction and affectations
Five Type 053H3 frigates were first laid down in 1996-98 and constructed at Hudong Shipyard, entering service by the end of 1999. These were the 522 Lianyungang, 521 Jiaxing, 523 Putian for the first batch (launched 1997-98), and a second batch of two launched in 2004, 527 Luoyang and 528 Mianyang.
Guangzhou shipyard delivered the 564 Yichang, 565 Huludao, 567 Xiangyang, and 566 Huaihua. They were commissioned in 1999-2002.
Six were sent to the East Sea Fleet. Huangpu Shipyard at Guangzhou in southern China delivered a single ship, 528 Mianyang. She was the last built for the PLAN, commissioned in April 2005 for the North sea fleet. 527 Luoyang and 564 Yichang also joined the North sea fleet. 565 Huludao was the sole Frigate sent in the south sea fleet.
Hudong shipyards would deliver three more Frigates of a modified type this time for Pakistan. They were intended to replace four US warships. The Purchase of four was deferred in 1995 due to economic and diplomatic problems (see later).
Modernization of the Type 053H3 Frigates
A mid-life upgrade was noted by foreign observers the class from 2015. The replacement of the ESM/EW suite/radars by systems driven from the Type 054 was the most visible change, followed by the HQ-7 launcher replaced by a HHQ-10 unit, short range missile. Also the twin Type 76A 37mm guns were replaced by more modern 30mm CIWS systems closely modelled after the Russian Gryazev-Shipunov AO-18K.
Specifications of the Type 053H3 Frigates, as built (1999)

Dimensions
112 x 12.4 x 4.30m (as Jiangwei I)
Displacement
2,250 tonnes standard, 2,293 tonnes FL (same)
Crew
168 (with 30 officers)
Propulsion
2 shaft CODAD 18E390VA + MTU diesels 23,600 +8,715 hp
Speed
28 knots (52 km/h; 32 mph)
Range
5,000 nm (9,300 km; 5,800 mi) at 15-16 knots
Armament
2×4 YJ-83 SSM, 1×8 HQ-7 SAM, 1×2 PJ33A 100 mm, 2×2 37mm, 2×6 Type 3200 ASWRL, 2 DCR, 2×3 ASW TTs, Type 946/PJ-46 decoy, Harbin Z-9C helicopter
Electronics
See notes
The Type 053H3 Frigate Mianyang departing Darwin's Fort Hill wharf in October 2010
Variants of the Type 053H3 Frigate

Author's rendition of the Jiangwei I (above) and II (below) for comparison
Pakistani F-22P Zulfiquar class frigates (2008):
The F-22P (for Pakistan) class frigates were the first export version of the Jiangwei-II Type 053H3 built for China. The contract was obtained after the Pakistani got rid of the old Garcia and Brooke-class ASW frigates in 1994.
Changes were made to the hull and machinery: The displacement rose to 3,144 tonnes fully loaded (2,500 standard), Length was now 123.2 m (404 ft 2 in) – about ten meters longer to included missile cells, the beam rose to 13.8 m (45 ft 3 in) instead of 12.4 m, and the draft was reduced to 3.76 m (12 ft 4 in) instead of 4.3 m.
Other changes included a new powerplant, helped by the new longer section: Four Pielstick 16PA6STC diesels rated at 5.1 MW (6,800 hp) and four MTU diesels generator set 8V396TE54 at 680 kW (910 hp). This made for a total output of 7710 hp, enough for a top speed of 29 knots (54 km/h), so faster than the standard Chinese FFGs. Range has been established at 4,000 nmi (7,400 km), top speed 29 knots. The longer ships also carries two Marine Battalions.
Electronics of the F22P
The command-and-control systems and radars for Pakistanis also followed their own requirements:
-SUR 17/Type 517 long range radar air surveillance radar
-SR-60/Type 360 Radar air/surface search radar
-KH 2007 navigation radar
-Atlas ASO-94 Hull Mounted Sonar
-2 x Type 347 CIWS fire-control radar (fore and aft)
-Type 345 SAM fire-control radar
-CIWS electro-optical director
-Radar warning receiver suite
Armament of the F22P
The SSNs were replaced by the original, French Exocet, while Chinese C-802 and US Harpoon Missiles were also carried.
The F-22 Frigates also had better ASW capability than the existing old ex-Leanders Frigates.
The gun armament comprised a single 76.2 mm calibre AK–176M main gun forward and two Type 730B CIWS (30 mm 7-barrel Gatling).
The HQ-7 SAM seemed to be kept at first, as shown by photos, however an octuple 8-cell FM-90N SAM launcher and two quadruple cell C-802 SSM launchers were installed.
Also the ships carried two triple banksof ASW ET-52C torpedo launchers and two sextuple RDC-32 ASW rockets installed forward of the main gun.
F22P class
Six vessels had been ordered at the start, at a unitary cost of $750 million USD but budget constraints had these curtailed to four. The class comprised:
#251 Zulfiquar (built Hudong, 5 April 2008, comm. 19 September 2009)
#252 Shamsheer (same, laid down 31 October 2008, comm. comm. 19 December 2009
#253 Saif (same, 28 May 2009, comm. 15 September 2010)
#254 Aslat (KSEW, 16 June 2011, comm. 17 April 2013)
Exports of the Type 053H3 Frigate
Bangladeshi Umar Farooq class Frigates:
As the new 054 type frigates were introduced in PLAN, it was decided to sell the three earliest ships to Bangladesh. The ships concerned were the following:
#522 Lianyungang, renamed BNS Umar Farooq (F-16)
#521 Jiaxing as BNS Abu Ubaidah (F-19)
#523 Putian as BNS Khalid Bin Walid (F-20)
Algerian C-28A (Adhafer-class) heavy corvettes:
The C28A (A stands for Algeria) was a frigate class successfully exported after the F22P model by China. The deal was signed in 2014. Three models are now in service, and they are closely based on the 053H3 type rather than the previous F22P. These missile frigate are the first Chinese military vessels to adopt the British Lloyd's Register of Military Ships, using a series of new technologies: "low point" design with radar absorbing paint, stealthy shapes, no funnel stack replaced by diesels exhaust near the waterline fin stabilisers and bilge keels.
The class (all From Hudong in Shanghai) comprised since 2016 the #920 Adhafer, #921 El Fateh and #992 Ezzadjer. Construction between the order and commission took barely two years.
The C28A-class heavy corvettes were designed by the Marine Design and Research Institute, a branch of China State Shipbuilding Corp. In 2011, the Chinese proposition defeated 10 competitors from eight countries for the Algerian Navy contract. The first of these was delivered in September 2015 and the second in January 2016.
Wu Qiang, general manager of China State Shipbuilding Corp, estimated the faultlessly export marked a new achievement for the country. Ren Yi, chief designer of the C28A declared this corvette was a true multi-mission ship, and can perform reconnaissance, AS/AAW/ASW defense, as well as maritime humanitarian missions.
Specifications of the C28A:
The C28 is markedly larger than the standard PLAN frigate, displacing 2,880 tons standard, 3,000 tons full load, and was 120 m (390 ft) long by 14.4 m (47 ft) in width, 3.87 m (12.7 ft) in draught.
-The powerplant comprises a set of four MTU-1163 16V diesel engines with Mecmar exhaust gas system, giving them a top speed of 30 knots.
-The electronic suite comprised a Smart-S Mk2 3D Radar, a Type 364 Air search radar and two Kelvin Hughes navigation radars and an ESM system with two Type 726-4 Decoy launcher system. Fire direction comprised a Type 345 fire-control radar and two Type 347 fire-control radar.
-The armament comprises a single forward NG-16-1(76 mm) Main Gun, two Seven-barrel 30 mm Type-730 CIWS, 2×4 C-802 SSNs and 1×8 FM90N/HQ-7 SAM, 2×3 324mm ASW TTs. The corvette operates a Super-Lynx Mk140.

Nice 3D reconstruction of the Type 053H3 Frigates SRC
Read more/Src:
//sinodefence.com/type-053h3-jiangwei-ii-class/
//www.naval-technology.com/projects/jiangwei-class/
//www.globalsecurity.org/military/world/pakistan/f-zulfiquar.htm
//www.globalsecurity.org/military/world/china/jiangwei.htm
//en.wikipedia.org/wiki/F-22P_Zulfiquar-class_frigate
//www.janes.com/article/93346/china-hands-over-two-ex-plan-frigates-to-bangladesh-navy
//eastpendulum.com/cssc-devoile-nouvelle-version-de-fregate-c28a
//china-defense.blogspot.com/2017/01/type-053h3-ffg-gets-upgrade.html
On navy recoignition

Video: Type 053H3 frigates at sea in action – Credits defenseology
The models corner: Youfeng 1/700 Chinese Type 053H3 Frigate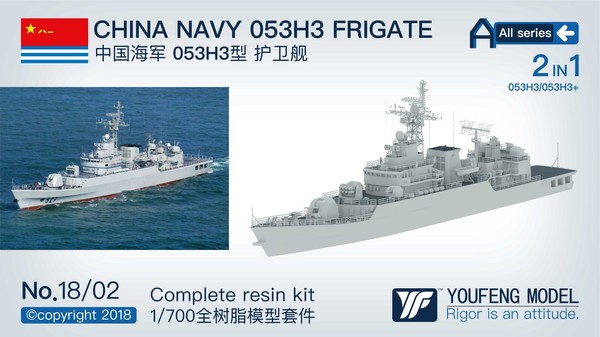 Or, start bigger with a bit of scratch: 1/200 TRUMPETER CHINESE PLA JIANGWEI CLASS MISSILE FRIGATE TONGLING 542 #3602.