Parthian class submersibles (1923)
Oceanic Submersibles 1926-1946: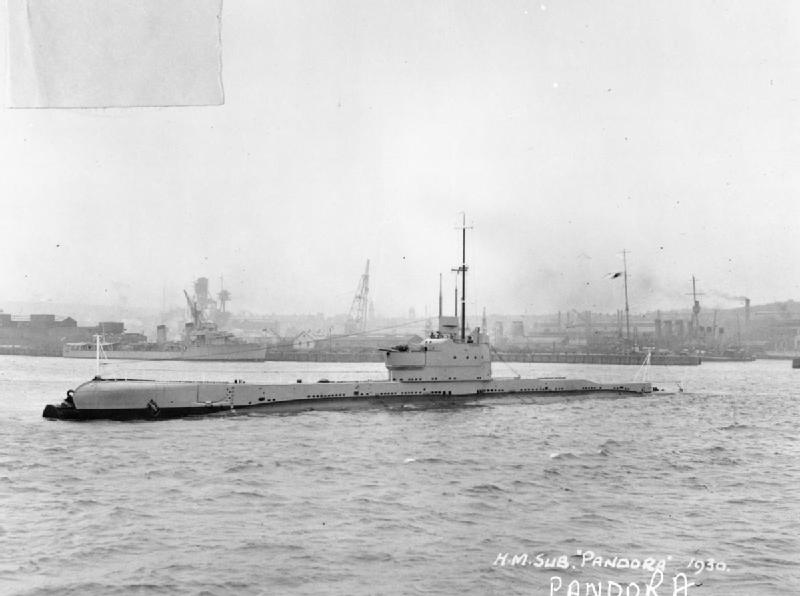 The Parthian-class submarine or P class was a class of six submarines built for the Royal Navy in the late 1920s. Also called P-class submarines, they were a group of diesel-electric submarines operated by the Royal Navy in the late 1920s and 1930s. The class consisted of six boats – HMS Pandora, Parthian (class name giver), Perseus, Phoenix, Proteus, and HMS Poseidon.
❮❮❮❮❮❮❮❮❮❮❮
⚠ Note: This is a starter article, to be Completed at a later date.
❯❯❯❯❯❯❯❯❯❯❯
Design of the class
They were designed as long-range patrol submarines for the Far East. These boats were almost identical to the Odin class, the only difference being a different bow shape, which was morfe bulbous.
These submarines had a length of around 180 feet (55 meters) and a displacement of around 580 tons when surfaced. They were armed with eight torpedo tubes and carried up to 14 torpedoes. They also had a 4-inch deck gun for surface engagement.
The P-class submarines were also designed for fleet and coastal defense, and among the first submarines in the Royal Navy to be fitted with a fully-enclosed bridge. They were relatively fast and maneuverable for their time, with a maximum surface speed of around 12 knots and a maximum submerged speed of around 8 knots.
⚙ P-class specifications

Displacement
1,760 long tons (1,790 t) surfaced, 2,040 long tons (2,070 t) submerged
Dimensions
289 x 30 x 16 ft (88 x 9.1 x 4.9 m)
Propulsion
2 shafts Admiralty diesels 4,640 hp (3,460 kW), 2x EM 1,635 hp (1,219 kW)
Speed
17.5 knots (20.1 mph; 32.4 km/h) surfaced, 8.6 kn (9.9 mph; 15.9 km/h) submerged
Armament
8 × 21 in TTs (6 bow, 2 stern), 14 reloads, QF 4 in (102 mm) Mk XII, 2× 20 mm AA
Crew
53
The Parthian class in action

By the late 1930s, the P-class submarines were becoming obsolete, and they were gradually replaced by newer and more advanced submarines in the Royal Navy. HMS Parthian was the first to be decommissioned, in 1933, but reactivated in WW2, and the remaining were also all retired by the end of 1936 but reactivated later.
HMS Pandora (ex-Python) was built at Vickers, Barrow, launched 22 August 1929. She was sunk by Italian aircraft in harbour at Valletta, Malta, 1 April 1942; Raised but not repaired, September 1943; Hulk scrapped, 1955.
HMS Parthian was launched at Chatham Dockyard on 22 June 1929. She was lost in the Adriatic, presumed mined, 6 August – 11 August 1943
HMS Perseus was launched ay Vickers, Barrow on 22 May 1929. She was mined in the Ionian Sea between the islands of Kefallonia and Zakynthos off the west coast of Greece, 6 December 1941.
HMS Phoenix was built at Cammell Laird, launched 3 October 1929. She was also lost in WW2, presumed sunk in depth charge attack by the Italian torpedo boat Albatros off the coast of Sicily, 16 July 1940.
HMS Poseidon also was launched at Vickers, Barrow on 21 June 1929 but sank in accidental collision with a merchant steamer, 9 June 1931; Wreck alleged to have been salvaged by China during 1970s
HMS Proteus was launched at Vickers, Barrow on 23 July 1929. After an active career in WW2 she was the only suvivor of her class, being sold for scrapped in Troon, March 1946.
Read More
Books
Conway's All the World's Fighting Ships 1921-1947
Ryall, Julian (12 June 2009). Written at Weihai. "China accused of secretly salvaging sunken British submarine containing 18 lost sailors". The Daily Telegraph. London.
Akermann, Paul (2002). Encyclopaedia of British Submarines 1901–1955 (reprint of the 1989 ed.). Penzance, Cornwall: Periscope Publishing.
Bagnasco, Erminio (1977). Submarines of World War Two. Annapolis, Maryland: Naval Institute Press.
Caruana, Joseph (2012). "Emergency Victualling of Malta During WWII". Warship International. LXIX (4): 357–364.
Colledge, J. J.; Warlow, Ben (2006) [1969]. Ships of the Royal Navy: The Complete Record of all Fighting Ships of the Royal Navy (Rev. ed.). London: Chatham Publishing.
Chesneau, Roger, ed. (1980). Conway's All the World's Fighting Ships 1922–1946. Greenwich, UK: Conway Maritime Press.
McCartney, Innes (2006). British Submarines 1939–1945. New Vanguard. Vol. 129. Oxford, UK: Osprey.
Links
http://rnsubs.co.uk/boats/subs/parthian-class.html
https://www.battleships-cruisers.co.uk/parthian.htm
https://uboat.net/allies/warships/ship/3404.html
https://en.wikipedia.org/wiki/Parthian-class_submarine
https://commons.wikimedia.org/wiki/Category:Parthian_class_submarine
Model Kits