The "Dave", standard IJN observation seaplane
The Nakajima E8N was a Japanese ship-borne and catapult-launched reconnaissance seaplane which saw service mostly during the Second Sino-Japanese War. This single-engine, two-seat biplane was given a main ventral float complemented by underwing outriggers. Not fast, but reliable and with sufficient range, it was quickly adopted by all battleships and cruisers in service with the IJN, the remainder affected to isolated islands and stations in the Pacific War. The Allies gave it the reporting name "Dave".
The E8N essentially was planned as a replacement for the 1930 E4N, from the same firm. The latter, with 153 built, already was a standard observation floatplane of the IJN, catapulted from Cruisers and Battleships. It first flew in 1930 and was introduced in 1931. Production, between the E4N2 (85) and E4N2-C (67) and the E4N3, stopped in 1933, at which point a replacement was in the tubes. Propelled by a Nakajima Kotobuki 2, 9-cylinder air-cooled radial piston engine rated for 433 kW (581 hp), the E4N reached 232 km/h (144 mph, 125 kn) but had a range of 1,019 km (633 mi, 550 nmi). It led also to the confidential P1, the same with undercarriage, land-based (nine built) which saw service from 1934 in the home islands only.

Nakajima E4N1, N2, N3.
The 8-shi competition
The first large-scale competition for aviation projects 7-Shi, held by the headquarters of the Imperial Japanese Navy in 1932, turned out to be quite a successful experience. Of the six programs, four ended with the adoption of a corresponding class model. Among these projects, were the Hiro G2H long-range bomber, the Mitsubishi 3MT5 heavy carrier-based and carrier-based torpedo bomber, and the Kugisho B3Y carrier-based torpedo bomber. But these machines, despite their adoption by the fleet aviation, can only be called successful with some reservations. Their release was very limited, and their combat career was short. Only the fourth project of a long-range ship reconnaissance aircraft, embodied in the Kavanishi E7K aircraft, turned out to be truly successful. The reconnaissance Kavanishi was produced in large series and was in service with the Japanese fleet for more than 10 years.
In the early 1930s, the Japanese fleet staff preferred to have two types of reconnaissance aircraft, one for their large warships, a long-range three-seater, and a short-range two-seater for the cruisers. The project of a long-range reconnaissance aircraft was drafted by the technical department of the headquarters of the Kaigun Koku Hombu, after a long research, ending with the E7K.
The short-range reconnaissance model developed for the IJN by 1932 was represented by a fairly advanced Nakajima E4N1, or Type 90-2, which just had been put into service. In the era of apid aviation development throughout the world, the obsolescence of aircraft technology met such a rapid pace that it would be simply criminal to rely on a successful project just into service for the next ten years.
While the new E4N2 was still being tested, the Kaigun Koku Hombu already prepared specs for new 1933 8-Shi design competition, including requirements for a new short-range reconnaissance model supposed to replace the E4N2. There were no particularly stringent requirements for these projects, as it was assumed that the new reconnaissance aircraft would be a little faster and better than the E4N2 already being tested, and still compatible with the same standard fleet catapults, with a forward and defensive armament, and ability to carry light bombs, possibly dropped after a dive. The only strict requirement was to ensure its maneuverability to cope with modern fighters, and the use of the specific Nakajima "Kotobuki 2" Kai 1 engine (585 hp).
The 8-Shi spec was issued to Kawanishi, Nakajima and Aichi, long-standing rivals for floatplanes in Japan, and the the Kawanishi E8K looked the most progressive, showing a cantilever single-float monoplane, with a two-seats enclosed cabin. Flight data were disappointing however. It was in no way superior to the E4N2 that was to replace and inferior in agility. The Aichi AB-7 biplane and AM-7 monoplane were worked in parrallel but the second was abandoned almost immediately.
Design continuity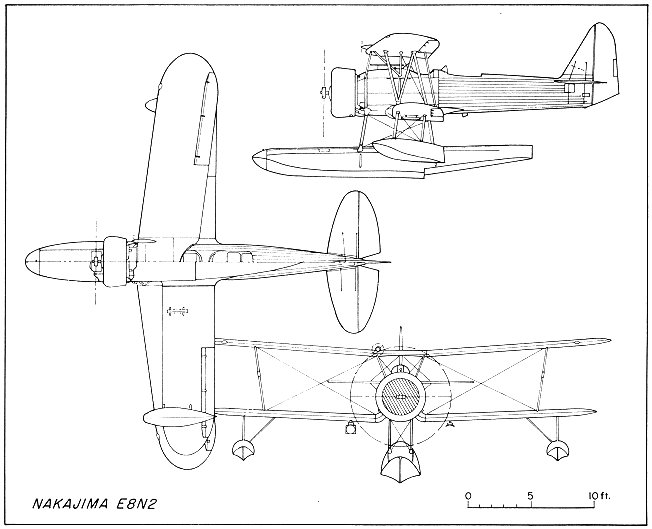 At Nakajima, it was voted for a continuity of design, extrapolating on the E4N2, only modified under the factory project name "Type MS". The same design team worked on the new close-range float reconnaissance model under direction of Shinobu Mitsutake, already experienced on the E4N1 and its E4N2 evolution as well as engines specialist Kiyoshi Akegawan under overall direction by Kishiro Matsuo. Matsuo staked all on a simple incremental improvement all cross the board for an easier, faster and cheaper production setup, also allowing technological continuity, same parts supplies, maintenance ease, which all were considered favourably by the examination board.
Outwardly, the new model was very close to the production E4N2, with an upper given a greater sweep, shorter chord, smaller area overall for better agility. To improve fight stability, both the keel and rudder were made taller. In addition, the rudder underside was bevelled. Also the attachment of supporting floats diverged, by using I-struts with cross guy cables instead of N struts. The fabric covering was replaced with aluminum on the wings also, allowing dives. The Type MS project was designated E8N1 for tests, but still almost indistinguishable from the E4N. It first flew in March 1934 and no issues were found, although the cruising speed decreased slightly while top speed improved due to the more powerful engine and less drag.
Development of the E8N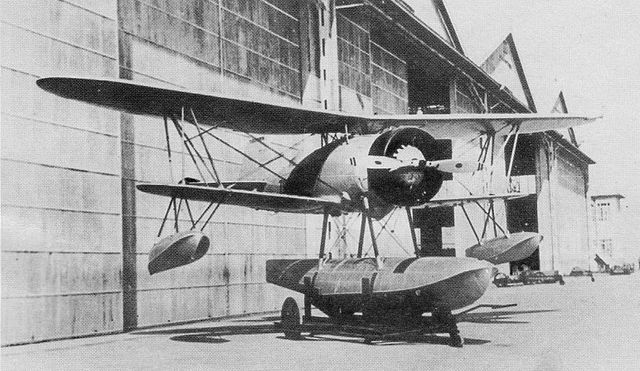 Protoype MS in 1934
The E8N was developed as a replacement for the E4N, an evolutionary development with revised, smaller wings, taller tail surfaces and bigger engine. Seven prototypes were constructed all under the company designation Nakajima MS, at first under private venture, but Nakajima was confident the Navy would soon come with a competition. The first of these prototypes flew in March 1934. As expected, Nakajima obtained an official request, and its prototype was soon engaged in comparative trials against those from Aichi and Kawanishi.
Since the Navy appreciated the E4N, they were confident enough to brush aside the competitors, as for most specs she resorted better overall. The Nakajima A8N was eventually granted the greenlight for production on October 1935, under the official designation "Navy Type 95 Reconnaissance Seaplane Model 1". About 800 were ordered, but since Nakajima did not have that capacity, Kawanishi took over a large part of the production which went on until 1940. The production ceased however at the 748th to make room for a more modern models such as the Aichi E13A "Jake" (1941), a monoplane, or the Mitsubishi F1M "Pete" (1940), last biplane.
Design
The Nakajima E8N reconnaissance ship was a classic all-metal biplane using a single float and two supporting floats underwings. Like its predecessor the E4N2s it retained the ability to mount a wheeled undercarriage, but this was never used. The fuselage and wing were all-metal. The fuselage forward entire section was framed with aluminium, covered by thin aluminum sheets, while the tail section was covered with canvas. The center section supported four I-shaped struts under which the single float was attached. The wings also as said received an aluminum skin, which was new and augented the plane's rigidity, enabling a better agility than its predecessor, as calculated between the shorter span and more powerful engine.
Engine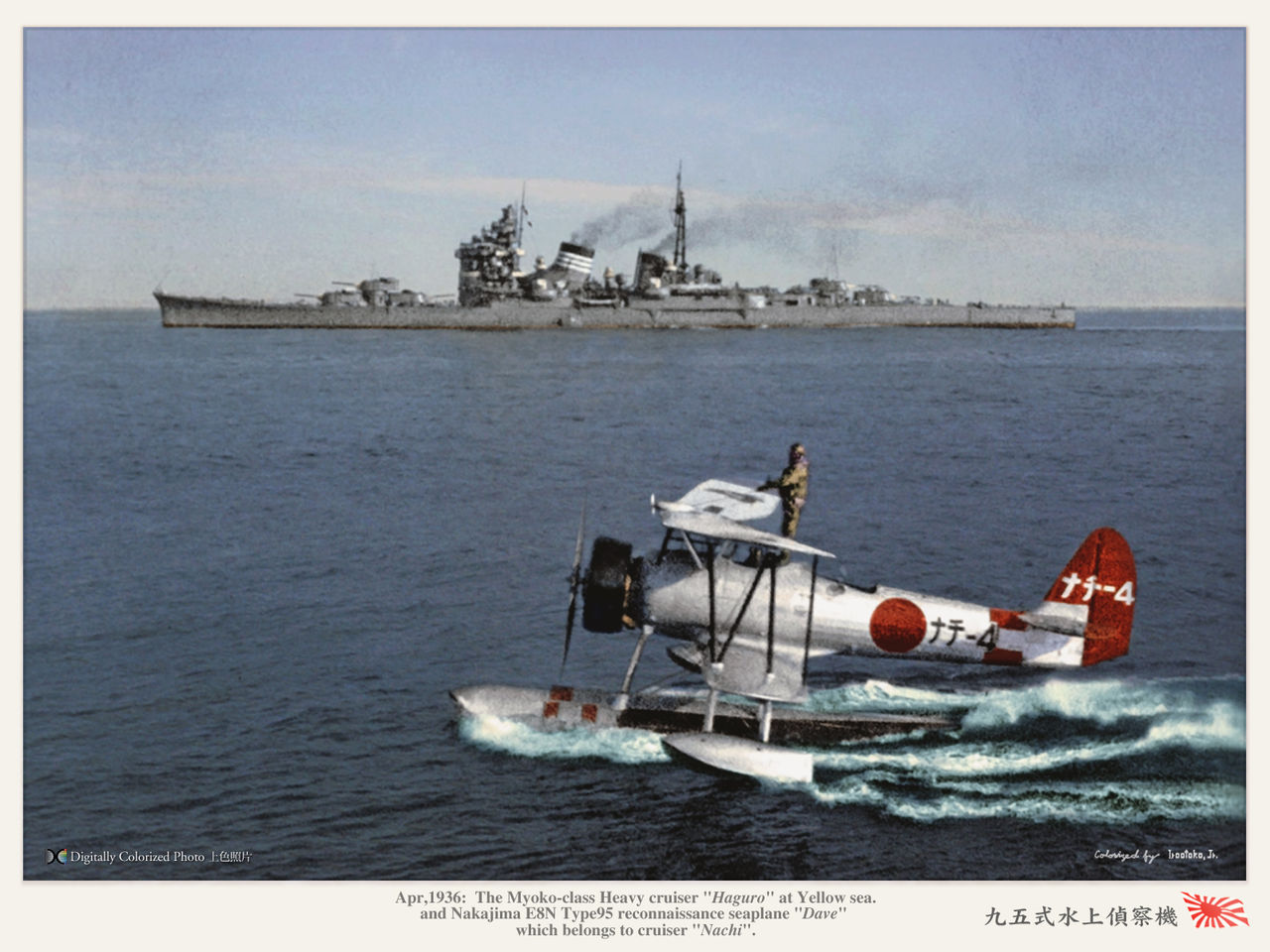 IJN Haguro's E8N spotter plane taxiing after landing. The observer is standing with the cable hook to be hoisted back on board. Colorized by hirootoko JR
The E8N1 was the Initial production type powered by 433 kW (580 hp) Nakajima Kotobuki 2 Kai 1 radial engine and upgraded mid-production as the N2 when was introduced the more powerful (470 kW/630 hp) Nakajima Kotobuki Kai 2 engine. Both acted on a two-bladed, metal, constant pitch propeller. The "Kotobuki" ("Jupiter") 2 Kai 1 was a reliable, largely used engine developed as a mix between the Bristol Jupiter and Pratt & Whitney Wasp. The Kai 1 was an evolved version of the second model which develped 585 hp (436 kW). Air-cooled, its bore was 146 mm (5.75 in), stroke 160 mm (6.3 in) and it displaced 24.1 L (1,471.1 cu in). It was 1.021 mm x 1,280 mm and weighted 350 kg (772 lb). It was further developed into the 3-Kai of 710 hp (529 kW), never mounted on the E8N as the structure would probably had not tolerated it.
Armament
As standard, the E8N was given a fixed, forward-firing single 7.7-mm Type 97 machine gun above in the fuselage, left of the aircraft axis with an interruptor gear. The other was a Type 92 machine gun strapped on a flexible mount around the rear position, manned by the observer and purely defensive. There too was an interruptor on the rail to avoid firing on the tail.
The floatplane also was fitted with two underwings racks, each capable of dropping a 30 kgs (66 Ibs) bomb. The lifting capacity was in reality greater, and it was said capable of lifting two 60 kgs bombs for short range runs. Thanks to the aluminium-covered wings and reinforced structure, dive-bombing was not only possible, but pilots trained for it. This capability was demonsrated in several occasions, but the damage inflicted was minimal.
Production
Production was first setup quickly at the Nakajima plant, in Ota. Later another in Koizuma was specially built for it, augmenting deliveries. The Type 95 reconnaissance aircraft was peoduced until 1940, with more than 700 delivered to the IJN, most of which were Type 95 model 2 (E8N2) which had a greater takeoff power of 630 hp, an important fact to stay aloft in all conditions immediately after launch from the catapults. As the war broke out in China, heavy losses forced the Japanese command to look for replenishments and in 1938 a license agreement was concluded with Kawanishi, for the production of E8N2s at Konan plant (48 more assembled).
Detailed specs
Nakajima E8N "Dave"

Crew:
2: Pilot, Observer
Fuselage Lenght
8.81 m (28 ft 11 in)
Wingspan
10.98 m (36 ft)
Wing area
26.5 m2 (285 sq ft)
Height
3.84 m (12 ft 7 in)
Empty weight:
1,320 kg (2,910 lb)
Max takeoff weight:
1,900 kg (4,190 lb)
Propeller:
2-bladed fixed pitch metal propeller

---

Engine:
Nakajima Kotobuki 2 KAI 9-cylinder air-cooled radial 470 kW (630 hp) at 3,000 m (9,843 ft)
Top speed:
300 km/h (190 mph, 160 kn) at 3,000 m (9,843 ft)
Climb rate:
3,000 m (9,843 ft) in 6 minutes 31 seconds
Endurance:
898 km (558 mi, 485 nmi)
Service ceiling:
7,270 m (23,850 ft)
Wing Loading:
71.7 kg/m2 (14.7 lb/sq ft)
Power/mass:
0.2491 kW/kg (0.1515 hp/lb)
Armament
Fixed fwd+ flex rear 7.7 mm Type 97 MG, 2×30 kg (66 Ibs) bombs
The Nakajima E8N in action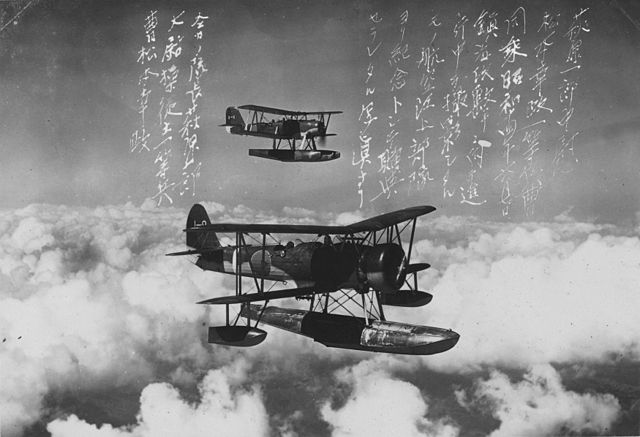 Imperial Japanese Navy Air Service's seaplane Nakajima E8N in the foreground with a Kawanishi E7K seaplane in the background
The Nakajima E8N "Dave" in the fleet
The E8N arrived in late 1935, early 1936 and gradually was supplied too all capital ships and 16 cruisers of the IJN, plus five seaplane tenders:
| | | |
| --- | --- | --- |
| Battleships IJN Fuso, Haruna, Hyuga, Ise, Kirishima, Kongo, Mutsu, Nagato, Yamashiro | Aoba, Ashigara, Atago, Chokai, Haguro, Kako, Kashima, Katori, Kumano, Maya, Mikuma, Mogami, Myoko, Nachi, Suzuya, Takao, Tone | Aircraft tenders IJN Chiyoda, Kamoi, Kiyokawa Maru, Sagara Maru and Sanuki Maru |
There was no carrier-borne version with undercarriage. It was used from the start of the second Sino-Japanese War by the fleet, and it was discovered it was sturdy enough to perform dive-bombing missions if the need arose, athough she did not carried much ordnance. The rest of her time alternated between observation, reconnaissance and artillery spotting.
The E8N became in fact the short-range catapulted reconnaissance type of the IJN. Obsession with classifications, and with the international context urging some rationalization, the IJN staff wanted to merge the functions of short and long range reconnaissance, and add to this gunnery obervation, patrols, liaison, or carrying out bombing and strikes on coastal targets. In 1939 a new class was drafted, the "Observation Seaplane" (letter F), which ended with the Type 0 (F1M "Pete") replacing the E8N in the fleet. Nevertheless, the E8N remained in service until the end of 1943 and afterwards in training units.
The arrival of this model onboard IJN ships started in 1936. They were were mainly assigned to battleships and heavy cruisers, mainly for artillery spotting. Light cruisers in IJN doctrine were to be the "eyes of the fleet", and used the long-range reconnaissance Kawanishi E7K instead. Battleships in fact had enough room to carrt both one single E7K and two or even three E8Ns. Only Yamato and Musashi never operated it, having instead the "Pete" onboard, and other models like the "Rufe" naval fighter.
Also exceptions, the IJN Chikuma and Tone as modified, carried two E7K and three E8N, but composition often changed along their deignated tasks and availability. E8N scouts were also based on many fleet tenders. On for example the four sister-ship Kamikawa Maru, Kimikawa Maru, Kiyokawa Maru and Kunikawa Maru, which carried each six E8N reconnaissance aircraft plus two in reserve, and three E7K, one reserve. The Sagaru Maru and Sanuki Maru had six plus two in reserve, Sanyo Maru, Kagu Maru, Kinugasa Maru carried eight plus four E7Ks. IJN Notoro had eight, IJN Kamoi ​​no less than twelve not counting reserve models.
Composition of the air groups varied, buyt the E8N was maintained as a mandatory model in all cases, a testimony to its recoignised high efficiency depit its near-obsolete features. Even in late 1942, they operated from IJN Sanyo Maru which also had six F1M1 "Pete" and two E13A1 "Jake".
Active Combat career 1936-1943
E8N scouts started just when the 2nd Japanese-Chinese incident took place. Scouts brought previous reconnaissance data, released from many fleet tenders and where there was no opposition, being used a dive bombers anf to straf opportunity targets, even as escort fighters in some cases. In August 1937, 21 kokutai operated E8N scouts in northern China, 22 kokutai in central and southern China, in addition to IJN Kamoi own models off the coast. On August 14, 1937, there was a counter-raid of some 40 Chinese Northrop "Gamma" bombers escorted by Curtiss "Hawk" III on the HQ of the Japanese 3rd Fleet, in Shanghai. At thioer second sortie they were intercepted by a mix of E7K rfrom IJN Izumo and E8Ns from IJN Sendai. On E8N managed to shot a hawk with a well adjusted, lucky burst. Pilot Liang Hun Yun died in the event. A Chinese Gamma bomber was also shot down. This was the exception however.
The E7K and E8N were easy prey for modern fighters in general. On August 16, the first E8N1 was lost in action, shot down NW of Shanghai by 24th Sqn. Captain Liu Chui-Kang on his Hawk III fighter. On August 20 he shot down another over the Yangtze River, NW of Shanghai, despite it was escorted by a Nakajima A4N1 fighter. The fighter was dealt for first. Another E8N was lost over Shanghai on 4 September 1937, followed by others in September, as well as in October 1937 when the first two E8N2 (from IJN Kamoi) were also shot down.
In January 1938, one E8N2 (from Kamoi) shot down a Chinese reconnaissance Vought V-65 "Corsair" over Canton and another the the next day dogfighted for 10 minute with a lone Chinese Gloster "Gladiator", both surviving and breaking off. In February 1938 some from Notoro and Kinugasa Maru carried many attack missions in addition to their observation duties. On February 24, all 13 E8N were in the sky to attack the city of Nan Hsiyung with bombs, others being used as fighters. They were intercepted by three Gloster Gladiator (28, 29 Squadrons). Some were shot down but one E8N place itself in a frontal attack position and shot down one with a single burst, hitting Lieutenant Young in the head. Gladiators MGs tended to fail also due to low-quality Belgian cartridges, which saved the Japanese at this point. Most went back. The Chinese lost two Gladiators, two damaged, claiming only two E8N2, three damaged, which was quite even.
The records showing the Japanese extensively used their floatplanes for all sorts of missions also showed acute shortages on some areas over China. The front, which stretched thin inland, and Chinese fierce resistance was grinding down the effectivness of all squadrons. The E8N2 bomb load was light, but they could effectively dive and thus hit targets with better accuracy than levelled attacks. Training included dive bombing in fact and E8Ns could be surprisingly deadly in precision bombing. By mid-May 1938, the IJN Kamikawa Maru joined the fray, deploying some 12 E8N2s and operating in Hukou area, intercepted by five Gladiators (28 Sqn). Japanese scouts however put quite a fight due to their surprising agility for floatplanes. After 1:50 however, the die were cast with six "Dave" down.
The "Dave" in WW2
In December 1941, the E8N was considered obsolete, but still equipped the fleet until it was re-equipped by the new Aichi E13A1 and Mitsubishi F1M2. The Allies classified and named it believed these were still modern by Japanese standards. They stil served in many units at this point: Combat training "Hataka" kokutai, Kure (48), Yokosuka kokutai (12), Komatsujima kokutai (8), "Iwakuni" kokutai (8 or less), and most IJN fleet tenders patrollig off China. Those were used as light bombers with mixed success due to shortages.
On June 3, 1942, E8Ns saw action the Japanese for the raid on Dutch Harbor (Aleutians) screening for 9 Zeros, 12 D3A/B5N bombers, marred by heavy fog. Four E8Ns from Takao, Maya reached Makushin Bay and did their job, throwin their two 60-kg bombs and attacking the five USN destroyers in the bay, all missed. On their way back, they were intercepted by two land-based P-40E fighters, with two lost. On February 27, 1942 at the battle of Java Sea, E8N2 from Nachi and Haguro adjusted long-range fire, contributing to their many hits. On April 9, 1942 a single "Dave" from IJN Haruna spotted off Ceylon the aicraft carrier HMS Hermes, later attacked and sunk by a massive strike.
On December 25, 1941, two "Dave" from IJN Chokai shot down a Dutch Dornier Do-24K off the coast of Anambas Island, South China Sea. E8N scout far north also took place in the incident in which the Soviet transport Angarstroy on April 19, 1942 on her way to Vladivostok, met by four battleships and eight destroyers and ordered by a dropped injunction on deck by a "Dave" to change course. The E8N was largely in service by December 1941, providing crucial reconnaissance from IJN Haruna notably during the Battle of Midway, but by late 1942 most had been retired from surface vessels and relegated to second-line duties in remote pacific islands and home waters. The last were still used for training floatplane pilots in 1945.
The Kriegsmarine E8N
The E8N had such reputation that by early 1941 the German Naval Attaché to Japan, Vice-Admiral Paul Wenneker asked to have one purchased. It was ferried on board KM Münsterland, which later met the German auxiliary cruiser SMS Orion, at Maug Island (Marianas), on 1st February 1941. KMS Orion became the only WW2 German warship to operate a Japanese float plane. Donated to Germany as a goodwill gesture, and this particular model took an active part in the preparation of the local raid of "Orion" from the end of 1940, roaming the Indian Ocean. It was disguised as a RAF model with typical British cockades, mimicking some colonial 2nd line model or lend-lease "Seagull". However its only contribution was to spot the cargo ship "Chaucer". Its fate is unknown. Orion was renamed Hektor in 1944 and Orion again in 1945, not surviving the war as she was sunk in an air raid on 4 May 1945.
The Thai E8Ns
In 1938, the Kingdom of Siam ordered 18 E8N, an order completed only by September 1940 when they arrived. They received the designation BTL-2 and actually took part in hostilities, patrolling the coastal zone near the Cambodian border but not participated in the war against France. They were only retired in 1946.
References
World Air Forces – Historical Listings Thailand (THL)
Francillon, Rene (1979). Japanese Aircraft of the Pacific War. Putnam & Company Limited.
Joao, Matsuura. "WWII Imperial Japanese Naval Aviation Page".
On combined fleet
On airwar.ru
On combinedfleet.com
On aviastar.org
On alchetron.com
On daveswarbirds.com
On militaryfactory.com
On historyofwar.org
On pacificeagles.net
oldtokyo.com
On the blueprints.com
On aviationofjapan.com
Profiles on wingspalette.ru
On tumblr
On avionslegendaires.net (FR)
---
On super-hobby.fr
RS models 1/72
Hasegawa 1/72
The E8N on Scalemates, all manufacturers, all scales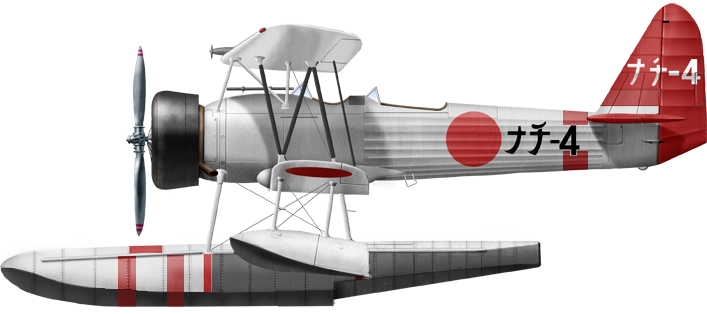 Nakajima E8N1, IJN Nachi, 1936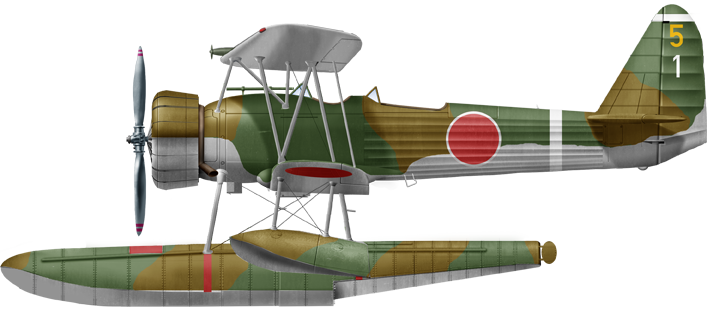 E8N1, Fleet tender IJN Kamoi, East China sea June-july 1938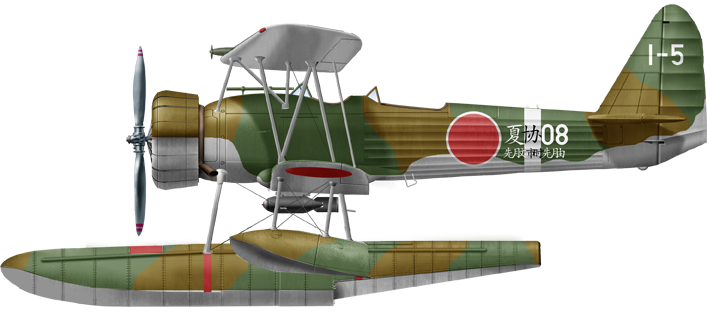 E8N2 Armored Cruiser IJN Izumo, 3rd fleet flagship, Shanghai 1939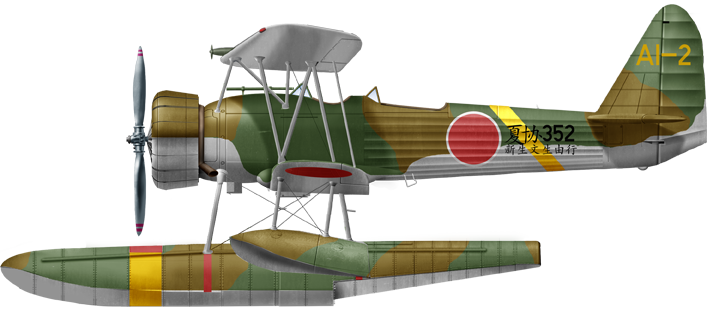 E8N2, AI-2, Battleships IJN Nagato, October 1941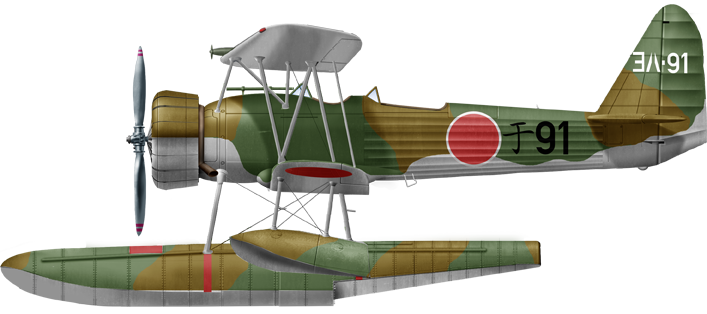 E8N1 Yokohama Kokutai, Kanagawa prefecture, circa 1944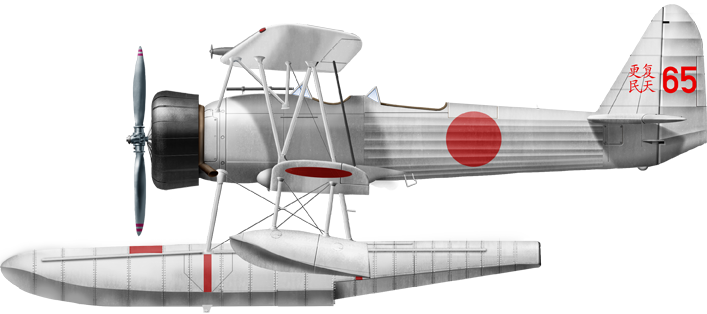 Maintenance Training E8N2 of SeiRen 65 Yokosuka Kokutai, Japan 1944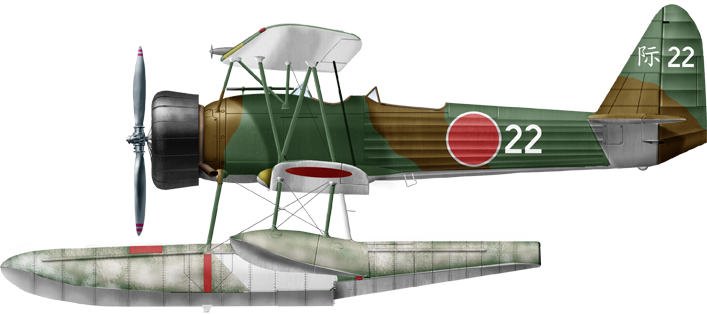 E8N2 of AsU-22, Amatsuka Kokutai (seaplane base), Japan Summer 1945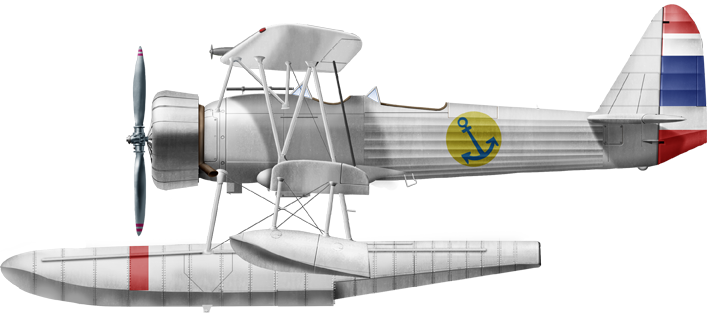 E8N1 of the Royal Thai Force, 1942

E8N1 on KMS Kormoran, Pacific 1942, with fake British markings
---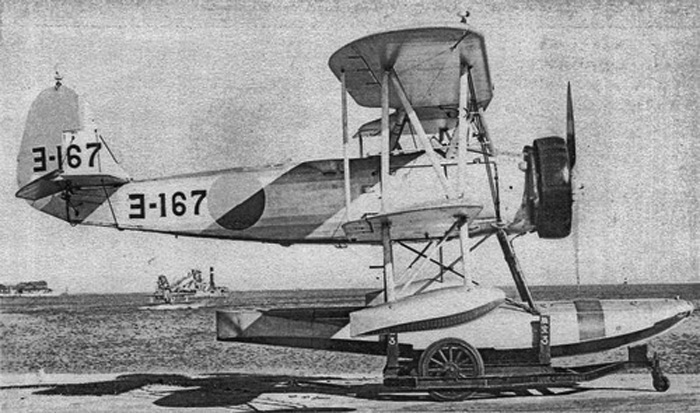 Nakajima E4N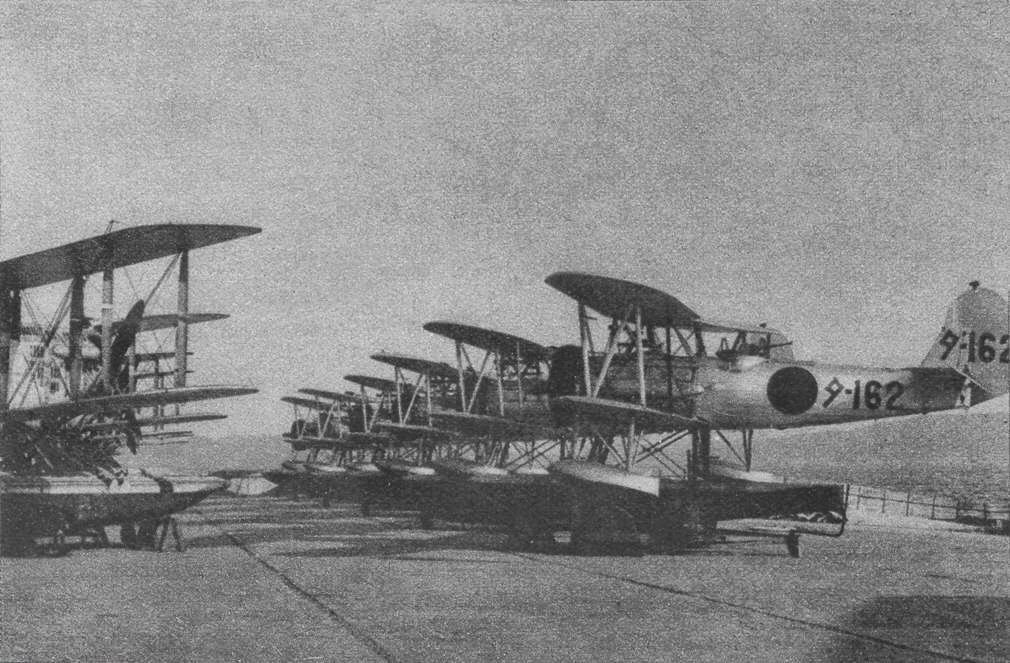 E4N squadron

Type 95 Suiki Suitei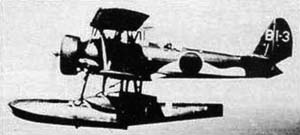 Nakajima E8N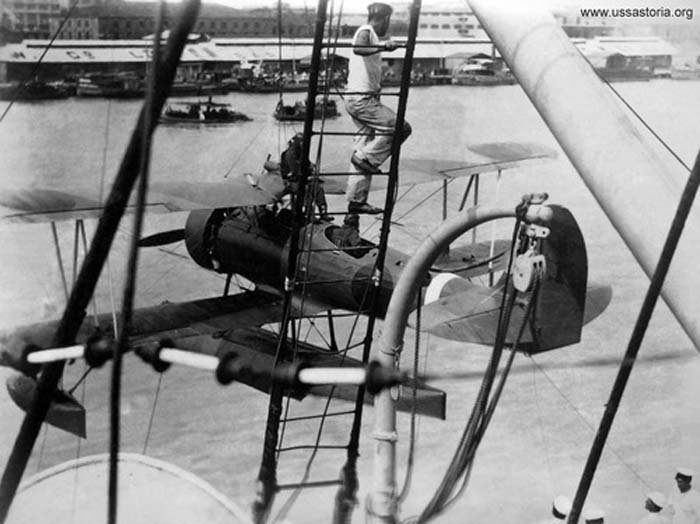 E8N lifted onboard a cruiser by crane in harbour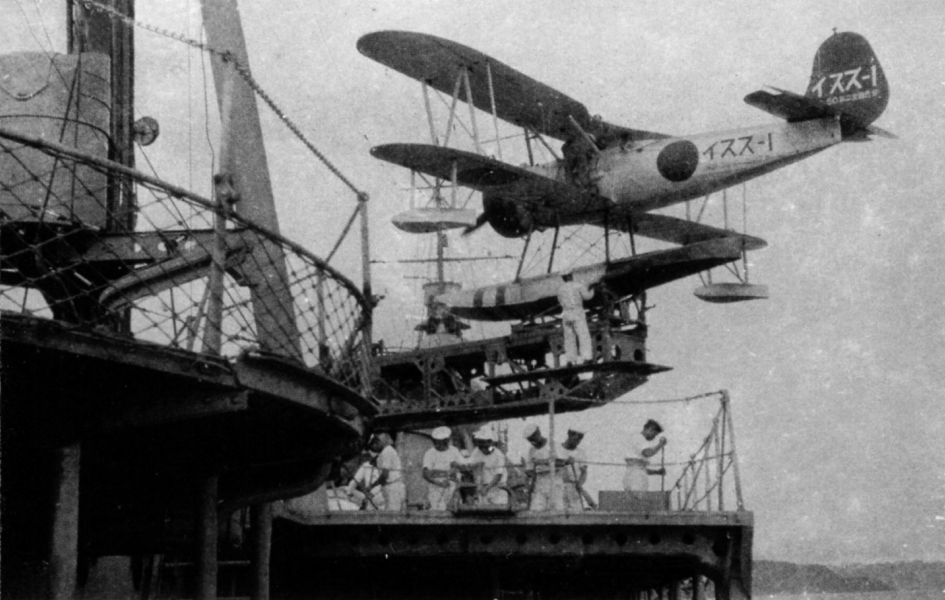 E8N being catapulted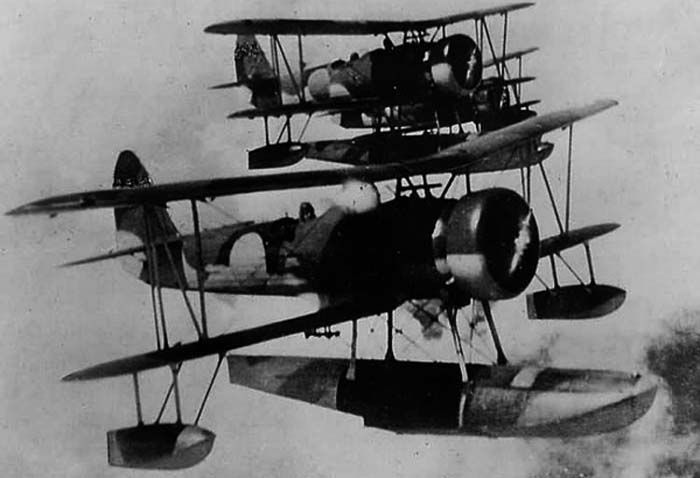 E8N "Dave" in flight Formation