Macchi M5 (1917)
Regia Aeronautica (1917-26), 148 built
The Italian seaplane fighter of WWI
The first Italian seaplane was built by Nieuport-Macchi in Varese, copying a captured Austrian Lohner L observation seaplane. From the L.1 and L.2 came the M.3 single-seat observation biplane in 1916. It appeared soon performances were impressive enough to convert it into a fighter. The end result was the Macchi M.5 which appeared in 1917 and was mass-produced until the end of the great war. The Macchi M.5 had impressive caracteristics (2000 kph, high altitude and climb rate) which made it probably one of the very best seaplane fighters of WWI, also tested and adopted by the United States Navy and Marine Corps in 1918. For the two years it was use dover the adriatic, it practically ruled the sky and paved the way for Macchi to an unmitigated and long-lasting passion for performances seaplanes and fighters, the "Italian Supermarine".
Macchi, a legend of aviation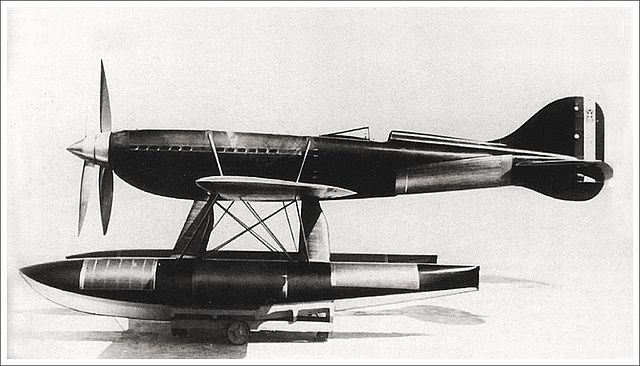 Fratelli Macchi ("Macchi Brothers") was a company founded in Varese, by Giovanni and Agostino Macchi around 1850 for the construction of animal-drawn carriages and omnibuses. Later in the XXth century it became an industrial giant, also producing motorcycles, buses, as well as producing many other mechanical innovations. Of course it's for planes the company is best remembered for, at least worldwide.
The brothers Giovanni, Giuseppe, Enrico and Giulio Macchi decided to set up in June 19, 1905 the "Società Anonima Fratelli Macchi – Carrozzeria, Automobili e Ruotificio" managing to find the massive capital needed to purchase tooling, create a modern manufacture. Funds were provided by investors in Milan and Varese, the Industrial north. However their automotive start brought poor beginnings, but the familial company soon found opportunities in the railway industries, supplying it with many parts, as well as producing wheels for artillery carriages of the army.
Following the Italo-Turkish war the company extended to airplanes, fuelled by the Ministry of Defense October 1912 ordering a competition to supply the first Italian mass-produced military aircraft. Motorsport pioneer Carlo Felice Buzzi convinced Giulio Macchi to set up a joint venture with Nieuport in France, signing an agreement on 1st May 1913 for licence-production in Varese. From there, not only the Nieuport-Macchi Anonymous Company was created, but a new manufacture from the ground up as well. The company delivered 646 Nieuport-Macchi 11 (copy of the Nieuport 11 "Baby") for the young Regia Aeronautica, filling most squadrons in 1915. Alonsgide it also produced 46 Nieuport-Macchi Parasol wing observation models.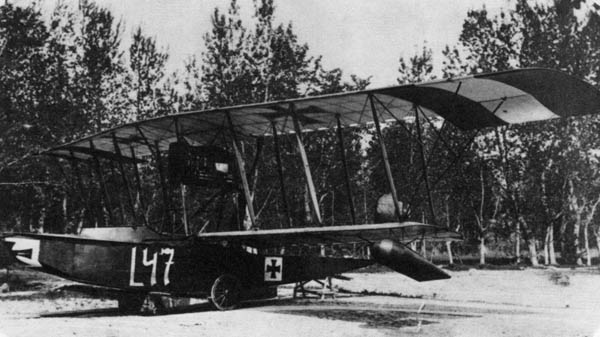 Lohner L (1914)
Origins of the Macchi seaplanes
Macchi L1-L2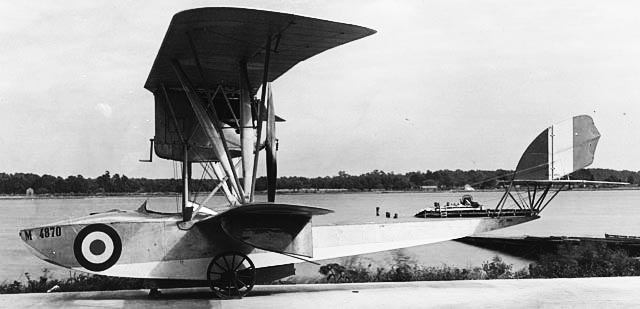 However an interesting event turned the attention of the company to seaplanes: In 1915 soon after Italy entered war against Austria-Hungary, a lone Lohner L observation seaplane was damaged and crash-landed in Italian waters. Captured, this plane (serial L.40) was taken intact near the naval air station of Porto Corsini. Sent to Macchi, it was soon copied by Macchi-Nieuport, and a first prototype flew within a month, called Macchi L.1. Italy at the time did not had any equivalent, and the Government ordered a first bath to be delivered to Italian maritime reconnaissance units based on the Adriatic. In all, 14 were built with a Fiat machine gun and an Isotta-Fraschini V.4a engine. An improved version was developed as the Macchi L.2, improved with an Isotta Fraschini V.4B 119 kW (160 hp) engine (10 built).
Macchi M3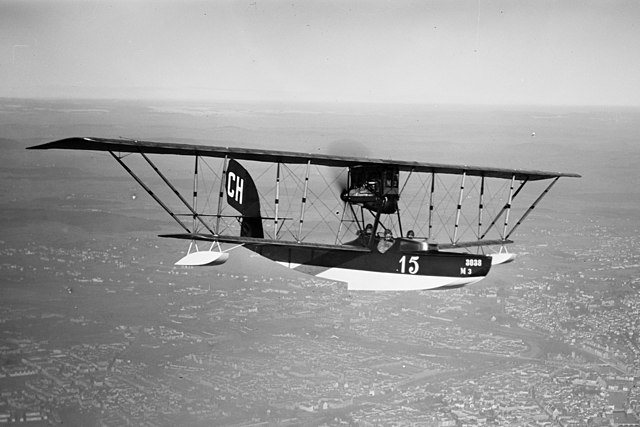 But soon Macchi worked on a much improved version.
The result of these many improvements resulted in 1916 into the L.3, soon renamed Macchi M.3 in 1917 as it was standardized and mass-produced, the letter referring to "Macchi", and no longer Lohner.
This M3 had a new and refined hull, strut-mounted tailplane and it was powered by a single Isotta Fraschini engine, strut mounted between the two wings. This was a pusher, allowing to place a single machine gun on a trainable mount forward, and that could also carry four light bombs. In 1916 one of these won a world altitude record for a seaplane, at 5,400 m (17,700 ft), in 41 minutes.
In all, over 200 M.3s were built and delivered to the Royal Italian Navy, used on a variety of missions: Bombing & strafing, reconnaissance, patrol and escort. It had enough agility and speed to act as fighter on many occasions as well. Some were also used for commando-style operations behind Austrian lines. They notably pioneered the Italian use of aerial photography at the frontline, notably over the isonzo, but also to plan naval operations along the adriatic coast. The type was still used for training as far as 1924. Two M.3s were fitted with a new Fiat A.12 engine and became the Macchi M.4, but the model was soon superseded by the better Macchi M.9 in 1919.
Macchi M5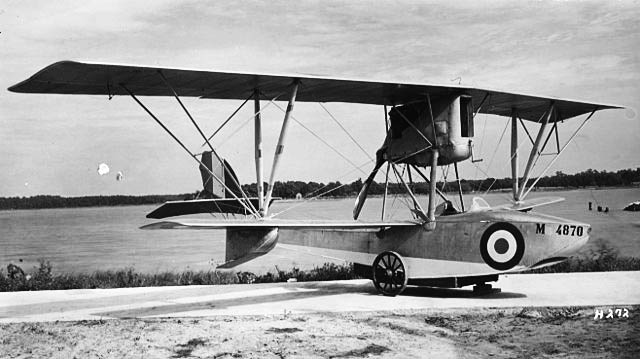 The success of the M3 as fighter in 1917 motivated Nieuport-Macchi engineers to devise a tailored seaplane fighter. This became the Macchi M5, probably one of the world's best seaplane fighter of WWI. The first prototype of the single-seat sesquiplane fighter flew in mid-1917, developed by engineers Buzio and Calzavera. Largely similar to the Macchi M.3, it had a revised tail (Ma) and was futher developed as the M bis and Ma bis. When trying to make it lighter and more powerful, yet with better agility and armament model, this gave birth to the main seaplane fighter of the Aviazione per la Regia Marina during WWI, and a grand total of 244 were produced until the armistice.
Design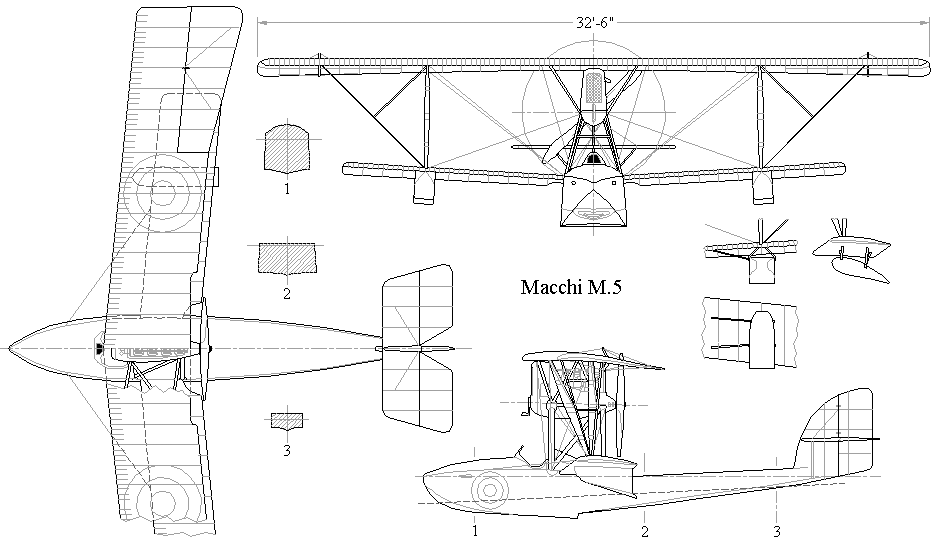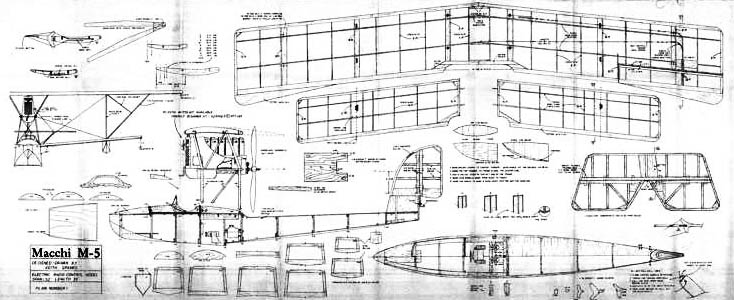 The first prototype "M" in 1917 still had the same single-step hull, open cockpit forward of the wings configuration. The tail was the same as the M3. However agility was still lacking and the engineers revised the tail unit. It was no longer separated, but attached to the fuselage, and stenghtened by struts. This new prototype was designated Macchi Ma.
Others improvements were made to the wings, which were made shorter but with a larger surface, and slightly more camber and inclination for better lifting caracteristics at high speeds. This model was produced in late 1917, but further developed as the Macchi M bis and Ma bis while the production aircraft was ongoing. Designated M.5. Like the prototypes, it was powered by the same Isotta Fraschini V.4B engine, also in a pusher configuration, but with a larger propeller compared to the M3.
Engine & Perfomances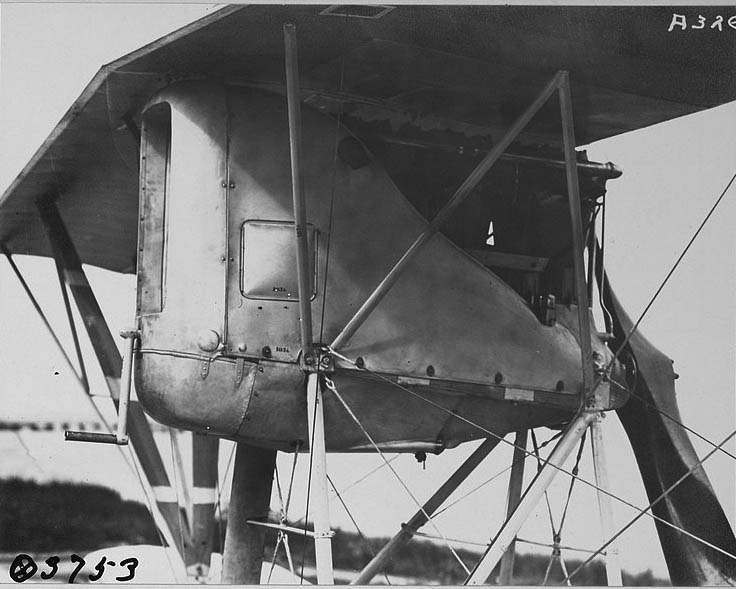 The Isotta Fraschini V.4 became the mainstay of Italian aviation during WWI, propelling in addition to the Macchi M3 and M5, the CANT 7, Caproni Ca.3, 30-36, FBA Type H and Macchi M.6, M.8 or the SIAI S.8. It was considered a high performance unit, fit for fighters, bombers and fast attack planes.
It was a straight six-cylinder, water-cooled in-line piston engine with a bore of 130 mm (5.12 in), 180 mm (7.09 in) stroke, and 14.3 L displacement (874 cu in). It measured 1,470 mm (58 in) by 460 mm (18.11 in) and 1,020 mm (40.15 in) high, and a dry weight of 264 kg (584 lb).
It was composed of a an overhead camshaft with Twin carburettors, two six spark magnetos, a forced feed oil system, and Water cooled cylinders in pairs each with steel water jackets. Its power output was 142 kW (190 hp) at 1,450 rpm for a Compression ratio of 4.8. The V.4A evolved into the V.4B and V.4Bb. It was still in use in the 1930s in the civilian market.
The Isotta Fraschini V.4B gave the M.5 a top speed of 189 km/h (117 mph, 102 kn), and endurance of 3 hours 40 minutes and a service ceiling of 6,200 m (20,340 ft). It gave notably the Macchi M5 a very good rate of climb and practical interception altitude of 5,000 m.
Armament:
The Macchi M.5 was designed as a pure fighter and therefore the main difference was the fitting of two Machine guns forward, fixed, instead of a single mone on a flexible as in the M.3. These were fixed forward-facing .303 British (7.7 mm) Vickers machine guns, a well-known model that needs no introduction. Cartridge bands were provided (around 800 rounds) for both, lodged into the nose. The pilot still could access these in case of a jamming. The M5 could have carried bombs, although the combined weight of both machine guns was already important.
Detailed specs
Specs First version M5

Crew:
One pilot
Fuselage Lenght
6.9 m (22 ft 8 in)
Wingspan
8.5 m (27 ft 11 in)
Height
3.1 m (10 ft 2 in)
Empty weight:
940 kg (2,072 lb)
Gross weight:
1,280 kg (2,822 lb)
Powerplant:
Mitsubishi Hi V-8 WC engine, 224 kW (300 hp)
Propellers:
2-bladed fixed-pitch propeller
Maximum speed:
213 km/h (132 mph, 115 kn)
Endurance:
2½ hours
Service ceiling:
7,000 m (23,000 ft)
Time to altitude:
3,000 m (9,843 ft) in 10 minutes
Power/mass:
0.18 kW/kg (0.11 hp/lb)
Armament
Guns: 2 × 7.7 mm (.303 in) machine guns.
In action
Deliveries commenced in the summer of 1917 to the Aviazione per la Regia Marina (Italian Navy Aviation), and quickly the Macchi M5 was appreciated for its speed and agility, pilots finding it capable of performing more missions, including dangerous inland observation flights. Production improvements at the end of the war had the late model fitted with a more powerful Isotta Fraschini V.6 engine and redesigned wingtip floats arrive, as the M.5 mod. 44 additional ones were built by Società Aeronautica Italiana. The M.5 was operated in all by five Italian maritime patrol squadrons. It was used both as a fighter and convoy escort, or bomber escort.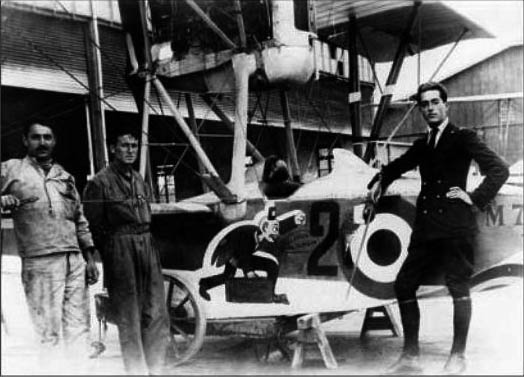 Naval ace Lt. Carvello posing with his crew and Macchi M5 in 1918.
The 251st Squadron was the first receive them, from September 1917. It was followed quickly by the 253rd, 259th and 258th Squadrons, the later operated from the Vlore jetty and from the Europa seaplane support ship. The 255th Squadron receive these only from November 1917. From 1 January 1918 eight were operated. The 260th Squadron had them from November 1917 and the 263rd Squadron was created with just the first two available also on 10 November 1917. By March 1918 it had only six, while the 261st had the same number in December 1917 and 254th on 1st January 1918, just four.
The 262nd Squadron was created in the winter of 1918 with six, the 256th Squadron in September 1918 had ten of them. The 264th Squadron (1 June 1918) started with 4 seaplanes. The 13th FBA (fighter) Section of the Port of Naples created on 1 June 1918 was given two alongside its land-based planes, and the 101st Squadron created on 4 November 1918 operated five of them. It was not long before naval aces were born:
The M.5 was still used in 1923 when the Regia Aeronautica was formed. In all, 65 M.5s composed several naval squadrons, but after 1926, few were left, replaced by new models, whill still used for training until then.
When the Giuseppe Miraglia entered service, the first Italian seaplane carrier, the M5 was its main fighter provision for many years.
US Navy use
In 1918, reports on the performances of the M.5 were such that the USN became interested and some were flown by USN and US Marine Corps airmen in Virginia (Hampton Roads test center). USN air crews dispatched there gain soon victories with it. For his actions on 21 August 1918, U.S. Navy Ensign Charles Hammann received the first Medal of Honor awarded to any United States naval aviator.
Towards the end of the war, some were flown by both the USN and USMC at home but also int he Adriatic as the 263rd Squadron of Porto Corsini from 24 July 1918 was an U.S. Naval Air Station. Aspirant Charles Hazzaline Hammann, (first Medal of Honor) became its ace pilot, and in addition the 307th Squadron from 30 November 1918 had also twelve M.5.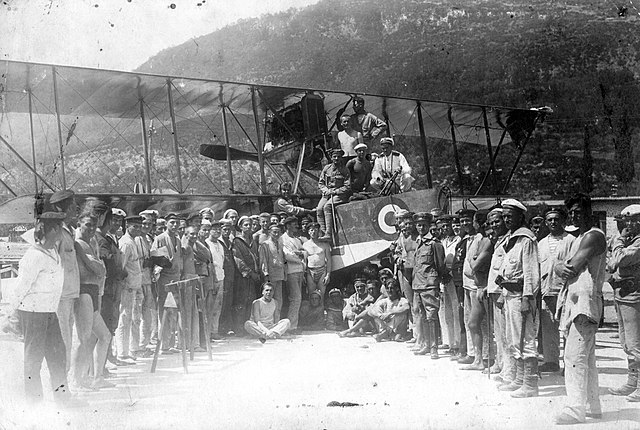 Captured M.3 by Austro-Hungarian troops
References
https://en.wikipedia.org/wiki/Macchi_M.5
https://en.wikipedia.org/wiki/Category:Macchi_aircraft
https://it.wikipedia.org/wiki/Aermacchi_(azienda)
http://www.ilfrontedelcielo.it/files_3/31_1917.htm
http://www.hyperscale.com/2008/reviews/kits/fly48001reviewpm_1.htm
http://www.hyperscale.com/2010/reviews/decals/pheon48010reviewjf_1.htm
https://www.stormomagazine.com/Kits_Fly.htm

260 Sqn, Spring 1918


261 Sqn, Spring 1918

163th Squadron, Ensign Provost, USN, late 1918


Unknown Squadron, late 1918


Unknown Squadron, late 1918
---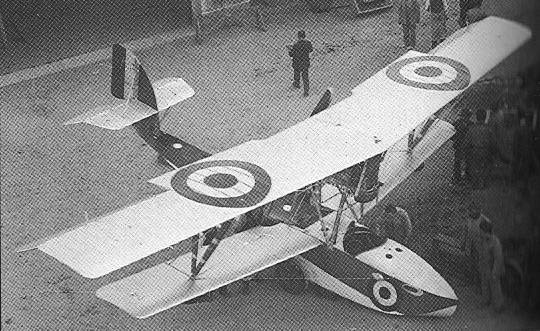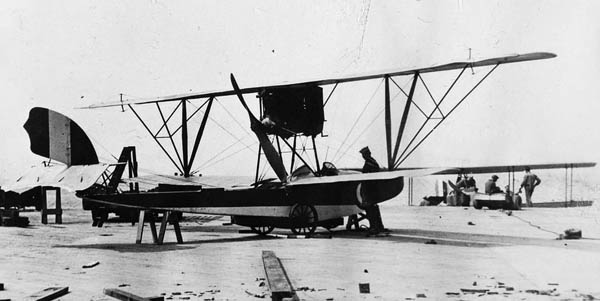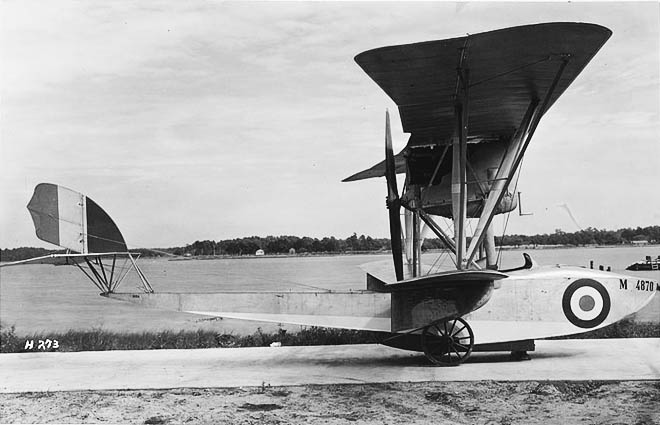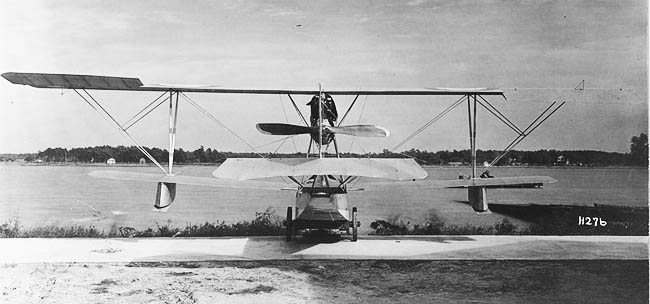 Macchi M5 tested in HAMPTON Roads test center, Virginia (NARA)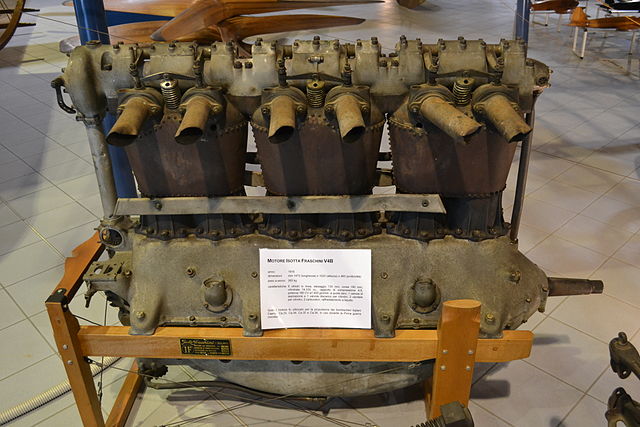 Isotta Fraschini V.4B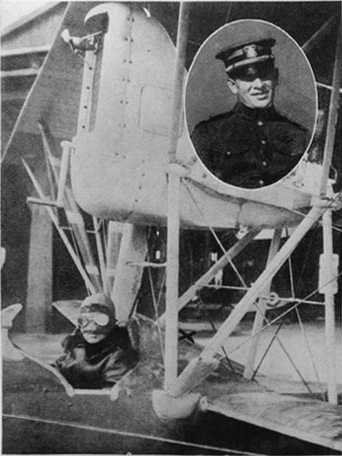 Ludlow and Hammann, US Navy tests of the Macchi M5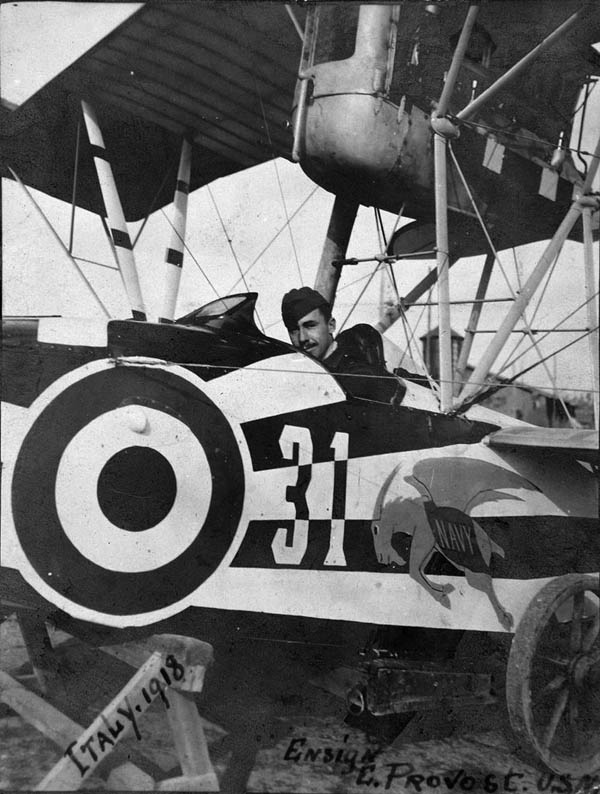 Ensign Provost, USN, 263th Sqn, 1918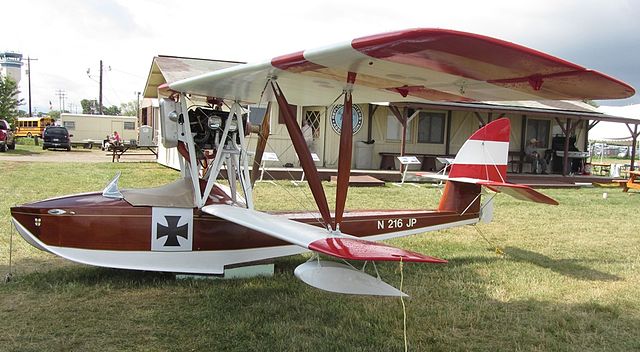 Replica of a Macchi M5 in Austrian colors