Tentara Nasional Indonesia Angkatan Laut, or TNI-AL, Circa 350 ships 1945-today.
The Indonesian Navy, also known as TNI-AL (Tentara Nasional Indonesia-Angkatan Laut), is the naval branch of the Indonesian National Armed Forces. It is responsible for maintaining and safeguarding Indonesia's maritime interests and territorial waters.
Key Roles and Missions:
Maritime Security: The Indonesian Navy plays a crucial role in ensuring the security of Indonesia's vast archipelagic waters, protecting against piracy, smuggling, and other illicit activities.
Defense of National Territory: The Navy is responsible for defending Indonesia's territorial waters and maritime borders, maintaining sovereignty and deterring potential threats.
Naval Operations: The Navy conducts various naval operations, including patrols, surveillance, search and rescue, and humanitarian assistance and disaster relief (HADR) missions.
Amphibious Warfare: The Indonesian Navy maintains capabilities for conducting amphibious operations, which involve deploying troops and equipment from naval vessels to conduct operations on land.
Maritime Diplomacy: The Navy actively participates in international naval exercises, engagements, and collaborations to enhance regional cooperation and build partnerships with other countries.
Capabilities:
The Indonesian Navy has a diverse fleet consisting of various types of vessels, submarines, and aircraft. Some of its key capabilities include:
Surface Vessels: The Navy operates a range of surface vessels, including frigates, corvettes, patrol boats, amphibious ships, and support vessels.
Submarines: The Indonesian Navy operates submarines, which provide a significant boost to its underwater surveillance and defense capabilities.
Maritime Patrol Aircraft: The Navy operates maritime patrol aircraft for surveillance, reconnaissance, and anti-submarine warfare operations.
Naval Special Forces: The Indonesian Navy has elite special forces units, such as the Kopaska (Komando Pasukan Katak) and Denjaka (Detasemen Jala Mangkara), which are trained for specialized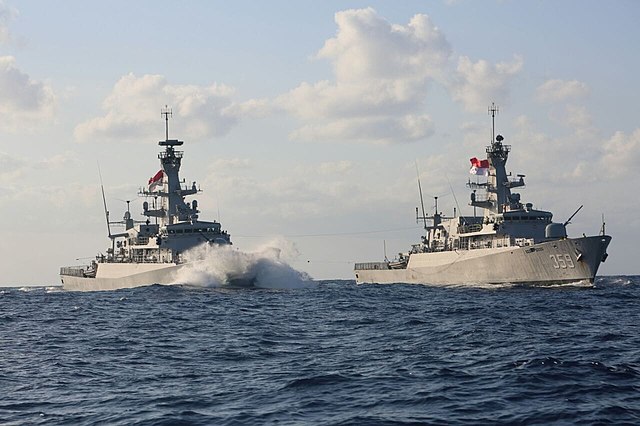 maritime operations.
Coastal Defense Systems: The Navy employs coastal defense systems to protect key naval bases and critical maritime infrastructure.
International Cooperation:
The Indonesian Navy actively participates in regional and international naval exercises, fostering cooperation with other navies. It is a member of several multilateral organizations, such as ASEAN (Association of Southeast Asian Nations) and the Western Pacific Naval Symposium, which promote maritime security and cooperation among member nations.