XXth Cent. Naval Artillery
Naval Guns of WWI and WW2
QF guns
The concept of quick-firing guns, Vickers, Hotchkiss, Nordenfelt...
Cold War Guns
5-in/54 Mk.42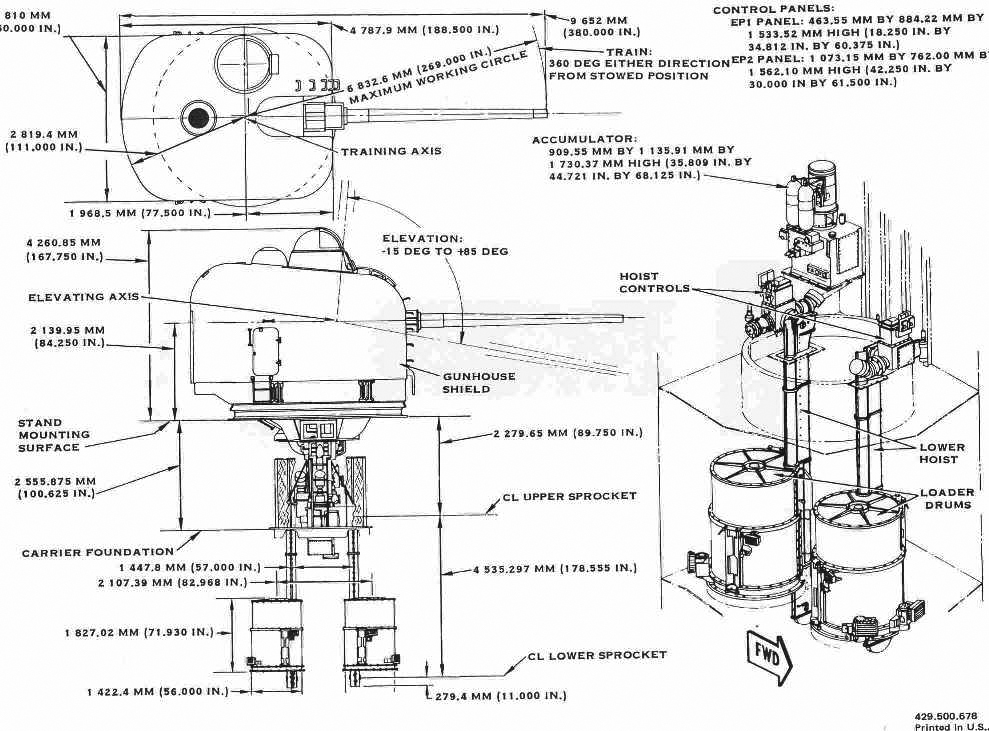 The Mark 42 5"/54 Caliber Gun had the following specs:
Shell 127 x 835mm .R Conventional 31.75 kg (70.0 lb)
Recoil 18.75 inches (476.2 mm)
Elevation -15°/+85° at 25°/sec
Traverse 150° at 40°/sec
Rate of fire 40 rpm automatic (28 in 1968)
Muzzle velocity 2,650 ft/s (807.7 m/s)
Max range 25,909 yd (23,691.2 m) at +45° elevation
Ceiling 51,600 ft (15,727.7 m) at +85° elevation
The Mark 42 5"/54 really was a cold war game changer for NATO. Not only it equipped cruisers, destroyers, frigates or the USN, but also was used by Australia, Egypt, Germany, Greece, Japan, Mexico, Spain, Taiwan, Thailand and Turkey, but it stayed in service amazingly well past the 1990s, staying relevant as long as the radar based firing control stayed relevant.
AA artillery
The development of anti-aircraft artillery:
20 mm Oerlikon Gun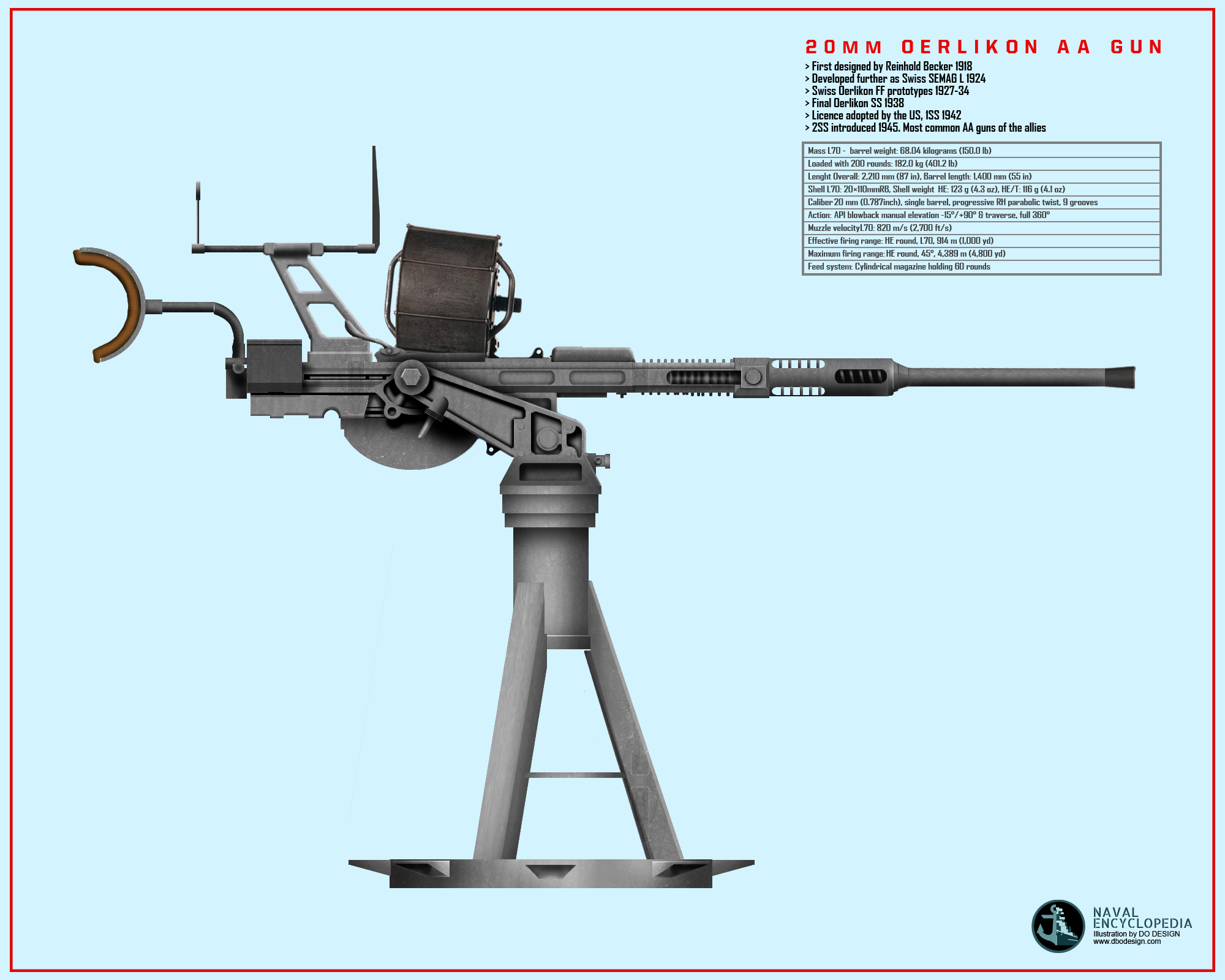 Author's depiction of the 20mm US-pattern AA gun, shielded, single mount.
Origin of the design: A 1917 German project
During WWI, German industrialist Reinhold Becker worked on a 20 mm quality cannon, known as the "20 mm Becker" designed to use its seemingly superior primer ignition blowback system. This ordnance used a 20×70mm RB cartridge and had a cyclic rate of three hundred shot per minute. It was first deployed on Luftstreitkräfte warplanes in 1918 and also a anti-aircraft gun in the final days. The Treaty of Versailles banned further manufacturing in Germany so the patents and design works were transferred in 1919 to the Swiss company SEMAG (Seebach Maschinenbau Aktien Gesellschaft). SEMAG continued its improvement until 1924 presenting that year the SEMAG L, a heavier weapon or 40 kgs for the barrel and breechblock alone, firing the more powerful 20× 100mm RB ammunition at 350 rpm. However SEMAG failed to produce the model or attract orders and the Oerlikon company purchased the company, received all rights to the weapon, machinery and employees of SEMAG.
The Swiss Oerlikon lineage
In 1927 the Oerlikon S was delivered and reached production stage, firing a larger cartridge (20 x 110mm RB) for a better muzzle velocity of 830 m/s (versus 490 m/s for the Becker), but it was heavier and slower at 280 rpm. Oerlikon then focused on improving its performance for anti-tank and anti-aircraft uses, requiring a much higher muzzle speed. An advanced model called the 1S was designed and produced in 1930. Three types were developped in parralel, divering in ammunition and barrel length but sharing a similar mechanism. Soon were introduced the Oerlikon AF and AL usble on flexible mounts. The 15-round container magazine was soon replaced by drum magazine holding up to 30 rounds.
In 1935 an other step was crossed by introducing an ammo chain designed to be carried into a fighter wings. It was called "Oerlikon FF" (Flügelfest) and declined into three sizes, FF, FFL and FFS. The FF fired a 20 x 72mm RB and weighed 24 kg, allowing a 550-600 m/s muzzle velocity for 520 rpm. The FFL weighter 30 kg but fired at 675 m/s and 500 rpm. The FFS weighed 39 kg but fired at 830 m/s and 470 rpm. Larger drums were also added as options for ground use. For the FF series a drum of 100 round was even proposed, although military customers soon preferred the more manageable 60-spherical drum, still of a manageable weight and size for a gun crew.
In a context of re-armament across Europe, Oerlikon sells augmented rapidly. Some foreign companies even took licenses for the Oerlikon as a fighter cannon. In France, Hispano-Suiza improveed FFS, known as the Hispano-Suiza HS.7 and Hispano-Suiza HS.9, to become its common axial, propeller hub V-12 engine cannon. In Germany, Ikaria created the MG FF, firing 20 x 80 RB ammunition. The Imperial japanese navy ordered the FF and FFL produced locally as the Type 99-1 and type 99-2. Improvements of the FFS as an AA gun ended in 1938 with the Oerlikon SS. Improvements for the rate of fire ended with the 1SS of 1942, 2SS in 1945 reaching 650 rpm. But this was the SS gun which rapidly becamùe famous. The licence was acquired by the rapidly rearming US Army, Navy and Air Force in 1941, and it soon became the most common allied anti-aircraft gun of WW2. In particular it was widely used by Allied navies, using a 400-grain (26-gram) IMR 4831 smokeless powder charge to propel a 2,000-grain projectile at 850 meters second.
Allied production
The Oerlikon FF was already mounted in some fighters of the 1930s like the Polish PZL P.24G. The Ikaria MG FF found its place in some German aircraft, notably in a propeller-hub fashion onboard the famous Messerschmitt Bf 109. The japanese army had their Type 99-1 cannon used one their Mitsubishi A6M "Zeke". Hispano-Suiza produced its series of V12 moteur-canon 12X/12Y engines using the H.S.7 or H.S.9, mounted on the Morane-Saulnier M.S.406 and a many other types like the Dewoiting 520 and Arsenal VG33. In naval use, initially the Oerlikon was adopted by Royal Navy as anti-aircraft gun. In 1937–1938 Lord Louis Mountbatten trialed it but it turned unsuccessful. The C-in-C of the Home Fleet, Admiral Sir Roger Backhouse became First Sea Lord and in 1939 nevertheless ordered 1,500 weapons in Switzerland. Due to delays and the outcome in France in June 1940, only 109 guns reached the United Kingdom. They had been mounted on various gun carriages, but on land.
only a few weeks earlier the Oerlikon factory permitted manufacture in the united kingdom under licence however. The Royal Navy managed to smuggle out drawings and files and manufacturing began in Ruislip, London in late 1940. The first production cannons were delivered in March-April, 1941. The RAF used it on its ground AA squadrons in North Africa, the middle East, Italy, and North Western Europe, until replaced by the Bofors 40/L60 in 1943.
The next step was evidently a production in the US, at first when tested from 1942 to replace the inadequate M2 Browning and largely deficient 1.1"/75, heavier and with less mechanical reliability. The licence was acquired and the 20 mm became the staple of AA defense at short stages, practical up to 5 km , compmentary to the better Bofors 40 mm. Its oter great advantage was its reduced size and crew, just one man could fire it, another delivering drum magazines to several mounts.
The gun however needed intensive tracking drills to be efficient. It was largely outdated in 1944 and replaced by the Bofors 40 mm of the last generation when possible, and largely outranged by the 3"/50 Mark 22 gun. But at least it succeed to replace the standard AA in 1941, .50 cal Broning and "Chicago Piano". On planes however it was less successful, plagued with jamming issues with the ammunition feed. The Royal Canadian navy aslo widely used the Oerlikon gun, using its depression on some case for a use as... anti-submarine gun in the Atlantic. It could straddle U-boats up close when larger guns could not depress enough and Flower-class corvettes crews became proficient at it.
The Oerlikon was further developed into the
Polsten gun
, designed by Polish engineers in exile in UK, starting production in 1944, used among others on the early Centurion tank in the 1950s.
Technical aspects
This high-powered autocannon used a blowback operation as the bolt isn't always locked to the breech meanwhile firing. Non-locking blowback design is generally used for lighter weapons, as no locking is needed to achieve greater rate of fire, and using low-power cartridges combined with the static inertia of the bolt and slide, a physical tendency to resist speedy acceleration, in order for the projectile to leave the muzzle, vent gas stress within the barrel and secure the entry of another round when the breech opens. Using 20mm cartridges was quite a move as way heavier than anything tested to that point, but WWI Vickers 0.5 calibers.
The Oerlikon makes use of superior Primer Ignition (API) to enhance the bolt resistance. In API blowback guns, the firing pin fires the cartridge at the same time as the bolt remains journeying forward, in order to mitigate fuel stress. The latter had to overcome the forward momentum of the bolt pushing rearwards and to facilitate this, the Oerlikon's chamber is longer than usual, incorporating the cartridge, front-stop of the bolt of the same diameter.
This extended chamber in the back of the cartridge had the ahead force of the bolt springs against the force of the propellant gases, until the latter triumph and starts pushing the case and boltn springing backwards. If the bolt had stopped at the mouth of the chamber lieke in usual blowback guns, this momentum could had been neutralized; Thanks to the continuous movement a very precise timely setup had the propellant gas force and gradual rearward tour of the cartridge and bolt all ynch perfectly.
There was a second benefit of this unusual arrangement, in which when firing the bolt and case there was a massive distance to travel rearwards before the bolt re-emerges and the case in turn start to go away from the chamber. This aggregate with the deceleration and provides enough time for gas strain to drop back to essential secure stage. This device lets the blowback effect to be used in a way only possible on extra powerful weapons. Ccompared to weapons with a locking mechanism and heavy bolt, a large spring is required but the Oerlikons had distinctively this component wrapped round the barrel instead as internal. This unique features limit the rate of fire but different steps were taken to improve this, notably within the final version of the Japanese Type 99-2.
This unique chamber and bolt layout needed a commonly shaped cartridg with a case with facets, very little neck and rebated rim. Straight facets allowed to slide back and forward smoothly and precisely inside the cylindrical chamber. The neck when no longer supported expands while the case is fired, and the rebated rim allowed the face of the bolt with its extractor claw hooked over it to fit perfectly inside the chamber. To ease this motion the ammunition needed to be greased however, a major drawback whe operating intensively the Oerlikon cannon.
Later during WW2 was developed the "fluted chamber" which had grooves allowing propellant gasses to seep between the chamber wall and case, partly replacing grease by virtues of ultra-fast fluid mechanics. Ammunition feed typically is made using a 60-spherical drum magazine affixed at the top of the gun. In sustained firing, the magazine was frequently changed but at the oher hand Belt-fed versions failed to reach a satisfactory reliability. The gunner to fire had his trigger in the right-hand grip. The entire barrel rested on his shoulders via two extensions with rubber-padded arched bars and waist-belt.
The regular naval model was attached to a loose-swinging, on a fixed pedestal mount, with a flat armored shield affording some basic protection. Dependiong on the mount installation, some had a circular wall offering added procection, with extra magazines alongside. The 20 mm Oerlikon gun was aimed and fired through the usage of a ring-and-bead sight. Some mountings were refined enough to have an height-adjustment feature, adapting to different sized gunners. In extended crews, there was an additional gunnery chief with binoculars designatin targest to the gunner, and an attached reloader, so three men. Dual and quadruple mounts were seomtimes used but rarely on ships as they took as much space as a way superior Bofors.
The USN used quad mounts tailored to fit in their Elco PT boats, the "Thunderbolt" Mount. Prototypes were built and tested iin late 1942, operationally deployed in the Mediterranean. It was also used experimentally on the battleships USS Arkansas, Colorado, Maryland, West Virginia, Washington, Massachusetts, and Wyoming.
---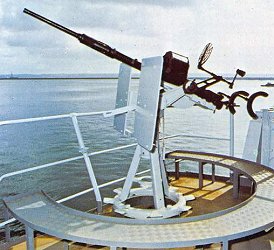 Tech specifications L70

Barrel Lenght
1,400 mm/2,210 mm (87 in) oa
Barrel/BB weights
68.04 kilograms (150.0 lb)/20.865 kg (46.00 lb)
Fully loaded with 200 rounds
182.0 kg (401.2 lb)
Shell
20 × 110 mm RB. HE 123 g (4.3 oz), HE/T: 116 g (4.1 oz)
Exact caliber
20 mm (0.787inch)
Barrel type
A tube with progressive RH parabolic twist, 9 grooves
Action
API blowback
Elecation/Traverse
-15°/+90° - 360°, manual
Rate of fire
Max 450, Practical 250-320, cyclic 900 rpm
Muzzle velocity
820 m/s (2,700 ft/s)
Effective range
914 m (1,000 yd)
Maximum firing range 45°
4,389 m (4,800 yd)
Feed system
Cylindrical magazine holding 60 rounds
Antimissile artillery
The development of anti-missile rapid fire guns, CIWS, Phalanx, but also Chaffs, ECM and other countermeasures.
20 mm Phalanx CIWS (1978)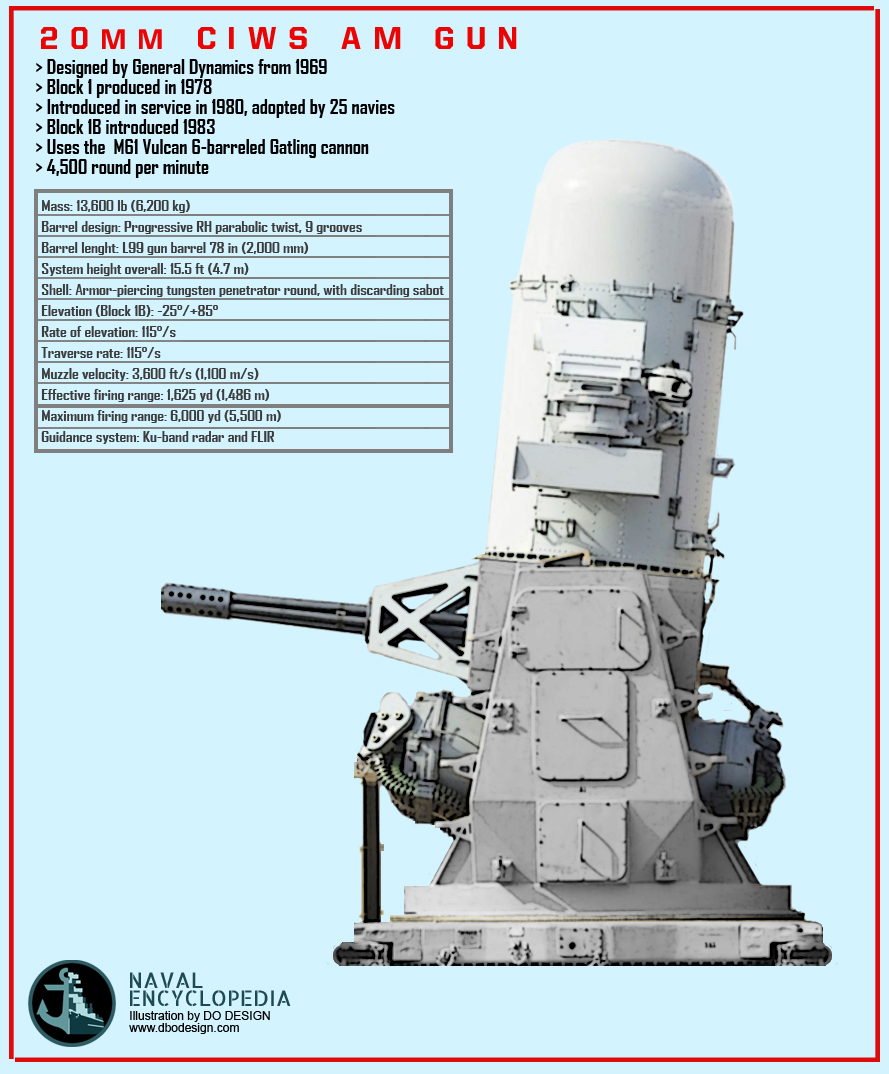 The 20mm Vulcan-Phalanx system, adopted by the USN in 1978 is still today the main automated hyper-fast autocannon using a rotative barrel (Gatling system) to reach an exceptionally high rate of fire. It is designed to destroy an incoming missile's airframe. Loosing its aerodynamic qualities while shrapnel secondary damage is a bonus, to destroy potentially electronics systems. The key of the system is that it's unmanned, but with human oversight. The tracking system is faster than the human brain can process the target acquisition. Another advantage of the system is that it can also destroy low-fliying aircrafts if needed or even deal with small and fast surface targets. Developed from 1969 and produced from 1978, it was constantly upgraded until today. The last system used on the Forrestal class were Mk.15 Block 1B which unit cost was US$416M. The data is for the Block 1B.
Mass: 13,600 lb (6,200 kg)
Barrel design: Progressive RH parabolic twist, 9 grooves
Barrel lenght: L99 gun barrel 78 in (2,000 mm)
System height overall: 15.5 ft (4.7 m)
Shell: Armor-piercing tungsten penetrator round, with discarding sabot
Elevation (Block 1B): -25°/+85°
Rate of elevation: 115°/s
Traverse rate: 115°/s
Muzzle velocity: 3,600 ft/s (1,100 m/s)
Effective firing range: 1,625 yd (1,486 m)
Maximum firing range: 6,000 yd (5,500 m)
Guidance system: Ku-band radar and FLIR